Alarm bells are clanging louder every day. Wildfires. Hurricanes. Floods. Droughts. Heatwaves. In 2018, the climate crisis is impossible to ignore. Yet Prime Minister Justin Trudeau insists on building new tar sands pipelines – shoveling even more fossil fuel on an out of control fire.
In order for the world to meet the goals set out in the Paris Agreement on climate change, tar sands projects must be shut down by 2040. Instead, the National Energy Board forecasts production to double by then, with new pipelines enabling this growth.
Divestment from fossil fuels must include a just transition for tar sands workers which offers training and jobs in a zero-carbon economy.
Humanity cannot afford any new fossil fuel infrastructure if we are to keep the world at a safe temperature for future generations. We need a plan that aligns with science and supports workers as we phase out the tar sands before 2040.
Support Us
Your much appreciated donation keeps this work going!
Volunteer
Get in on the action and make a difference!
Reports & Publications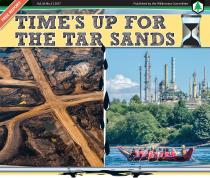 Times Up for the Tar Sands! education report explores the damning reality facing the fossil fuel industry – the economics, the alternatives, the resistance. It makes a clear argument for how fighting for a safe climate is incompatible with building any new pipelines or the tar sands mines they...