Our mining campaign aims to see a less risky, less damaging and more socially just mining industry in BC.
 
Some areas of the province are simply too precious to risk building a mine. Clayoquot Sound is one such region, and there are more.
The Wilderness Committee has tackled contentious mining issues since our beginnings back in the 1980s. We have been part of successful campaigns to protect northwest BC's magnificent Tatshenshini River from the proposed Windy Craggy open-pit copper mine and to protect Fish Lake on the Chilcotin Plateau from the proposed New Prosperity open-pit gold and copper mine. But in August 2014, when news broke of the massive tailings dam failure at Imperial Metals' Mount Polley gold and copper mine in British Columbia's Cariboo country, the ground shifted – shaking public confidence in mining industry promises to protect the environment.
 
In the wake of the disaster, an independent report recommended that the practice of using tailings ponds to store potentially acid-generating mine waste should be ended. We agree. However, to date, the BC government has failed to act.
 
Controversial mining projects are popping up in BC, in regions as diverse as Clayoquot Sound, the Chilcotin Plateau and the Alaska border region.  
  
In regions where mine projects may be considered, they must have plans to keep tailings and water separated, and First Nations' consent must be obtained before putting shovels in the ground.   
 
Sadly, none of this is required in BC today. That's why future Mount Polley disasters are likely to occur if the provincial government does not change the rules over mining.  
 
We are demanding change.  Join us!
 
Google Map of Significant BC Metal Mines with Tailings Ponds
Significant existing, proposed and past mines in BC that extract metal ore and have or will have tailings ponds. The mines have icons labelled with the mine name. You can click on each icon and a bubble will open with more information about each mine, including status. For a larger view of the map, please click on the "larger frame" icon at the top right corner of the map. 
(Research for this map project by Wilderness Committee volunteer Sabrina Molinari)
Support Us
Your much appreciated donation keeps this work going!
Volunteer
Get in on the action and make a difference!
Reports & Publications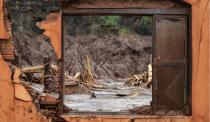 THIS PAPER EXPLORES THE MANY PARALLELS between the tailings dam spills at the Mount Polley mine in British Columbia (BC), Canada, and the Samarco mine in Mariana, Minas Gerais, Brazil. The Mount Polley disaster took place in August 2014, when the dam holding toxic waste from the copper and gold mine...