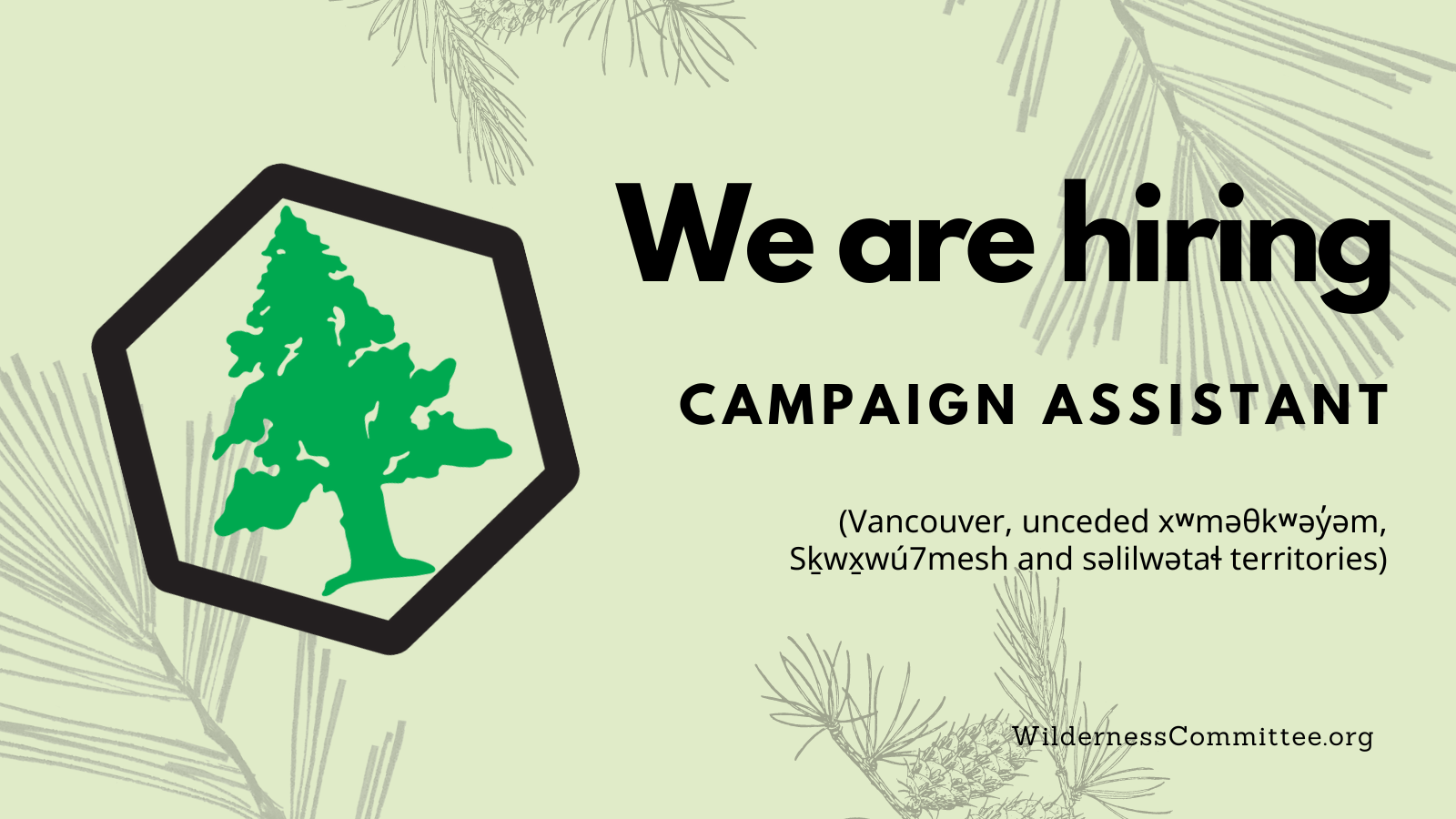 Now Hiring - Campaign Assistant in Vancouver
The Wilderness Committee has an exciting opportunity for a passionate organizer and social justice activist interested in becoming part of our dynamic and diverse team across the country. This Campaign Assistant position is based in our Vancouver head office and is a full-time 37.5 hours/week permanent position, Monday-Friday 9am-5pm, with flexibility to work evenings and weekends on occasion.
The Wilderness Committee is a grassroots, people powered wilderness preservation group that has a history of more than 40 years on the front line of environmental battles across Canada, with offices in Vancouver, Victoria, Winnipeg and Toronto. Recognizing that enshrining Indigenous rights and title is fundamental to addressing the biodiversity and climate crises, we have helped protect millions of hectares of wilderness, defended the most at-risk species in government offices and court rooms, and worked tirelessly to fight irresponsible fossil fuel development wreaking havoc on the climate as we advocate for a just transition to a post-carbon society.
As the successful candidate, you have proven experience engaging with the public on social justice issues. You are excited about organizing everything from public events in the city to field trips in remote wilderness areas — paying attention to every last-minute detail.
You love to take photos and video clips and combine them with your writing skills to create engaging digital communications that connect the public to critical advocacy work. You love the variety of working in different communities, connecting with diverse allies, completing different tasks, and don't shy away from talking to the public at a table or event, entering data into a database, clearing wilderness trails on 4-day field trips, or calling up a government office to get more information — you love the challenge of it all. You have the combined skills and abilities to inform and motivate people to get involved in different ways, and excel at educating others via face-to-face, phone, and digital communications in a compelling way that builds momentum to make a difference. You are looking for your next position in the fight for environmental and social justice.
As the Wilderness Committee Campaign Assistant, it is your responsibility to:
Coordinate travel and field trip logistics, and travel to remote wilderness areas and
Communities on overnight field trips with campaign staff, allies and/or volunteers
Plan and organize all details of public events (townhalls, rallies, marches, etc.), from booking venues, coordinating technology and equipment, preparing and distributing promotions, creating and gathering materials and supplies, and all logistics. Attend event and coordinate volunteers, allies and other staff as needed
Coordinate and attend community outreach activities, table at public events to grow the
Wilderness Committee base, engage with the public on critical environmental issues and increase the reach of our work
Write compelling content to amplify in-person strategies with digital communications and
Increase the profile of the organization's work, combine this with photos and video clips to
Produce creative communications for the website and social media
Support production, communications and fundraising teams and connect their work with
Campaign strategies and activities
Build relationships with allies, First Nations, government officials and community members and collaborate on activities
Other duties as determined strategic to advance campaigns
You will have:
At least 3 years' experience (paid or unpaid) in a non-profit organization, in the environmental or other social justice movement
A university degree in social or environmental sciences is desired, or equivalent experience
A passion for travelling to wilderness areas, hiking and camping, the ability to perform other
activities such as trail clearing
Proven experience with event and activity planning, coordination of all types of logistics, and successful implementation, excellent time management and problem solving skills
Demonstrated writing skills for creating compelling digital content, a knack for combining your writing with photos and video clips to augment storytelling and engagement via email, website and social media
General photography, videography and drone skills, with a passion to learn more
Strong interpersonal and communication skills, with proven experience in building relationships and interacting with diverse groups including the public, volunteers, First Nations, community groups, partner organizations and so on
Adaptable skills using digital technologies including CMS and CRM systems, email marketing, social media platforms, with an ability to learn new technologies quickly
Familiarity with Google analytics and other metric tracking systems and how to apply those to grow online engagement with current and new audiences
An ability to work effectively in a fast-paced environment and cope well with unexpected and overlapping deadlines
A class 5 driver's license and ability to drive on highways
First aid and/or wilderness first aid skills or an interest in gaining them
You will be:
Passionate about at-risk wildlife and wild places, and the Wilderness Committee's mission and core values
Analytical, creative, and used to thinking outside the box
Able to handle a large volume of work, with excellent organizational skills and the ability to prioritize multiple tasks
A self-initiated problem solver who is reliable and enthusiastic
Adaptable and flexible to work in collaboration with others as well as independently
Committed to creating a positive and healthy workplace environment
Able to handle flexible hours including occasional evening and weekend work
Salary: $57,250 annually
The Wilderness Committee is committed to employment equity as an ongoing process. We encourage qualified applicants from underrepresented groups, including women, Indigenous persons, racialized communities, persons with disabilities and members of sexual or gender minority groups.
Conditions of employment: This is a full-time, permanent unionized position with BCGEU Local 2003 and thus all pay and benefits are determined by the Collective Agreement including annual paid vacation time and a year end closure, comprehensive medical and dental benefits, a health savings account and a retirement saving plan. The Wilderness Committee has a 37.5 hour work week, with a hybrid workplace model with part-time required in the office and part-time at home.
Closing Date: Monday, May 8th , 2023 at 12 noon Pacific Time, or until we find the right candidate. No phone calls or drop-ins please. Interviews will be held on a rolling basis as qualified applicants are received, so please apply early.
If you have a combination of skills and experience that you think make you a good candidate for this position, please don't hesitate to apply. We look forward to hearing from you. Please send a cover letter and a resume in a SINGLE PDF with "Campaign Assistant, Vancouver" in the subject line to hiring@wildernesscommittee.org.