Anti-TMX Civil Disbedience Action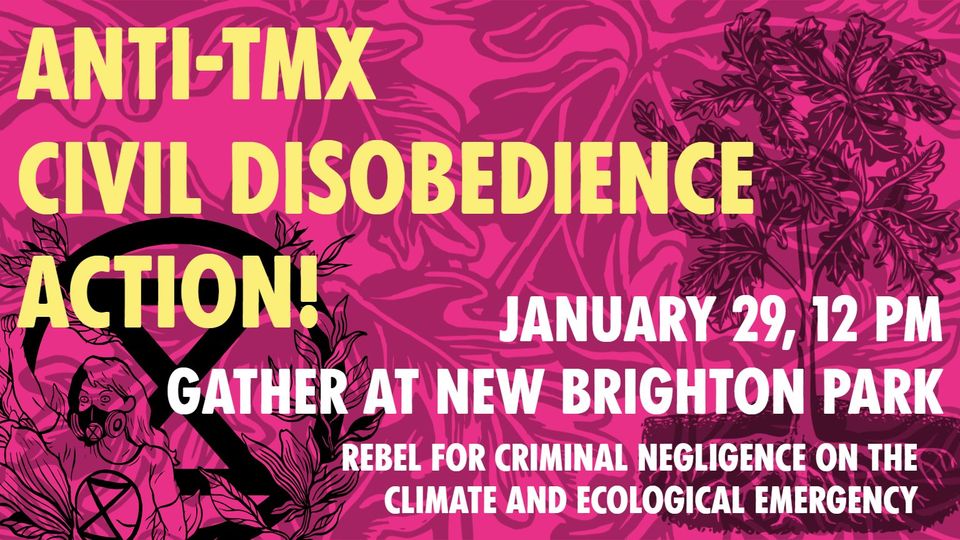 Friday, January 29, 2021 12:00pm - 2:00pm
This action will disrupt the pillars of power that profit based on the exploitation of the planet.
Join Extinction Rebellion for a day of community building and stepping into our roles as citizens. We are in open rebellion against a government that is guilty of breaking the social contract through its criminal inaction to reverse the climate and ecological crisis faced by all life on Earth.
The action will include a meet-up at New Brighton Park, where we will announce next steps in our spring plan for civil resistance. We will participate in a march and direct action thereafter. The action will include regenerative practices and a clothing swap for anyone who wishes to participate.
The Trans Mountain Expansion Project will increase tanker traffic in the inlet and around the port of Vancouver by at least 7 fold. It will also increase Canada's carbon emissions making it impossible for Canada to meet its criminally inadequate climate targets. The pipeline is being forced through Indigenous lands without consent from the host nations, and also substantially increases the chances of oil spills. All this as we know that according to scientists, an increase of over 2 degrees global average temperatures is now locked in.
We demand that the government tell the truth to the ordinary Canadians about the grim consequences of the climate emergency, and its inaction in the face of it. Due to this failure, citizens are now under a moral obligation to participate in mass civil disobedience to force the implementation of institutional democratic upgrades including a Citizens Assembly on Climate and Ecological Justice. Our very lives may depend on it.
This event takes place on the unceded lands of the Coast Salish peoples.