Friday, November 27, 2020, 9:00am - 9:00pm
Event location
All around the world
Buy Nothing Day/Black Friday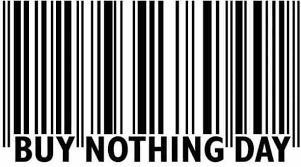 Buy Nothing Day (BND) is an international day of protest against consumerism. In North America, the United Kingdom, Finland and Sweden, Buy Nothing Day is held the day after U.S. Thanksgiving, concurrent to Black Friday; elsewhere, it is held the following day, which is the last Saturday in November. Buy Nothing Day was founded in Vancouver by artist Ted Dave and subsequently promoted by Adbusters, based in Canada.
The first Buy Nothing Day was organized in Canada in September 1992 "as a day for society to examine the issue of overconsumption." In 1997, it was moved to the Friday after American Thanksgiving, also called "Black Friday", which is one of the ten busiest shopping days in the United States. In 2000, some advertisements by Adbusters promoting Buy Nothing Day were denied advertising time by almost all major television networks except for CNN. Soon, campaigns started appearing in the United States, the United Kingdom, Israel, Austria, Germany, New Zealand, Japan, the Netherlands, France, Norway and Sweden. Participation now includes more than 65 nations.
This year is different due to covid...so try and not buy anything for THREE online, or in big box stores. Support local groceries and stores. Consider all your purchases until the end of the year at least.