-
Event location
across the land we call BC
Candle vigil for folks lost to climate disasters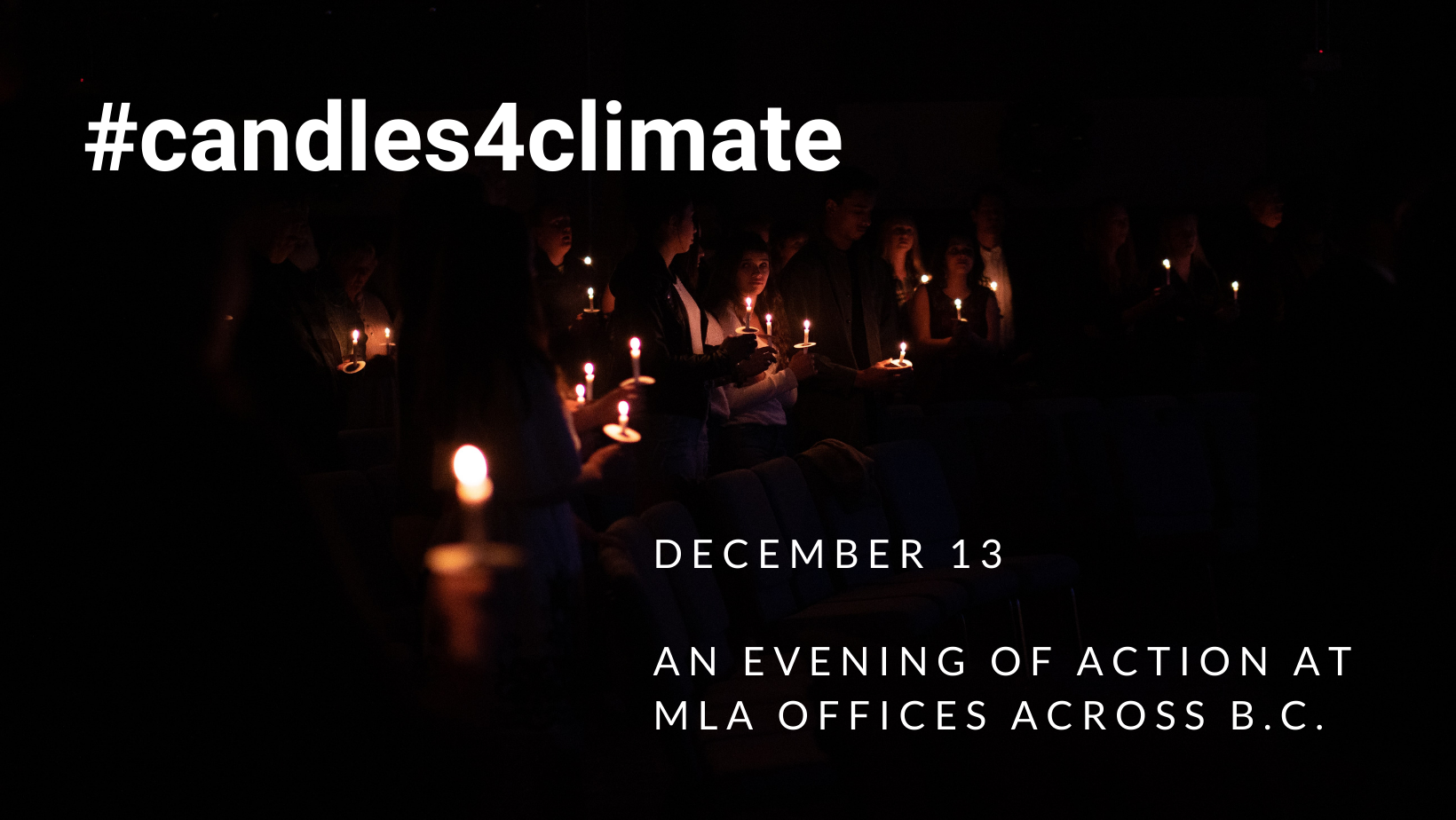 WHAT: Candle-lit events to commemorate those who have died in the heat dome, floods, and other climate-related disasters this year — and call on elected representatives to confront the climate emergency and help prevent future deaths.
WHERE: Across the province
WHY: Come together with your community to commemorate lives lost, hold government accountable, and demand emergency climate action.
WHEN: December 13 at various times in the evening
You'll see on this page a list of local vigils with times and addresses as folks organize them. Use this spreadsheet if you want to sign up to organize one. You can find tools for participating in this nifty toolkit!
Port Alberni

5 pm

3945 Johnston Rd, Port Alberni

Local event leader: John Mayba (djmayba[at]telus[dot]net), Alberni Climate Action

Vancouver - Fairview

5 pm

642 W Broadway, Vancouver

Local event leader: Peter McCartney, Wilderness Committee

Victoria - Beacon Hill

5 pm

1084 Fort Street, Victoria

Local event leaders: Bishop Anna Greenwood-Lee & Rabbi Harry Brechner, Anglican Diocese of Islands and Inlets & Congregation Emanu-el

Oak Bay - Gordon Head

5 pm

219-3930 Shelbourne Street

MLA Murray Rankin

Local event leader: Cheryl Cameron, Dogwood Initiative

Penticton

6 pm

Riverside Shopping - 300 Riverside Drive, Penticton

Local event leader: Lori Goldman (irolg [at] yahoo [dot] com), First Things First Okanagan

Cowichan Valley

5 pm

170 Craig St, Duncan

Local event leader: Erin Blondeau @erinblondeau, West Coast Climate Action Network @weclimateaction

Vancouver - West End

5 pm

English Bay / A-maze-ing Laughter Sculpture in Morton Park - 1800 Morton Avenue, Vancouver

Local event leader: Ben Liegey (ben[at]rethink2gether[dot]com), Rethink2gether

Nanaimo

105-495 Dunsmuir Street, Nanaimo

5 pm

Local event leader: Dave Mills, Dogwood

Nelson

433 Josephine St, Nelson

5 pm

Local event leader: Valerie Sanderson, West Kootenay Climate Hub

Courtenay

437 5th St., Courtenay

5 pm

Local event leader: Dave Mills, Dogwood

Squamish

Junction Park, Loggers Ln, Squamish

5 pm

Local event leader: Tracey Saxby (tracey[at]myseatosky[dot]org), My Sea to Sky

Castlegar

1006 3rd St, Castlegar

5 pm

Local event leader: Laura Sacks, West Kootenay Climate Hub (WKClimateHub@gmail.com)

Vancouver - Point Grey

2909 West Broadway

5 pm

Local event leader: Melissa Lem, Canadian Association of Physicians for the Environment & Barbara Bradbury (bbradbury10[at]gmail[dot]com)

Qualicum Beach

184 W 2nd Ave A, Qualicum Beach

5 pm

Local event leader: Brenda Riley (poco58[at]shaw[dot]ca)

Kelowna

330 Hwy 33 W. Kelowna 

3 pm

Local event leaders: Donna Schreyer & Rosalind Warner, Okanagan Climate Hub

Vancouver - Hastings

2135 East Hastings Street

5 pm

Local event leader: A.K.A. Langley

Sechelt

4720 Sunshine Coast Highway, Davis Bay

5 pm

Local event leader: Gail Riddell, Alliance4Democracy

Surrey

10574 King George Blvd, Surrey

6 pm

Local event leader: Paige Gorsak, Dogwood

New Westminster

New Westminster City Hall, 511 Royal Ave, New Westminster

6 pm

Local event leader: Karen Crosby (karencr0[at]telus[dot]net)

Cranbrook

#302  535 Victoria Ave. N., Cranbrook

5 pm (MST!)

Local event leader: Sharon Cross (sharoncross11[at]gmail[dot]com), East Kootenay Climate Hub

Powell River

4675 Marine Ave Unit 109, Powell River

5 pm

Local event leader: Nicole Specht, Qathet Climate Alliance

North Vancouver - Lonsdale

50-221 Esplanade Ave West, North Vancouver

5 pm

Local event leader: Eoin Finn, Force of Nature Alliance

Ashcroft

405 Railway Ave, Ashcroft

5 pm

Local event leader: Anne McKague

Vernon

2920 28th Ave Unit B, Vernon

5 pm

Local event leader: Mary Stockdale, Climate Action Now!

Salmon Arm

4 pm

Suite 202A-371 Alexander St NE, Salmon Arm

Local event leader: Julia Beatty, Shuswap Climate Action