Maude Barlow: Whose water is it anyway?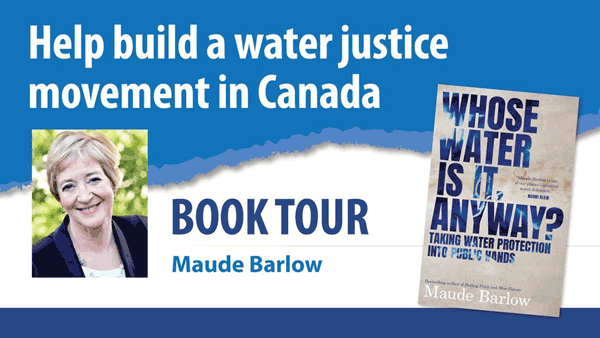 Wednesday, October 23, 2019 6:00pm - 8:00pm
Performance Works, 1218 Cartwright St. Granville Island
As access to natural resources becomes more fraught in the face of climate crisis, so does debate of the essential question in Maude Barlow's new book, Whose Water Is It, Anyway? Barlow, Honorary Chairperson of the Council of Canadians, joins award-winning investigative journalist and Breaching the Peace author, Sarah Cox, and Candis Callison, professor at the UBC Graduate School of Journalism and author of How Climate Change Comes to Matter, to discuss, highlighting how individuals and communities can affect real change in the face of threats.
Generously supported by Yosef Wosk, in honour of the late Mel Hurtig for his tireless work to make Canada a strong and culturally rich nation.
About the moderator: Dr. Leila Harris is a Professor at the Institute for Resources Environment and Sustainability (IRES) and the Institute for Gender, Race, Sexuality and Social Justice (GRSJ) at the University of British Columbia. Dr. Harris's work examines social, cultural, institutional and equity dimensions of environmental issues. Current research focuses on the intersection of environmental issues and inequality, the uneven implementation of the human right to water, experiences of water insecurity, and a range of water governance challenges important for the Canadian context.
Tickets: $20.00
https://writersfest.bc.ca/festival-events-2019/whose-water-is-it-anyway/