We The Secwepemc Court Support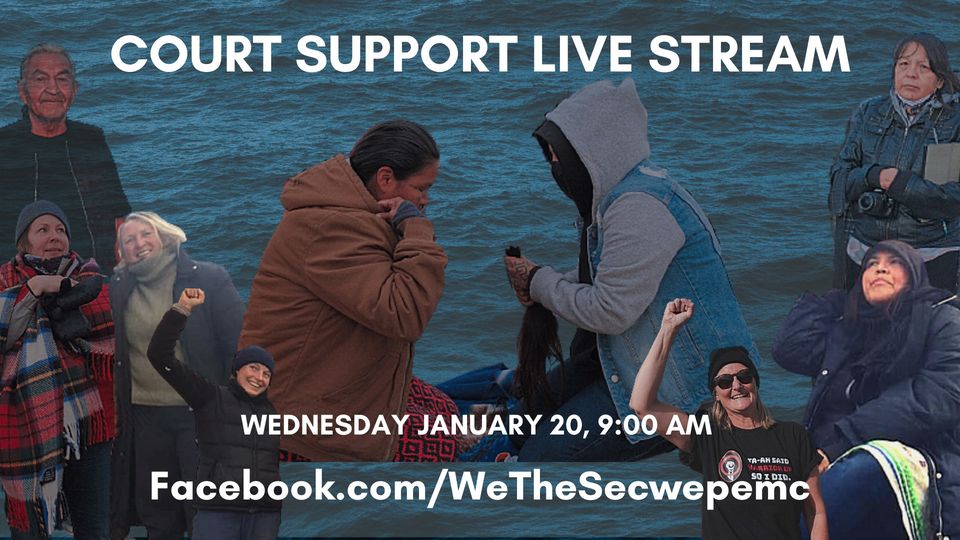 Wednesday, January 20, 2021 9:00am - 4:00pm
Pacific Coast Time
SHOW UP FOR OUR WATER DEFENDERS
On January 20 at 9:00 am water defenders we be live streaming from the the cement steps of the BC Supreme Court to assert Secwepemc land rights and title. On October 15 & 17 in ceremony and for our right to clean water, Indigenous and non-Indigenous land defenders used their bodies as barricades and blocaded the gates of the Trans Mountain pipeline drill site on the Secwepemcetkwe (Thompson River).
Nine water defenders were arrested and are facing charges included Secwepemc Hereditary Chief- Sagwses, Miranda Dick- Secwepemc Matriarch, April Thomas- Secwepemc Matriarch, Billie Pierre- Nlaka'Pamux Nation, Romilly Cavanaugh- Former TMX Environmental Engineer, Heather Lamoureaux, Laura Fowler-Zad and Susan Bibbings for standing their ground on unceded Secwepemc territory after the government own pipeline rammed its unwanted and non-consensual pipeline beneath the salmon bearing Secwepemcetkwe (Thompson) River.
It is possible, and likely, that the court will not take long. It is not unusual for the judge and prosecution to announce that they do not know if or under which charges they will be pressing. This is a tactic used to delay and defuse the energy of our movement. It is also a tactic used to prevent Indigenous people from actively asserting their rights and title in court. In any case, we will live stream after the court proceedings have completed to update you on what took place. We can not record in the court room, so please update your notification settings for the Facebook page
facebook.com/wethesecwepemc so you can stay tuned and we will provide an update after the proceedings.
In December, TMX went into a voluntary shut down after multiple workers were severely injured due to poor safety and many tested positive for Covid. The laws of nature showed us what the consequences of human wrecklessness and a shut down the TMX work site. During this time, many communities have been taking additional precautions and to help ensured our elders and youth remained healthy, we stayed home and focused our energy towards creativity and prayer. Dozens of people contributed hand-sewn home-made patches for our community quilt for clean water. On Wednesday, we will be sharing the finished quilt and using it in ceremony before the court hearing begins. Kukstemc to all those who contributed with their creative life force to the quilt for clean water.
We look forward to seeing you on the live stream! Please say hello when you tune in!