Trail Building Opportunities
For decades the Wilderness Committee has used trail building and wilderness expeditions as a strategy in successful campaigns to preserve wilderness areas in the Elaho Valley, Stein Valley, Clayoquot Sound and Carmanah-Walbran in BC.
In Manitoba, we have taken volunteers to the heart of the boreal to work side-by-side with First Nations communities on community gardening and trail clearing. For more information on our field program in Manitoba, call 204-942-9292 or email
contactmb@wildernesscommittee.org.
For details on the BC program, read on!
This year in our British Columbia field program, we'll be trail building on Vancouver Island in the Walbran Valley and on Flores Island and Wah-nuh-jus—Hilthoois (Meares Island), where we will be working with First Nations land stewards and local activists to protect ancient forests from logging.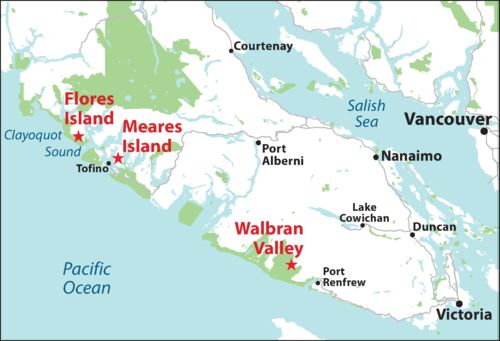 Trip dates (all weekends):
Join us in the Walbran Valley April 28-30, June 2-4 or Sept 22-24; on Ahousaht Wild Side (Flores Island) June 16-19 or Aug 25-28; or in Wah-nuh-jus—Hilthoois Tribal Park (Meares Island) May 12-15 or July 7-10. For more details click on the photo of each location below.
Imagine the satisfaction of standing below
a towering western red cedar on a boardwalk you just built from wood harvested from the forest. If you are prepared to work hard all day — hauling supplies, clearing brush and building trails — you will be rewarded by camping under the canopy of an ancient rainforest that night.
Our trail-building trips require you to put in long days carrying heavy loads, walk for several hours at a time and swing a hammer. In return, we promise you great company, spectacular views and a deep and abiding connection to Vancouver Island's ancient forests.
If you're physically fit, an experienced hiker and camper and up for an adventure, come join one of our trail building trips. You will need to bring your own camping gear and food. We will work with volunteers to coordinate transportation and provide tools and training.
There are limited spots available and these trips are in high demand, so we expect each of them to fill up well in advance. Please register only if you are serious about attending. Details on how to register can be found on each location-specific page. Every cancellation costs our organization time and money, which means fewer resources are dedicated to protecting these beautiful wild landscapes.
To choose your trip, click below.
Walbran Valley Trail Project

Ahousaht Wild Side (Flores Island) Trail Project

Wah-nuh-jus—Hilthoois Tribal Park
(Meares Island) Trail Project