Bees may be small, but the impact they have on our environment – and our daily lives – is immense. Bees and other pollinators provide essential services that enable our agricultural systems to function, and they help the natural world to thrive by helping plant communities reproduce and stay healthy.
Pollinators are responsible for one out of every three bites of food we eat, and they contribute billions of dollars to our economy every year. They are critical to the survival of over 80 per cent of flowering plants, including numerous fruits, vegetables and other common crops such as apples, tomatoes, coffee, tea, blueberries, squash and beans.
We rely on bees and other pollinators for so much, but right now our pollinators are in trouble. Over the past 20 years, there has been a startling decline in honey bees, bumble bees and other pollinators around the world, with the most troubling losses being reported in the last decade. In 2006, scientists began referring to this mysterious phenomenon as "colony collapse disorder" or CCD, a term used to describe the mass disappearance of honey bees in a colony. CCD can be caused by a variety of different stresses that lead to the abrupt disappearance of worker bees.
Here in Canada, honey bee colonies have experienced a large number of deaths in the past few years, and according to the Canadian Honey Council, Canada has lost 35 per cent of its bees annually since 2010.
While there are many different threats facing pollinators today – from parasites and bacterial infections to loss of habitat and monoculture crops – the deadly effects of a specific class of pesticides is causing increasing concern among beekeepers and scientists. These pesticides are called neonicotinoids ("neonics"), and their harmful impacts to bees are slowly being recognized all over the world.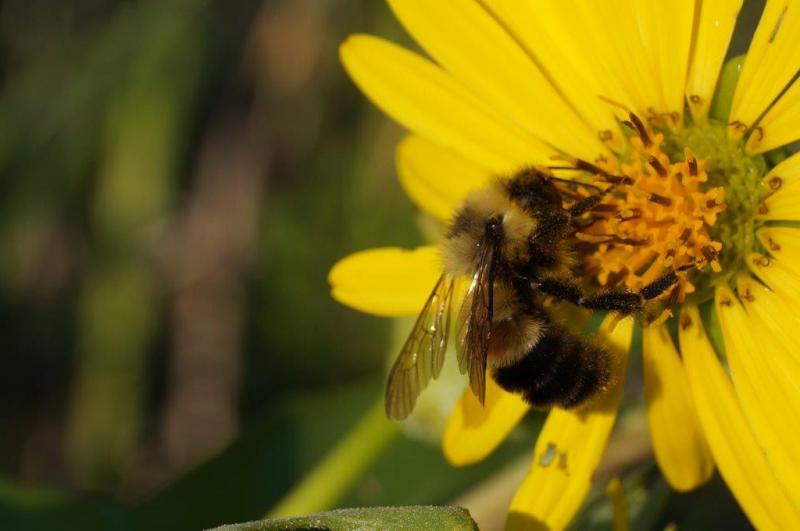 In 2012, a Health Canada investigation confirmed a link between unusually high bee deaths and the use of neonicotinoid pesticides on corn crops in Ontario and Quebec. That same year, a beekeeper in Elmwood, Ontario reported the loss of 37 million bees after nearby cornfields were planted with seeds coated in the pesticide. In 2013, near a Target store in Oregon, 55 trees were sprayed with a neonicotinoid pesticide called Safari. Within days, an estimated 50,000 bumble bees were found dead and dying beneath the trees.
In June 2014, international researchers released the findings of a comprehensive four-year scientific study on neonics, which conclusively demonstrated that these pesticides are a serious risk to bees, butterflies, birds and earthworms. The authors of the international study clearly state that "there is clear evidence of harm sufficient to trigger regulatory action".
After the incident in Oregon, officials have temporarily restricted the use of neonicotinoids in the state. The European Union has also enacted a two-year ban on these chemicals, citing the "unacceptable risk" that they pose to bees. In late 2014, the Ontario provincial government also proposed new rules that would eventually see an 80 per cent reduction in the use of these harmful pesticides. Unfortunately, federal regulators in Canada are falling far behind.
The Wilderness Committee is joining other bee advocates across the country to push for a complete, nation-wide ban on these bee-killing pesticides – before it's too late.
You can help by signing the petition to demand a ban on neonicotinoids across Canada!

To download a PDF version of the petition to print out and collect signatures in your community, click here.
---
Photo top: Honey bee hive (Bug Lady/City Farmer)
Photo above left: Endangered rusty-patched bumble bee (Christy M. Stewart)