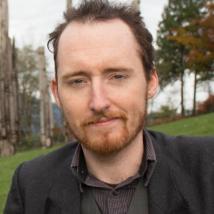 Ezra organizes volunteers and mobilizes people. They also move big stacks of paper and keeps them all in order. Also, big stacks of data and keeps that all in order. There's a lot of coffee involved. Ezra works from the unceded Coast Salish Territories.
Ezra grew up on Salt Spring Island and in the Shuswap, where they learned to appreciate the natural world at a young age.  Witnessing the clearcut logging of ancient forests and the decline of endangered species had a profound effect on them.
Ezra started at the Wilderness Committee as a canvasser and was the canvass director and program manager with public outreach at Ancient Forest Alliance. They are an organizer and artist. Having studied at Emily Carr, they recognized the importance of social movements and the role education plays in shaping the world, which drew them to the Wilderness Committee's mandate.