Nestled in the northeast corner of British Columbia, the Peace River Valley is home to Treaty 8 First Nations' hunting, fishing, and trapping grounds, fertile agricultural lands and farms, old growth boreal forests, and is one of the most important wildlife corridors in the Yellowstone to Yukon migration corridor chain.
But the beautiful Peace River Valley is under threat. There are already two huge dams on the Peace and now BC Hydro wants to build a third dam, in the heart of this spectacular valley. The proposed 60 meter high Site C mega dam would flood over 100 km of river valley, drowning a land area equal to 14 Stanley Parks, and risking landslides as the banks of the reservoir erode over time.

The land in question happens to be some of the best agricultural land in northern BC, with the only class one soil north of Quesnel. As the people of the planet try to adapt to climate change, agricultural land and food security is only going to become more important.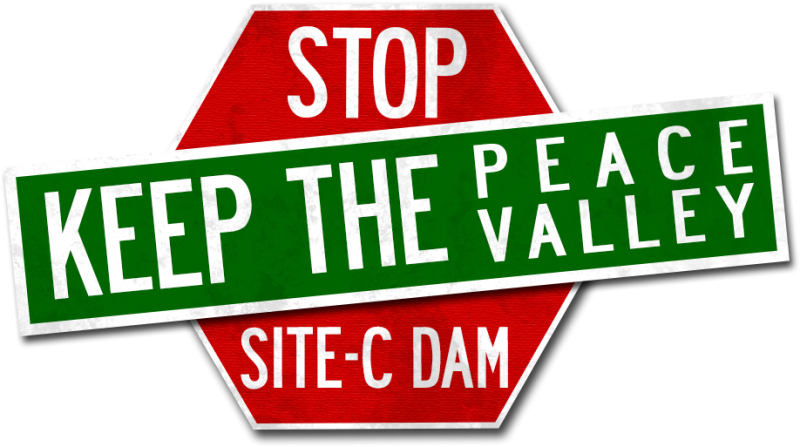 So how did this destructive project get approval?

Our former provincial government headed by Premier Clark said it is because BC needs the energy, but we don't: BC Hydro's own reports say BC can meet current demands through energy conservation. Site C is not about meeting the electricity demands of British Columbians; it is about subsidizing BC's oil and gas and mining industries. It's an $9 billion taxpayer subsidy to a dirty fossil fuel industry that needs cheap energy to expand.
On October 14, 2014 the governments of both BC and Canada announced that the Site C dam had been granted environmental assessment approval – despite the Joint Review Panel's acknowledgement that the project would cause irreparable harm to local First Nations, fish and wildlife populations and that no need for the power had been shown.
Then, on December 16, 2014 the BC provincial government gave the go-ahead for construction of the dam.

We can't let this happen. The Site C Dam would destroy critical ungulate habitat that has sustained wildlife that has supplied generations of First Nations people with food and cultural sustenance for thousands of years. It will destroy one of the largest and most important wildlife corridors on the continent, and submerge valuable carbon sinks instead of promoting food security and the need to adapt to climate change.

BC already has enough electricity. BC already has enough rivers in pipes and behind dams. Let's look at alternatives that make sense. Let's keep the Peace flowing and free.
In 2017 British Columbian's elected a new leader - Premier Horgan, on a promise to put the Site C dam project before the BC Utilities Commission for an independant review of its costs vs benifits. The Wilderness Committee is confident that the review will show that Site C dam must be cancelled for good.

Google Map of Proposed Site C Dam on the Peace River
Proposed reservoir is shown in orange, while the proposed powerline is a thin, dark red line, and the proposed dam site is a thicker, medium red colour just southwest of Fort St. John.

View Site C Dam in a larger map