It's Time for the BC Government to Ban Raw Log Exports
The export of raw logs is a crisis in BC. Despite outcry from forest communities, unions, policy experts, political leaders, environmental groups and thousands of citizens, this controversial practice has reach record levels in recent years.
The spike in raw log exports, facilitated by the BC government, has been a disaster for BC's environment and our forest economy.
The province – and especially the coast – has seen dozens of mill closures and thousands of lost jobs. BC is the only province that exports raw logs in large volumes, and as a result, it has less jobs and creates the less value per tree harvested than any other province in Canada.
We're sending trees, money and jobs out of BC – and we're doing it at a faster rate than ever before. If we put the logs we exported in a single year onto logging trucks and lined those trucks up end to end, they would stretch from Vancouver to Thunder Bay, Ontario!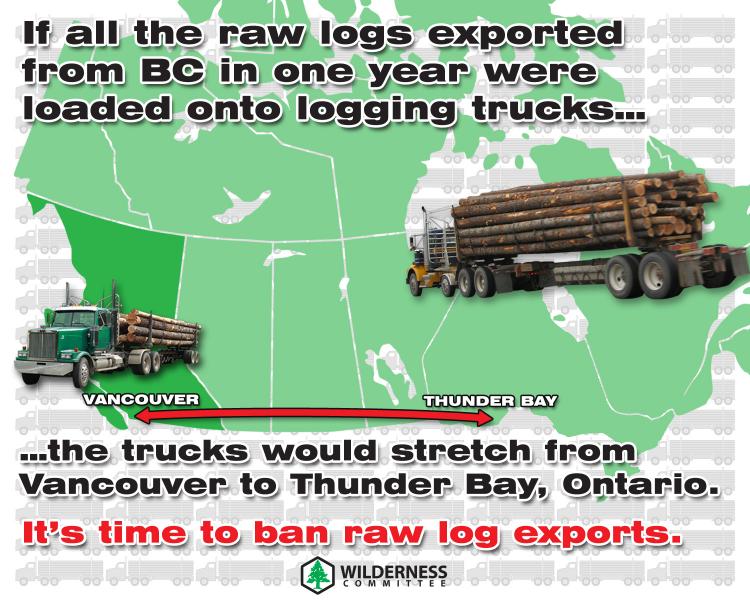 This is a problem that our provincial government has a responsibility to address.
So far, it's been municipal governments that have shown leadership on raw log exports.
The Association of Vancouver Island and Coastal Communities (AVICC) is a body comprised of the mayors, councillors and regional directors for all cities, towns and districts on Vancouver Island, the Gulf Islands, Discovery Islands and the Sunshine Coast. In April 2015, the AVICC passed a resolution to call on the provincial government to re-examine raw log export policy.
This local government pressure is important, but now it's critical that we let our provincial leaders know that we stand behind this call for action on the raw log export crisis!
Please take action today: tell our provincial policymakers to honour the call from forest industry workers, municipal governments, environmental groups and concerned citizens and ban raw log exports once and for all!
You can write a letter now urging the BC government and opposition party members to take action on our forest policy and ban raw log exports in BC!
More info:
---
Photo: Raw logs on the Fraser River, ready for export. (Paul Joseph via Flickr)