Manitoba Duck Mountain Region Audit
Wednesday, May 03, 2023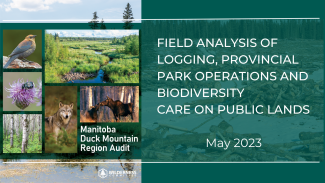 FIELD ANALYSIS OF LOGGING, PROVINCIAL PARK OPERATIONS AND BIODIVERSITY CARE ON PUBLIC LANDS
OVERVIEW
The findings in this independent report of logging and provincial park operations in the Duck Mountain region of western Manitoba — on lands utilized by Minegoziibe Anishinabe, Wuskwi Sipihk First Nation, Tootinaowaziibeeng First Nation and others — are a result of research undertaken by the Wilderness Committee. The organization has found the stated goals and monitoring activities of Duck Mountain Provincial Park are being ignored.
The Duck Mountain region, including a majority of Duck Mountain Provincial Park, is a unique intersection of ecosystems unlike any other on the planet. The combination of species that meet in this unusual topography at this elevation and latitude create biological diversity that must be protected. The region is only managed for short-term logging, rather than being managed for biodiversity, provincial park values and the long-term health of the forests. The few regulations that exist to manage this region are outdated and not being enforced or followed.
Measurable goals with timelines must be set so the Duck Mountain region can be brought back to a
healthy public ecosystem that includes logging in designated areas.
VIDEO
Watch our video on a recently discovered beautiful hiking and biking trails in Duck Mountain Provincial Park that are at imminent risk of destruction from Louisiana Pacific's logging plans. More information on this can be found in the report in section 2.a. Biking and hiking trails lost on page 16 of the report.
REFERENCES
Full list of references featured in the report, including links to archived materials.