Territory Appreciation
Friday, February 19, 2021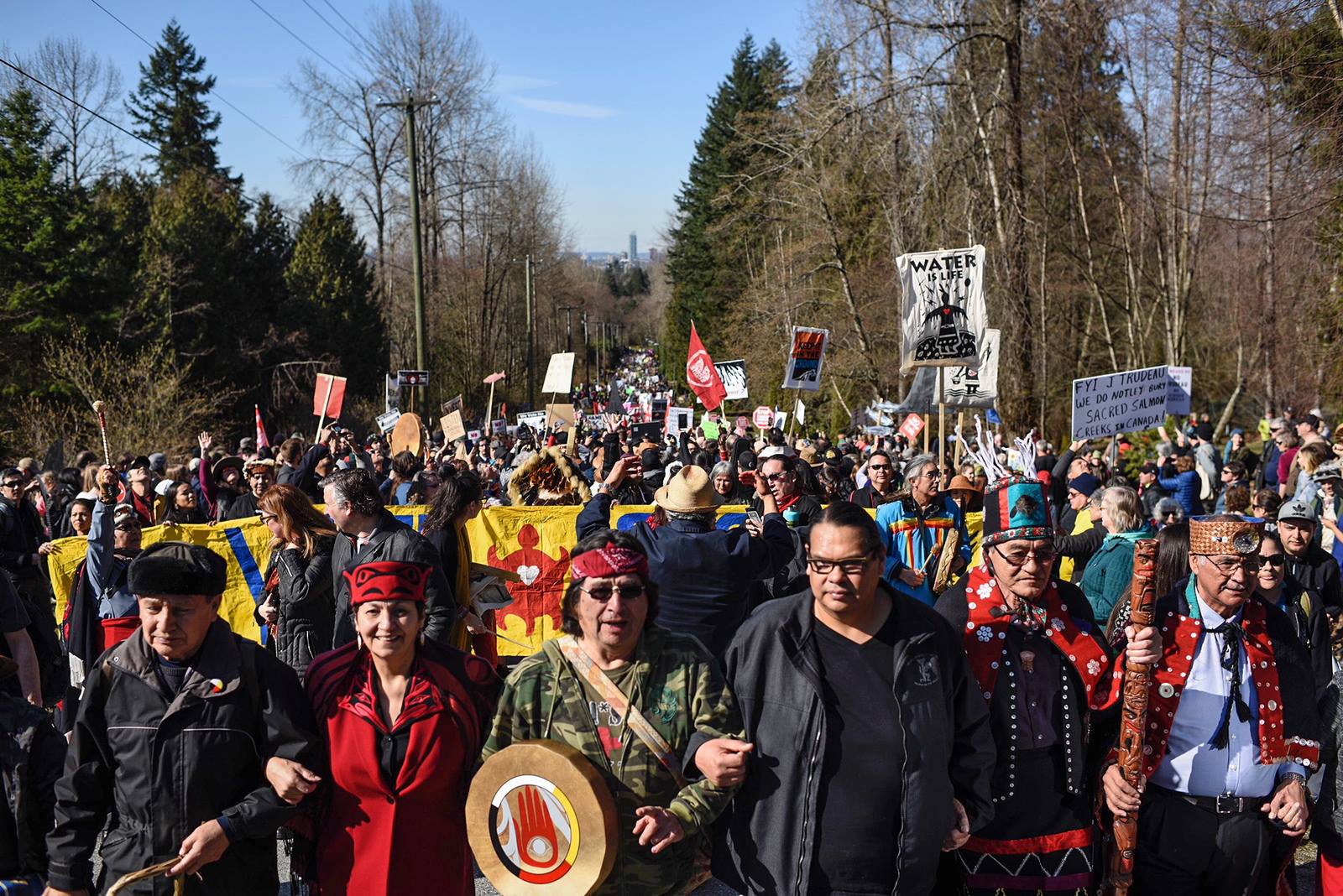 The Wilderness Committee works on the traditional lands and waters of Indigenous Peoples, including First Nations, Inuit, and Métis Peoples, in a country now known as Canada. We are grateful for their resistance and resilience in the face of centuries of colonization and attempted genocide. We honour and thank Indigenous Peoples for allowing us to live, learn and work here, and express heartfelt gratitude to their ancestors, hereditary leaders and matriarchs who have stewarded these lands and waters since the beginning of time.
Many in our organization are uninvited guests who have made these lands our home as part of the process of settler colonialism and have benefited from colonization. Colonization occurs when a new group of people migrates into a territory, takes over and begins to control the people Indigenous to that land, imposing their own cultural values, religions and laws, seizing land and controlling access to resources and trade*. The Wilderness Committee notes that colonization is ongoing, and we hold responsibility to help end this unjust and violent process. 
Traditional territories are the geographic area identified by Indigenous People as the land they and/or their ancestors occupied and used. First Nations, Inuit and Métis People have legally protected and inalienable rights on their territories.  
This statement is also a reminder of the discriminatory, racist and colonial practices that have had a lasting legacy and continue today against Indigenous Peoples by Canada. This includes but is not limited to the apprehension of children; murdered and missing Indigenous women, girls and two-spirited people; discrimination in the criminal justice system; and suppression of language and culture. We cannot do the work we do without understanding the land we are on and how we are complicit in and in many ways benefit from ongoing colonialism.
Our head office is in Vancouver, situated on the traditional, ancestral and stolen lands of the Coast Salish Peoples, specifically the xʷməθkʷəy̓əm (Musqueam), Skwxwú7mesh (Squamish) and səlilwətaɬ (Tsleil-Waututh) territories. We also acknowledge the lands of neighbouring Peoples and nations in this region where many of us reside and where we carry out our environmental defence work, including S'ólh Téméxw (Stó:lō), Stz'uminus, Qayqayt, kʷikʷəƛ̓əm (Kwikwetlem), Kwantlen, sq̓əc̓iy̓aɁɬ təməxʷ (Katzie), Semiahmoo, sc̓əwaθenaɁɬ təməxʷ (Tsawwassen), Nłeʔkepmx Tmíxʷ (Nlaka'pamux), Secwepemcúl'ecw (Secwépemc), and W̱SÁNEĆ.
Our Vancouver Island office is located in Victoria, the traditional territories of the Lək̓ʷəŋən/Lekwungen speaking Peoples of the Songhees and Esquimalt Nations and the W̱SÁNEĆ (SȾÁUTW/Tsawout, W̱JOȽEȽP/Tsartlip, BOḰEĆEN/Pauquachin, WSIḴEM/Tseycum) Nation. We also acknowledge the lands of neighbouring Peoples and nations in this region where some of us reside and where we carry out our work, including the MALAXEt (Malahat), Scia'new (Beecher Bay), T'Sou‐ke (Sooke), Quw'utsun, Ditidaht, and Pacheedaht Peoples. We are honoured to work in partnership with several Coast Salish, Nuu-chah-nulth and Kwakwaka'wakw nations on their territories on what's known as Vancouver Island, the Gulf Islands, the Discovery Islands and the Broughton Archipelago.
Our Winnipeg office is located in Treaty No. 1 Territory, the ancestral and traditional lands of the Anishinaabe (Ojibway), Dakota, Ininew (Cree), Lakota, and Oji-Cree Peoples. It is the Heart of the Métis Nation Homeland. Treaty No. 1, signed in 1871, took this territory from seven Anishinaabe and Ininew First Nations in order to make the land available for settler use and ownership. The name Winnipeg has its origins in the Ininew name given to Lake Winnipeg "Win"-muddy, "nippe"-water. Winnipeg water comes from Treaty 3 Territory, and hydroelectric power comes from Treaty 3, Treaty 5, and beyond. 
Manitoba has its root in "Manito Ahbee", which translates to "where the Creator sits" in Anishinaabe. Our work across Manitoba is undertaken in Treaty 1, Treaty 2, Treaty 3, Treaty 4, Treaty 5 and unceded territory. This is the ancestral and traditional land of the Anishinaabe (Ojibway), Dakota, Dene, Ininew (Cree), Lakota, Oji-Cree, and Inuit Peoples. It is the Heart of the Métis Nation Homeland. 
Our Ontario office is located in Toronto, the traditional territories of many Indigenous Nations. The lands and waters in the area known as t'karonto, meaning "where there are trees standing in the water," has been cared for by the Haudenosaunee Confederacy, Wendat and Anishinabek Nations and is now home to many diverse First Nations, Inuit and Métis Peoples. We acknowledge and respect the Dish With One Spoon Wampum Belt Covenant, a treaty between the Anishinaabe, Mississaugas and Haudenosaunee to share and care for the land that is now known as southern Ontario, from the Great Lakes to Quebec and from Lake Simcoe into the US. We also acknowledge Toronto is covered by Treaty 13 with the Mississaugas of the Credit First Nation. 
Our wilderness and wildlife protection work in Ontario takes us to old-growth forests, wetlands and waterways in the province and we acknowledge and thank the Anishinabek Nation, including Odawa, Saulteaux, Ojibwe, Mississauga, Potawatomi, Oji-Cree, and Algonquin Peoples, as well as the Cree Nations, Métis, and the Haudenosaunee Confederacy, comprised of Mohawk, Oneida, Onondaga, Cayuga, Seneca and Tyendinaga Peoples, for caring for these lands.