People like you have been on the ground with us for 40 years! That's the definition of people powered wilderness preservation. Together, we're working tirelessly to protect life giving biological diversity in Canada through strategic research, community mobilizing and grassroots public education in the following areas:
Featured Campaign Updates
Reports & Publications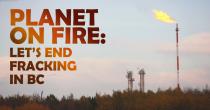 A brand new fossil fuel industry in a climate crisis? Flare stacks tower above the spruce and aspen forest of northeastern British Columbia unleashing huge plumes of flames. Across the region, these monoliths pour carbon pollution into the atmosphere 24/7. Now, liquefied natural gas (LNG) plants on the coast could add countless more.