People like you have been on the ground with us over 35 years! Together, we're working tirelessly to protect Canada's life giving biological diversity through strategic research and grassroots public education in the following areas:
Featured Campaign Updates
Reports & Publications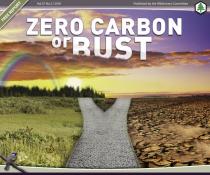 What does a zero carbon economy actually mean? What is life like in a world where we've stopped pumping pollution into the atmosphere and are now working to reverse climate change? And how do we get there? Find some answers in our latest report: "Zero Carbon or Bust".