People like you have been on the ground with us for more than 40 years! That's the definition of people powered wilderness preservation. Together, we're working tirelessly to protect life-giving biological diversity in Canada through strategic research, community mobilizing and grassroots public education in the following areas:
Featured Campaign Updates
Reports & Publications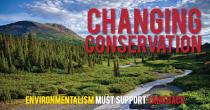 Discover the pivotal role of Indigenous-led initiatives in safeguarding our environment. Learn how respecting Indigenous laws and returning land authority can foster a sustainable, harmonious future. Join the movement towards a healthier, equitable world.