People like you have been on the ground with us for 40 years! Together, we're working tirelessly to protect life giving biological diversity in Canada through strategic research and grassroots public education in the following areas:
Featured Campaign Updates
Reports & Publications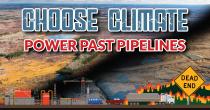 Read the full report by clicking here. Look below for the first article. Not one more taxpayer dollar for tar sands expansion As Canada heads into the 2020s, it's hard not to feel a sense of calamity in the headlines. It seems the winter blasts as Arctic air spills southwards fold right into severe...