People like you have been on the ground with us for more than 40 years! That's the definition of people powered wilderness preservation. Together, we're working tirelessly to protect life-giving biological diversity in Canada through strategic research, community mobilizing and grassroots public education in the following areas:
Featured Campaign Updates
Reports & Publications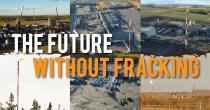 Everyone has now felt the impacts of the climate emergency. Our newest paper explores how fossil fuels have impacted us in BC and looks ahead at how we can build a future without fracking.