People like you have been on the ground with us for 40 years! That's the definition of people powered wilderness preservation. Together, we're working tirelessly to protect life giving biological diversity in Canada through strategic research, community mobilizing and grassroots public education in the following areas:
Featured Campaign Updates
Reports & Publications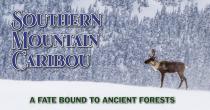 These animals have been traversing this Earth for 1.6 million years. Imagine that — woolly mammoths, giant sloths and Beringian lions all roamed the lands now called Canada, alongside caribou who are still here today. They've survived ice ages, tectonic shifts and Beringian lions. But tragically, they might not survive us.