People like you have been on the ground with us for almost 40 years! Together, we're working tirelessly to protect life giving biological diversity in Canada through strategic research and grassroots public education in the following areas:
Featured Campaign Updates
Reports & Publications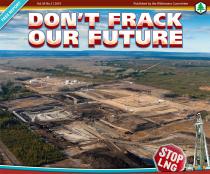 Read the full report here. There's nothing natural about fracking From the eastern slopes of the Rocky Mountains in northern B.C. and Alberta you can see a vast swathe of boreal forest, pockmarked with tens of thousands of fracking wells, seismic lines, access roads and wastewater ponds. These alien...