People like you have been on the ground with us for 40 years! That's the definition of people powered wilderness preservation. Together, we're working tirelessly to protect life giving biological diversity in Canada through strategic research, community mobilizing and grassroots public education in the following areas:
Featured Campaign Updates
Reports & Publications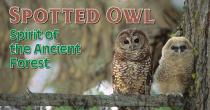 Spotted owls once thrived in the old-growth forests of southwest mainland British Columbia, nesting in centuries-old Douglas fir, western hemlock and western red cedar trees. Once numbering 500 pairs prior to the arrival of settlers, the spotted owl is following the course of more than 30 wildlife species that became extinct in Canada as a result of colonization and out-of-control industrial activities. Only three spotted owls are left in the wild in Canada.