People like you have been on the ground with us for 40 years! That's the definition of people powered wilderness preservation. Together, we're working tirelessly to protect life giving biological diversity in Canada through strategic research, community mobilizing and grassroots public education in the following areas:
Featured Campaign Updates
Reports & Publications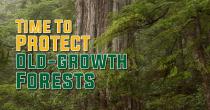 When journalists interview me about old-growth forests, the hardest question to answer is "what is it like to be in one?" Standing in undergrowth so dense it's hard to walk through with beams of sunlight piercing the tops of trees that were hundreds of years old before Europeans even arrived on this continent — how do you put this feeling into words?