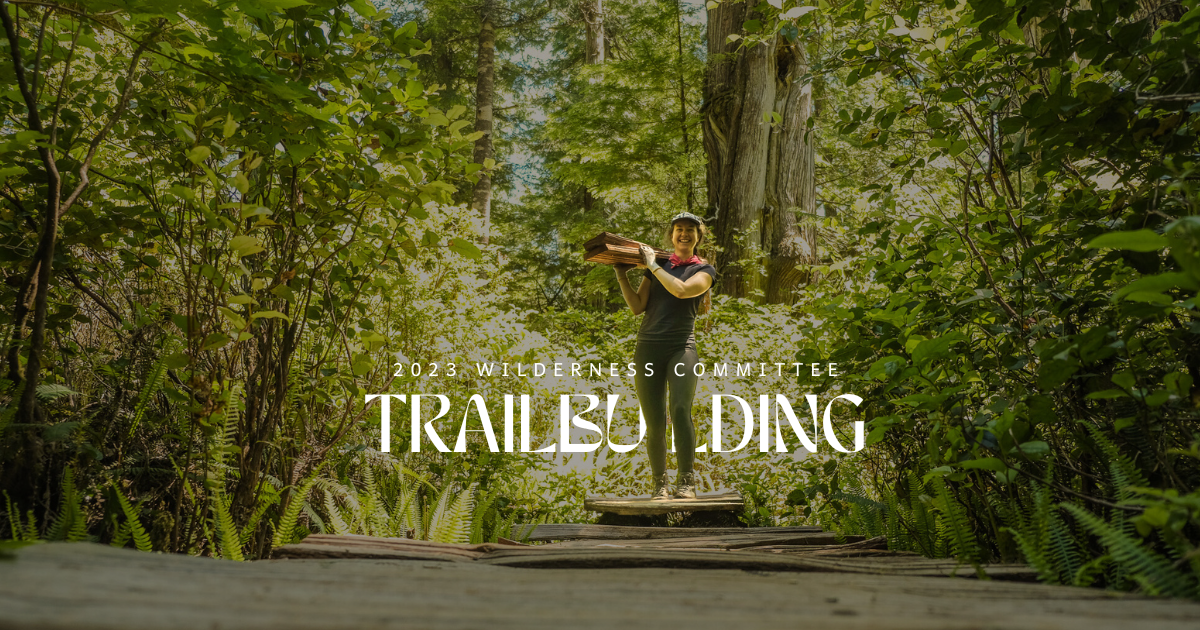 We have another great trail building and hiking season this summer — come be part of it!
We'll lead several trips of varying length and difficulty, and help you get out into some of the most spectacular old-growth forests on the planet. Working in partnership with local First Nations and community groups, participating in these trips is a unique way to learn about local ecosystems and the people working to preserve them.
Our trips are guided by trained, experienced wilderness leaders and the Wilderness Committee covers transportation costs associated with the trips. All trips involve carpooling with other volunteers. Volunteers are responsible for their own food and gear, but we can help with meal planning, and we can arrange discounted gear rental options for those who don't have all the required gear. We don't want people to miss out for lack of equipment, so please contact us if we can help with this barrier.
Trips fill up fast, but please only register if you are sure you're able to make the trip (you can get the time off work, don't have conflicting events, etc). Cancellations cost us a lot of administration time and can result in us not having enough volunteers for the trip.
We hope to see you out on the trail this year!
*medium difficulty*
This trip is two nights, and we will be car camping — setting up tents within five minutes walk of the vehicles. We will be working with a small crew of our allies from Friends of Carmanah-Walbran to maintain existing trails. We will be hiking moderate distances with light hand tools, trimming undergrowth to keep the trail clear and potentially building boardwalks. For those who are able, we may be lifting and carrying heavy loads of wood.
 (3 days, 2 nights)
Dates: 
*higher difficulty*
This is a three-night backcountry camping trip. We will be dropped off by boat, and then hiking to the campsite with our gear and food as well as water and tools (about 30 minutes). We will be maintaining trails on the Wildside Trail, hiking medium to long distances with light hand tools, trimming undergrowth to keep the trail clear and taking long hikes to visit beaches along the trail.
(4 days, 3 nights)
Dates: 
*lowest difficulty*
This is a day trip, so it's best suited for those living on Southern Vancouver Island. If you're coming from further away, you may need to arrange your own accommodation the night before). This is our easiest trail trip, meant to provide an opportunity to get out into intact old-growth forest, for folks unable to attend longer overnight trips that involve camping and trail work. The trip involves carpooling to Koksilah (about one hour north of Victoria) and then taking a guided hike into the ancient Douglas-fir forest, with nature interpretation along the way and a break for a snack along the river. The estimated hiking time is 2.5–3 hours, with about a 2.5-hour return drive from Victoria. 
Dates: 
---
All trips take place on the territories of the Ahousaht, Pacheedaht and Cowichan peoples, and the Wilderness Committee recognizes the sovereignty of these Indigenous Nations and expects all participants to carry themselves with respect and compassion.
For any questions about our 2023 trail building and field season, please contact our campaign organizer Em at em@wildernesscommittee.org