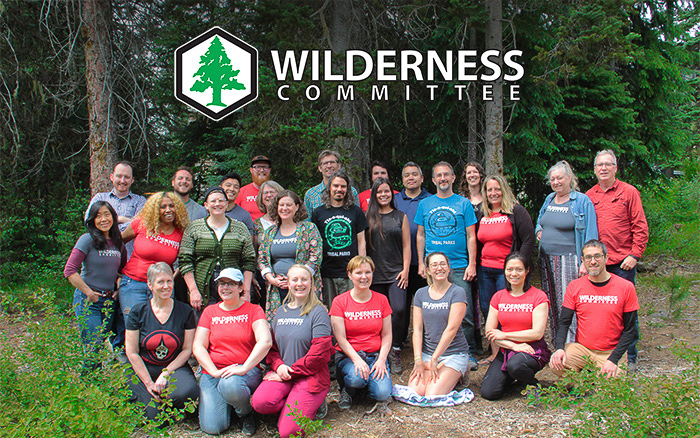 Graphic Designer (based in Vancouver)
The Wilderness Committee has an exciting opportunity for an experienced Graphic Designer to be part of our dynamic and diverse team. The Graphic Designer is responsible for the design of all Wilderness Committee printed and digital publications, including calendars, newspapers, leaflets, posters, ads and banners, among others. This is a full-time position based on 37.5 hours/week. 
The Wilderness Committee is a grassroots, people-powered, wilderness preservation group that has a history of more than 35 years on the front line of environmental battles in BC. We have helped protect millions of hectares of wilderness in Clayoquot Sound, Carmanah Valley and the Lower Walbran Valley; defend wild rivers such as the Upper Pitt River, Bute Inlet Rivers, and Glacier and Howser Creeks from private power projects; and we have worked tirelessly over the last decade to fight climate change through our campaigns to stop tar sands exports and to oppose the fracking industry.
As a federal charity with four offices across the country and tens of thousands of supporters, communications is one of our most important strategies. The Graphic Designer works under the supervision of our Production Director and in collaboration with our team of environmental campaigners and fundraising professionals to produce high-quality materials, contributing best practices for engaging design and solid artistic principles, while at the same time ensuring organizational brand and consistency. 
The successful candidate will be passionate about designing for social change and adept at taking other's ideas and stories and building a graphic vision that communicates our messages to the public. They will be a demonstrated multi-tasker able to thrive in a fast-paced office and work to deadlines while accommodating last-minute changes. They will understand the rapidly changing design environment and be able to identify opportunities for the organization to improve. This is an exciting opportunity for a hard-working, creative designer who is interested in applying their professional qualifications to achieve positive change. 
As the Wilderness Committee's Graphic Designer, you will be required to:
Conceptualize artwork and layout for WC publications, including print and digital versions, and adapting content for videos, mobile, social media and web
Create graphic elements such as illustrations, infographics charts, graphs and logos for print and online presentation
Edit images and photos for different media (print, web, video)
Design a variety of fundraising and administrative tools including letters, envelopes, presentations and forms
Package and prepare projects for print (both in house and at commercial printers)
Consult with other staff members to discuss and adapt layout design
Ensure design is consistent with organizational brand, quality and consistency, and update as needed
Apply your understanding of design principles and platforms to our work and keep an eye out for emerging design trends
You will have: 
Graduated in the field of graphic design, digital arts and/or other design-based subjects
At least three years experience working as a professional graphic designer, experience working with nonprofits an asset
Demonstrated creative eye for design as illustrated by your extensive portfolio
Advanced knowledge of all applications within Adobe Creative Cloud (Photoshop, InDesign, Illustrator) on a Windows-based desktop
High attention to detail
Proven use of best practices when producing print and digital materials
Significant computer skills including Microsoft Office 
Passion for social justice and interest in combining personal activism with professional graphic design
Strong written and verbal communication skills
Familiarity with social media platforms and their respective image and design specifications
Experience with mail out design including letters, letterhead, envelopes, inserts and InDesign data merge an asset
Experience with Adobe Premiere Pro, Adobe After Effects, Drupal Content Management Framework and HTML an asset 
You will be:
Passionate about Canada's wildlife and wild places and the Wilderness Committee's mission and core values
Analytical, creative and used to thinking outside the box
Able to find humour in the face of adversity
Able to handle a large volume of work, with excellent organizational skills and the ability to prioritize multiple tasks
A self-initiated problem solver who is reliable and enthusiastic
A team player
Committed to creating a positive and healthy workplace environment 
Salary: $48,000 per annum    
Conditions of employment: This is a unionized position with BCGEU Local 2003 and thus all pay and benefits are determined by the Collective Agreement.
Closing Date: Monday, September 23, 2019
Qualified internal applicants shall be given first consideration in filling this position. 
The Wilderness Committee is committed to employment equity as an ongoing process. We encourage qualified applicants from underrepresented groups, including women, Indigenous persons, racialized communities, persons with disabilities and members of sexual or gender minority groups.
 
We thank all candidates for their interest and regret that only those candidates who are short-listed for interviews will be contacted.
Please send a cover letter and a resume in a SINGLE PDF with Graphic Designer in the subject line to designer@wildernesscommittee.org NO PHONE CALLS OR DROP-INS PLEASE.