Canada: Stand Up for Nature
Thursday, September 21, 2017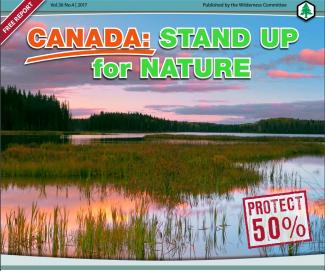 The Earth is undergoing a mass extinction, and this one is caused by people.
We're facing rapidly expanding industrial development and climate change that endangers critical wildlife habitats and our communities. Canada's biodiversity and natural spaces are valuable resources and we're losing them.
Canada has promised to raise the level of protected areas from 10.6 per cent of our total land area to 17 per cent by 2020. But progress is slow.
In addition, scientists have determined that in order to halt the extinction wave we need to protect 50 per cent of the world's natural habitats. Canada must rise to the challenge and protect 50 per cent of our wild.
In our latest report, Canada: Stand up for Nature, we explore the ongoing loss of our planet's natural habitats and its link to global climate change. Our report makes a clear argument for conserving and protecting wild lands. It also includes possible solutions that could mitigate climate change, habitat loss and exploitive industrial development.