Canada's Bees on the Brink
Thursday, September 08, 2016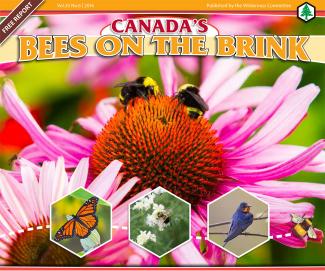 Download our latest educational report 
Canada's Bees on the Brink education report outlines the dire need for a nation-wide ban on neonicotinoids to protect bees and pollinators.
Bees give us a lot of to be thankful for. Without bees and wild pollinators our natural world would be devastated and our food security in peril. The importance of bees to our environment and our lives cannot be overstated, which is why the decline of pollinators in Canada and across the world is so alarming.
One of the big red flags is a dangerous class of pesticides called neonicotinoids (neonics).
Neonics are toxic to bees and wild pollinators, and they're now the most widely used class of pesticides in the world. Scientists are increasingly concerned that they could be one of the leading causes of pollinator deaths globally. Understanding the well-documented threats of neonics is essential to protecting our bees and wild pollinators.
In this report you can find out:
The steps that jurisdictions in Canada and across the world are taking to protect bees against harmful neonics
Why we went to court to demand the federal government take action on neonics.
Three important actions you can take to protect bees and wild pollinators.
And it's time to push the federal government for a nation-wide ban against neonics. 
If you would like additional copies of the report to distribute in your community, please contact papers@wildernesscommittee.org and let us know how many you require.
Join us as we advocate for Canada's bees and pollinators, so that they are safe to do their vital jobs.