Canada's Natural Heritage – Worth Fighting For
Thursday, September 03, 2015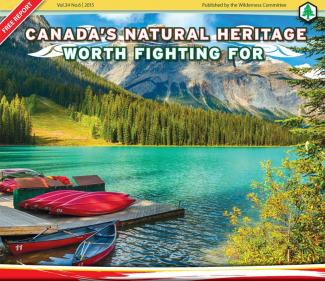 Protecting the environment is a smart investment in our future
Whether you're swimming in a crystal clear lake, having a snowball fight or just walking in the woods, Canadians enjoy many simple pleasures that are provided by nature. Healthy ecosystems also provide us with the things we need to survive, including food, water, clean air, pollution, medicines, climate regulation and flood control. 
This report looks at how the health of Canada's environment is intrinsically linked to our well-being and quality of life, and why its protection is so critical – now and into the future. 
Caring for our environment requires both stewardship and strong laws. That is why it's so disturbing that Canada's environmental laws have been watered down, repealed or largely unenforced. 
We can do better.
Read this paper to better understand what is at stake – for our climate, national parks, fish, freshwater and endangered species – and learn about the steps we can take to improve Canada's laws and protect our natural heritage for our children and grandchildren.