Clayoquot Sound: On the Edge
Thursday, March 07, 2013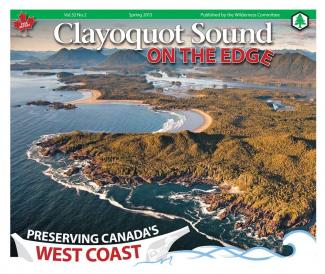 World-renowned natural wonder at risk
Those of us lucky enough to have driven the Trans-Canada Highway to its western limit at the village of Tofino, BC have found a region of unparalleled natural beauty. Clayoquot Sound (pronounced Klak-wot) is, quite simply, one of the most incredible places in the world.
The convergance of the open Pacific Ocean and one of the last ancient temperate rainforests on earth has created a legendary ecosystem. It is home to vibrant First Nations cultures and rich traditions, and it is also an historic focal point of the Canadian environmental movement.
Foreign-owned salmon farms and massive mine proposals have joined old-growth logging in putting constant pressure on Clayoquot Sound's environment – and the communities that rely on it. These destructive activities also threaten more sustainable industries like fishing and tourism, and they compromise critical endeavours like cultural continuation, salmon rehabilitation, and forest conservation.
Clayoquot Sound is not only on the edge of Canada, it's also teetering on the edge between lasting preservation and further environmental destruction. But we still have time to do the right thing.
With all of its history and potential, Clayoquot Sound is a true national treasure. It's high time we treasure it.
Torrance Coste | Vancouver Island Campaigner
Wilderness Committee