Cold Gas, Hot Air
Monday, February 09, 2015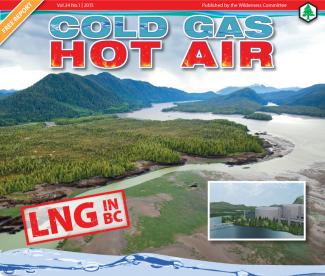 Read our latest educational report...
Liquefied Natural Gas Plans Clash With Climate Action
Does anyone else feel like the past year has been jam-packed with promises from the BC government? The idea is always the same: Have no fear, LNG is here. 
LNG, or liquefied natural gas, has been trumpeted as British Columbia's economic saviour. However, more and more people are coming to realize that this new industry – which is based on the extraction, production and export of fossil fuels – will never be as "clean and prosperous" as we've been led to believe.
BC's proposed LNG industry is guaranteed to add massive amounts of greenhouse gases to the atmosphere, which will have a serious impact on our climate. This is partly because nine out of ten new gas wells required to supply the LNG industry will be drilled using the destructive technique of hydraulic fracturing, or "fracking."
Fracking has a harmful effect on our climate and so does the burning of fossil fuels like LNG. These impacts fly in the face of the BC government's claim that LNG is a "clean, green" energy source.
There are many other downsides to the construction of gas export plants along our west coast – not to mention the multitude of pipelines that would feed the LNG terminals. Read this report to find out more about the climate impacts, learn about the LNG-related risks to salmon and communities, and see why other jurisdictions in North America are taking bold action to stop fracking.
We can have a thriving economy without fracking and LNG. It's time to face the facts – this industry is not a clean, green option for BC.