End Logging in Ontario and Manitoba Parks
Thursday, June 04, 2015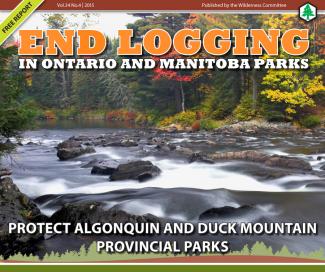 Parks should be protected – not logged
Algonquin Provincial Park in Ontario and Duck Mountain Provincial Park in Manitoba are two popular parks that share the dubious distinction of being the two Canadian parks with long-term logging operations continuing inside their boundaries. 
The idea of industrial activity in a park may not have raised any alarm bells in the past, but times have changed. The federal government removed industrial activity from national parks in 1930, and both the Manitoba and Ontario governments have ended logging in all provincial parks – except Duck Mountain and Algonquin.
Shockingly, today 61 per cent of Duck Mountain Park and 65 per cent of Algonquin Park are available for forestry activity. 
This type of industrial activity does not meet the general public's expectation of park protection, nor the very definition of a protected area. That's why logging was removed from the vast majority of Canada's parks.
Read this report to learn about logging activity in these two beloved provincial parks, and find out what you can do to end this outdated and harmful practice.