Keep It Wild! A Conservation Vision For Manitoba
Thursday, May 12, 2016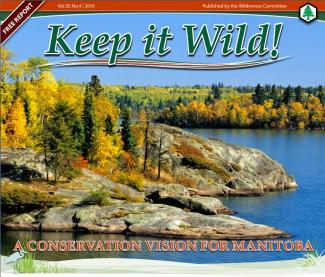 Download our latest educational report
A Conservation Vision For Manitoba
Keep it Wild education report outlines plan to meet, surpass global protected areas goals.
This report highlights the unique opportunity Manitoba has in protecting it's lands and waters. Decades of mining and logging have encroached into parks like Duck Mountain Provincial Park. We lay out why so many parks across the province need conservation from being decimated by outside interests.
We make recommendations on a path forward to preserve the province's wilderness and surpass the global goal of protecting 17 per cent of Manitoba lands and waters by 2020.
It's time for the new Manitoba government to come to the table and address issues like recognizing indigenous traditional use parks and safeguard the wildlife in these areas, like the woodland caribou and red-headed woodpecker. 
And it's time to meet our protected area goals!
If you would like additional copies of the report to distribute in your community, please contact papers@wildernesscommittee.org and let us know how many you require.
Join us as we advocate for Manitoba's wildest places to be intact for future generations.