Old-growth Crisis
Thursday, September 12, 2019
Wilderness Committee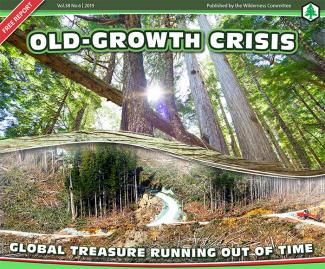 Read the full report by clicking here.
The west coast of Canada is synonymous with windswept coastlines, jagged mountain peaks and lush temperate rainforests between them.
A series of epic landscapes span Vancouver Island. Taken care of by Kwakwaka'wakw, Nuu-chah-nulth and Coast Salish Nations since time immemorial, this place is loved by residents and visitors alike. I'll always consider myself lucky to have been born and raised on the Island, to have grown up in awe of this place and its potential.
Unfortunately, when it comes to forests, the logging industry has pushed that potential too far and moved way beyond the point of balance.
In short, we've cut too much forest in too many places. The list of unlogged valleys has shrunk. Parts of the Island unaffected by the industry are few and far between — non-existent in some places.
Any solutions must centre Indigenous Rights and Title, social and economic justice for Indigenous Peoples and the return of land to First Nations.
What we lose when these forests are logged is often irreplaceable and couldn't be more important. Medicines and resources integral to First Nations' cultures, habitat for endangered species unique to the region, the local foundations of the multi-billion dollar tourism industry, safeguards for clean air and water and areas where we can connect with nature — these are just a few things ancient forests provide. In the fight against climate change old-growth rainforests could be our best ally, storing climate-changing carbon and buffering against the impacts of the crisis.
For those of us living on the West Coast, it can be easy to forget some of these forest types exist nowhere else on Earth. They aren't just significant to this coast, but to the whole country and the entire world too.
Despite the global significance of intact old-growth temperate rainforests, forest management here doesn't prioritize their protection.
Instead, logging corporations and successive provincial governments have pushed ecosystems and species to the brink while less and less value is returned to communities. Resources dwindle while short-sighted practices like raw log exports continue.
On Vancouver Island alone, the equivalent of 34 soccer fields worth of original forest is logged every single day.
Nothing short of a bold, foundational shift is needed to protect remaining ancient forests and transition the forest industry to sustain itself beyond another few decades. This means legislated changes to forestry laws to place healthy intact ecosystems and community well-being above the profits of logging companies.
At the same time we address the ecological and economic crises unfolding in the woods, we must tackle injustice against the peoples who have always called these forests home. Any solutions must centre Indigenous Rights and Title, social and economic justice for Indigenous Peoples and the return of land to First Nations. This country sits on the lands of First Nations, Inuit and Métis peoples. Putting these Nations in the driver's seat of conservation initiatives is the only way we'll protect enough ecosystems in the time required to combat the biodiversity and climate crisis.
These aren't simple tasks, but the stakes couldn't be higher.
Read this report to learn more about the state of old-growth forests on Vancouver Island and what's needed to achieve environmental justice in the woods.
Like the first article? Click here to read the full report! Action you can take is found on the back page of the report. 
Cover photo: Tessium Creek, clearcut in Chmidt Creek, Vancouver Island (Louis Bockner).