Save the Salish Sea
Thursday, February 13, 2014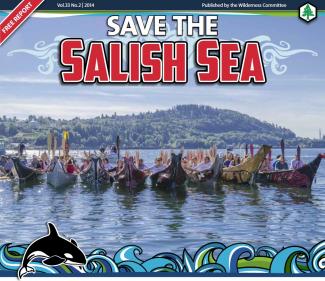 Turning the tide on fossil fuel expansion
The Salish Sea, the body of water comprising of the Strait of Georgia, Puget Sound and the Juan de Fuca Strait, is a precious resource that has sustained life in the Pacific Northwest region for thousands of years. From the millions of salmon that migrate through its waters, to the temperate rainforests lining its shores, to the power and grace of its resident killer whales, this remarkable stretch of ocean provides endless gifts.
Right now, several fossil fuel export projects proposed in the Salish Sea pose serious threats – whether it's in the form of a catastrophic tanker accident, or through contributions to irreversible climate change, these projects would impact this incredible region forever.
Pipeline giant Kinder Morgan hopes to triple oil shipments through its Trans Mountain Pipeline and marine terminal in Burnaby, bringing an unprecedented number of tar sands oil tankers to the busy waters of the Salish Sea. At the same time, Port Metro Vancouver is considering significant increases in the amount of coal shipped from its facilities in the region. Cumulatively, these proposals represent a dramatic regional shift: the transformation of the Salish Sea into a global carbon corridor.
Read this report to learn more about the Salish Sea, its cultural and environmental significance, and the dangerous fossil fuel projects that are knocking at its door – and find out how you can help prevent this amazing region from becoming a highway to climate change.