Vancouver Island's Last Stand
Thursday, April 21, 2016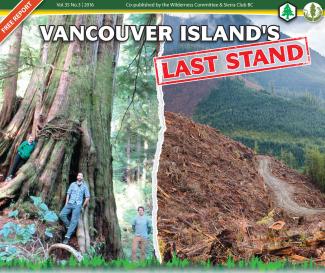 Download our latest educational report
Wanted: Leadership in BC's forests 
The growing scarcity of old-growth forests on Vancouver Island is an environmental crisis. It's also the subject of our latest educational report, Vancouver Island's Last Stand.
Co-produced with our friends at Sierra Club BC, this report highlights the crisis in Vancouver Island's forests and advocates for better management of these incredible ecosystems. Decades of overharvest and continued old-growth logging, combined with job-killing raw log exports, have pushed many Vancouver Island ecosystems – and forestry-dependent communities – to the brink.
We make recommendations on how to shift course and save the Island's forests and the species and livelihoods that depend on them.
It's time for the BC government to come to the table and address issues like the link between coastal rainforests and climate change. It's time to give First Nations and small communities more control over decision-making when it comes to forests.
And it's time to end old-growth logging.
This publication is just the beginning of a renewed push to protect that last remaining old-growth on Vancouver Island.
If you would like additional copies of the report to distribute in your community, please contact papers@wildernesscommittee.org and let us know how many you require.
Join us as we advocate for a truly sustainable forest economy that works for the environment and for citizens, not just for a handful of corporations.