Western Canada's Provincial Parks: How does Manitoba Measure up?
Tuesday, May 01, 2007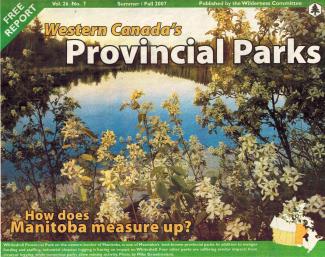 Paradise lost or environmental legacy?
People in Western Canada know we live in a special part of the world. From the mixed-grass prairies of Manitoba, to the rainforests of British Columbia; from the Rocky Mountains of Alberta to the Athabasca sand dunes in Saskatchewan — the diversity of our natural landscapes contribute to a quality of life that is second to none.
For over 100 years we have worked to protect our special places, building provincial parks systems that are truly world class. Visiting a park allows us to reconnect with the natural world: to dip our toes in a cool clear stream or take a walk in the forest. Wilderness gives us aesthetic pleasures, but behind the roar of a river, the hoot of an owl and the hum of a bee, it is providing us with the stuff of life.
Forests purify our water, clean our air and help protect us against global warming. Bees pollinate our crops and healthy wetlands protect us against flooding. Known as "ecosystem services", these benefits also include the provision of natural medicines, seed dispersal, soil retention, waste decomposition and the regulation of disease outbreaks. 
Given the environmental uncertainty we currently face it is more important than ever to take steps to ensure a future with healthy ecosystems. One of the best ways we can do that is to stand up for our parks and protected areas. Safeguarding our protected areas is a smart decision not only from an ecological perspective, but also makes sense economically.
Our provincial parks generate over a billion dollars annually to local economies throughout Western Canada. Today, from BC to Manitoba, there are over 1500 provincial protected areas covering 22 million hectares. These figures sound impressive, but in reality our parks are struggling under a barrage of threats. Logging, cuts to staff and funding, weak laws, encroaching privatization and government indifference are eroding our protected areas, putting into jeopardy the future of our parks.
Read the rest here.