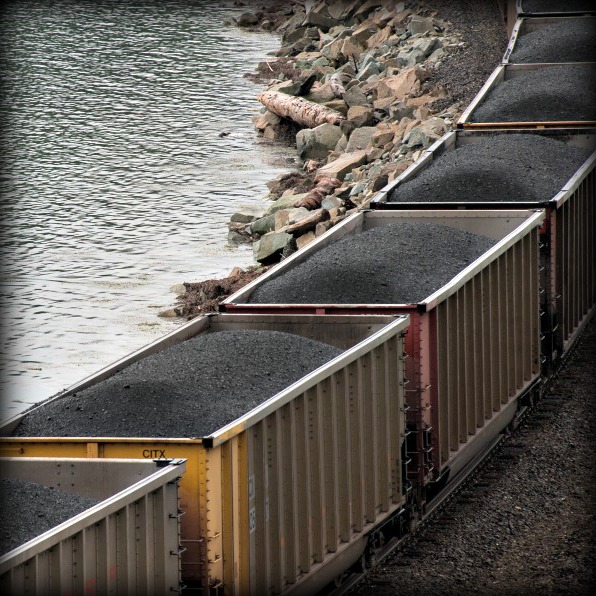 Coal is the world's dirtiest fossil fuel. When burned, it creates more climate changing pollution than any other fuel, including oil and gas. Right now, plans are underway to drastically increase coal shipments from ports in Oregon, Washington and British Columbia. The coal iself is strip-mined in the US's Powder River Basin, located in southeast Montana and northeast Wyoming, one of the largest reserves of coal in the world. If the plans go ahead, the coal would leave in bulk carriers bound for Asia, where it will be burned for power generation.
In Washington State, communities have been fighting back against the proposed Gateway Pacific Terminal at Cherry Point -  a project with an annual coal export capacity of 48 million tonnes. They have also created a wall of opposition to the proposed Millenium Bulk Logistics Terminal at Longview, Washington, which seeks to one day export 80 millions tonnes of coal. 
In Oregon, the Morrow Pacific Coal Project seeks to install coal handling facilities at the ports of Morrow and St. Helens. Another three proposed terminals, at the Ports of St. Helens and Coos Bay in Oregon, and Gray's Harbor in Washington, are stalled or cancelled due to local opposition and financial challenges.  
The recent 'coal rush' to the coasts of Oregon and Washington has companies looking to BC, where environmental laws are less strict. More coal exports need additional port capacity, so companies and port authorities are pushing for major port expansions – without a comprehensive discussion about what these coal exports will mean for our environment, public health and the climate.
The proposed port expansion at Fraser Surrey Docks, combined with an already approved expansion at the Neptune facilities in North Vancouver and recent upgrades at Delta's Westshore Terminal, represent a significant jump in fossil fuel exports from Port Metro Vancouver. With this expanded capacity, the total carbon dioxide (CO2) emissions from coal shipped through the port's facilities would rise to almost 125 million tonnes – a major contribution to climate change. 
By comparison, the whole province of British Columbia produces 60 million tonnes. Metro Vancouver would be the biggest coal exporter in North America, adding even more coal shipments to oil tankers and other ship traffic in the Salish Sea.
When Fraser Surrey Docks first announced its intention to build a new coal terminal, it advertised the fact that construction was to commence in March 2013. More than a year later, nothing has been built at the site. Local folks have given up their personal time to form community opposition groups, and they have stood in the way of U.S. coal. It's been inspiring to watch how effective these groups have been, and we are proud to support them as they pop up!
At a time when it is holding itself out as a supplier of "clean" energy, BC's provincial government has expressed no willingness to stand in the way of this enormous increase in coal exports. Ordinary citizens across the province want the impact of climate change on our health – as well as the impact of particles from diesel emissions and coal dust – evaluated as part of a comprehensive Health Impact Assessment. The province has not yet stood up on our behalf to demand such an assessment from Port Metro Vancouver. Until they do, we will keep appealing to them to demand climate leadership.
Click here to sign the pledge to stop coal – and other fossil fuel expansion projects – on the Salish Sea.