Fall Nature Hike in Catchacoma Old Growth Forest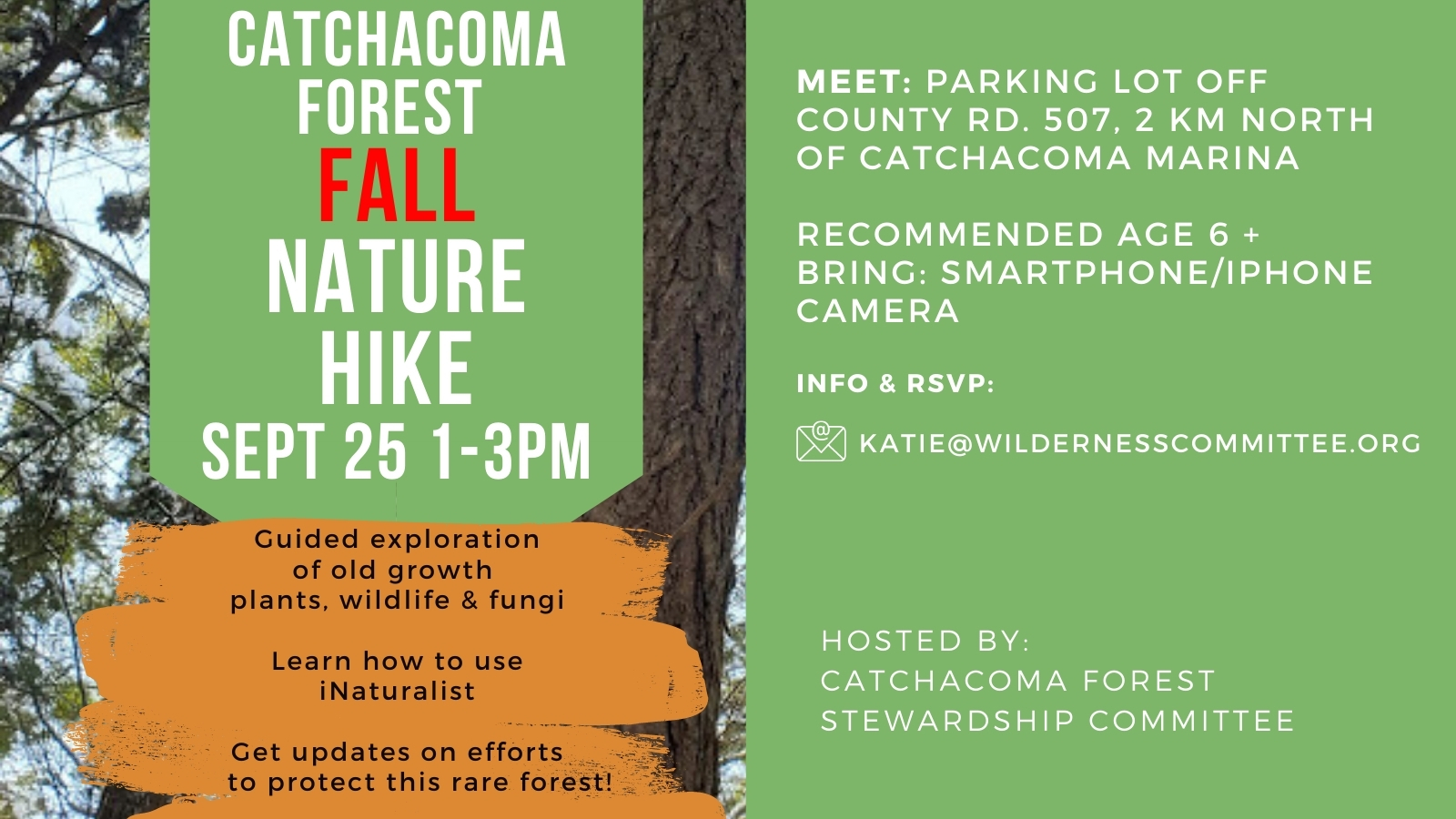 Saturday, September 25, 2021 10:00am - 12:00pm
Catchacoma Forest Hiking Trail Head, Trent Lakes, Ontario
Join the Wilderness Committee and Catchacoma Forest Stewardship Committee for a guided fall nature hike in Catchacoma Old Growth hemlock forest with experienced naturalists!
Bring your phone camera and practice using iNaturalist to id and add to the growing knowledge of plants, fungi and wildlife in the Catchacoma Forest community.
Learn how to estimate the age of hemlock trees
Visit the wetlands and creek
Learn about or get updated about ongoing efforts to stop logging and get protection status for this public forest!
To attend this event — Please RSVP to katie@wildernesscommittee.org
OR RSVP on our Facebook event page
Meeting spot: Parking lot off highway 507 2km north of Catchacoma Marina
Click here for map
Accessibility notes:
Rough hiking terrain — not good for strollers/wheelchairs
Hiking boots recommended
Bring water/snacks
Dogs must be leashed
No washrooms available on site
We respectfully acknowledge that the Catchacoma Forest is located on the Treaty 20 Michi Saagiig territory and in the traditional territory of the Michi Saagiig and Chippewa Nations, collectively known as the Williams Treaties First Nations, which include: Curve Lake, Hiawatha, Alderville, Scugog Island, Rama, Beausoleil, and Georgina Island First Nations.
We respectfully acknowledge that the Williams Treaties First Nations are the stewards and caretakers of these lands and waters in perpetuity, and that they continue to maintain this responsibility to ensure their health and integrity for generations to come.
---
*We will take social distancing precautions and limit our numbers. Masks are recommended