Ontario has a multitude of laws and regulations developed over decades to balance protections for wetlands, woodlands, wildlife and human health with urban, agricultural and industrial development. It was the first province to enact an Environmental Bill of Rights giving citizens the opportunity to participate in decisions that could impact Ontario's air, water, land and wildlife. The provincial Endangered Species Act was renowned worldwide as one of the strongest when enacted in 2008. Land-use guidelines such as the Greenbelt Act aim to limit urban sprawl and include conservation of key natural heritage sites and watersheds.
Grassroots efforts, constant vigilance and the current attack on environmental protections
Many of our environmental policies are the hard-earned result of grassroots community advocacy and reflect the values of the majority of Ontarians. At the same time, they are always at risk of erosion by the powerful corporate interests of developers and industry and require constant vigilance to maintain and evaluate. The current provincial government's "open-for-business" mandate has proved a threat to many cherished protections, as bill after bill has introduced weakened regulations in favour of unchecked development and industrial practices. This strategy of "death-by-a-thousand-cuts" seems designed to confuse, overwhelm and exhaust public participation, consultation and outcry. 
What we're doing
The Wilderness Committee is committed to remaining vigilant in safeguarding and strengthening Ontario's environmental laws, policies and regulations. We work to educate, inform and support Ontarians in understanding and acting on their environmental rights to protect the health of communities and ecosystems and to stay up to date on government policy. We assist grassroots organizing and advocacy for environmental protection.
Join Us
Join us to help protect the places we love and need. Check out the latest news and opportunities for action below.
Support Us
Your much appreciated donation keeps this work going!
Volunteer
Get in on the action and make a difference!
Reports & Publications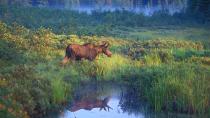 Provincial policy is absolutely crucial to protecting the nature that sustains us. From regulating resource extraction and industrial activity to planning for increasing population without sacrificing clean water, land and air — provincial government actions impact every part of our lives.