Agreement signed to set aside land for Caribou in B.C. Peace
Friday, February 21, 2020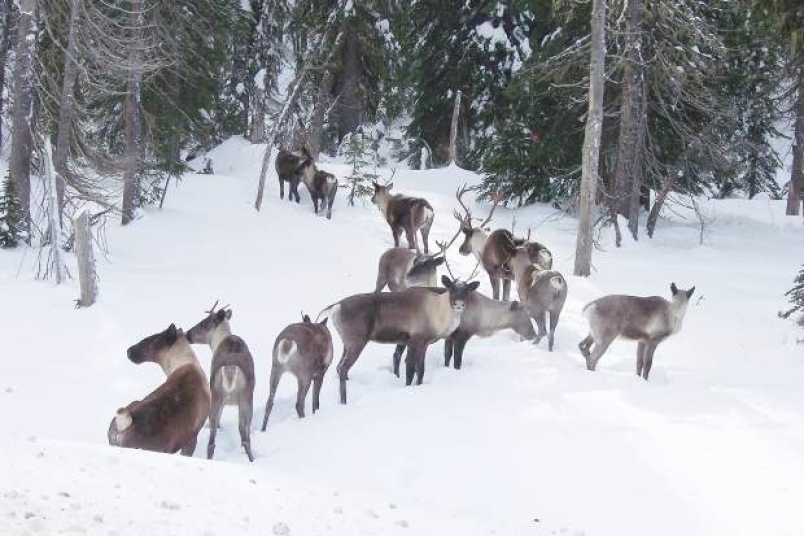 Nearly two million acres in the B.C. Peace will be placed into protected areas as part of a caribou recovery agreement signed in Vancouver on Friday.
Under the 30-year agreement, billed as the first of its kind in Canada, caribou habitat in the area of the Twin Sisters mountains will not be disturbed by new industrial development, according to a news release from the West Moberly First Nation.
"For thousands of years, the caribou have given us food, clothes, and tools to survive harsh winters," Chief Roland Willson said. "They are not just animals to us. They are our brothers and sisters, our friends and our ancestors. The caribou have been suffering for decades as their habitat is destroyed piece by piece. They need us now, all of us. This partnership agreement gives us hope. It means that help is on the way."
The agreement is focused on efforts to recover populations of the Klinse-za (Twin Sisters) caribou herd. The herd numbered just 16 animals in 2013 and has risen to 80 today thanks to efforts being credited as a mix of traditional knowledge and Western science, and which has included a wolf cull, maternal penning, and habitat restoration.
The agreement includes multi-year funding to support maternal penning and further habitat restoration, and for a new guardians program. It also establishes a caribou recovery committee, staffed by officials from the West Moberly and Saulteau, as well as the federal and provincial governments.
The committee will review development applications in other areas of the South Peace covered by the agreement, according to the release.
West Moberly says the federal government is unlikely to impose an emergency order with the agreement now in place, and that the agreement "will not close hiking, fishing or camping sites in the backcountry, and will not shut down mills, mines, or pipelines."
Several local governments are actively participating in the design of forestry-related mitigations, snowmobile management plans, and the review of socio-economic impacts, West Moberly said.
"This will help make British Columbia a better place to live for everyone," Saulteau Chief Ken Cameron said in a statement. "It shows that we can find ways to balance the environment and the economy. And it brings increased certainty for indigenous people, government, and industry."
The B.C. government says the agreement is committed to protect over 700,000 hectares (1.73 million acres) of caribou habitat in northeastern B.C. As part of that, the Klin-se-za Provincial Park will be expanded by about 30,800 hectares (76,000 acres) to incorporate the Twin Sisters mountains, considered to be a sacred place and key to recovery efforts that are proposed. The park is currently around 2,689 hectares in size. The province also says the agreement includes new language to involve collaboration with local governments and tenure holders in recovery efforts.
"From the beginning, our government committed to protecting this iconic species," said forests and lands minister Doug Donaldson. "There's no question that we've had to overcome some challenges along the way, but I am proud of how the parties persevered to find solutions. This agreement is a significant step forward."
Local, provincial and federal politicians in northeast B.C. roundly condemned the step, saying the agreement was reached behind closed doors without their input.
In a statement, Peace River South Liberal MLA Mike Bernier called the move a "slap in the face" that was reached without any meaningful input from the general public.
"(B.C. Premier) John Horgan continues to ignore rural voices on everything from the forestry crisis to caribou conservation," he said. "We deserve a Premier who listens to, and governs for, the entire province, not just his friends and insiders in Victoria and Vancouver."
Prince George-Peace River-Northern Rockies Conservative MP Bob Zimmer took a similar stand, saying the agreement was signed "without any real consultation with local leadership.
"This was done without formally consulting our mayors and councils, our regional district directors, our local Members of Legislative Assembly, myself as the local Member of Parliament, our local industry and other local First Nations," he said in a statement. In a joint statement,
B.C. Council of Forest Industries president Susan Yurkovich and Forest Products Association of Canada president Derek Nighbor said they are "deeply disappointed" the agreement removes a significant amount land that can be logged.
"This agreement further erodes the working forest land base - further harming an industry that is critically important to the provincial economy and communities across B.C.," they said.
Conversely, Wilderness Committee, an environmental advocacy group, welcomed the development.
"This marks the first plan of it's kind in B.C. that actually put endangered caribou needs as the top priority," said the group's conservation and policy campaigner Charlotte Dawe. "We must hold this plan as the gold-standard going forward on the caribou file and follow the leadership of First Nations on protecting wildlife and wilderness areas."
And B.C. Mining Association president Michael Goehring expressed support for the agreement saying it will "provide a path forward that, if implemented effectively."
"We've already contributed significant resources toward the research, recovery and conservation of their habitat, including releasing some 400,000 hectares of high-value habitat from potential mining activity and contributing over $6 million towards research, habitat restoration and Indigenous-led maternal penning programs," he said in a statement.
"Our members will continue to work collaboratively with government, the West Moberly, Saulteau and other Treaty 8 First Nations to support the successful implementation of the agreements and ensure that planned and existing mining projects can continue to provide economic benefits to the region and the entire province."
- with files from Prince George Citizen
To read the original article published by the Prince George Citizen please click here.