Big Trees and Even Bigger Smiles
Wednesday, August 05, 2015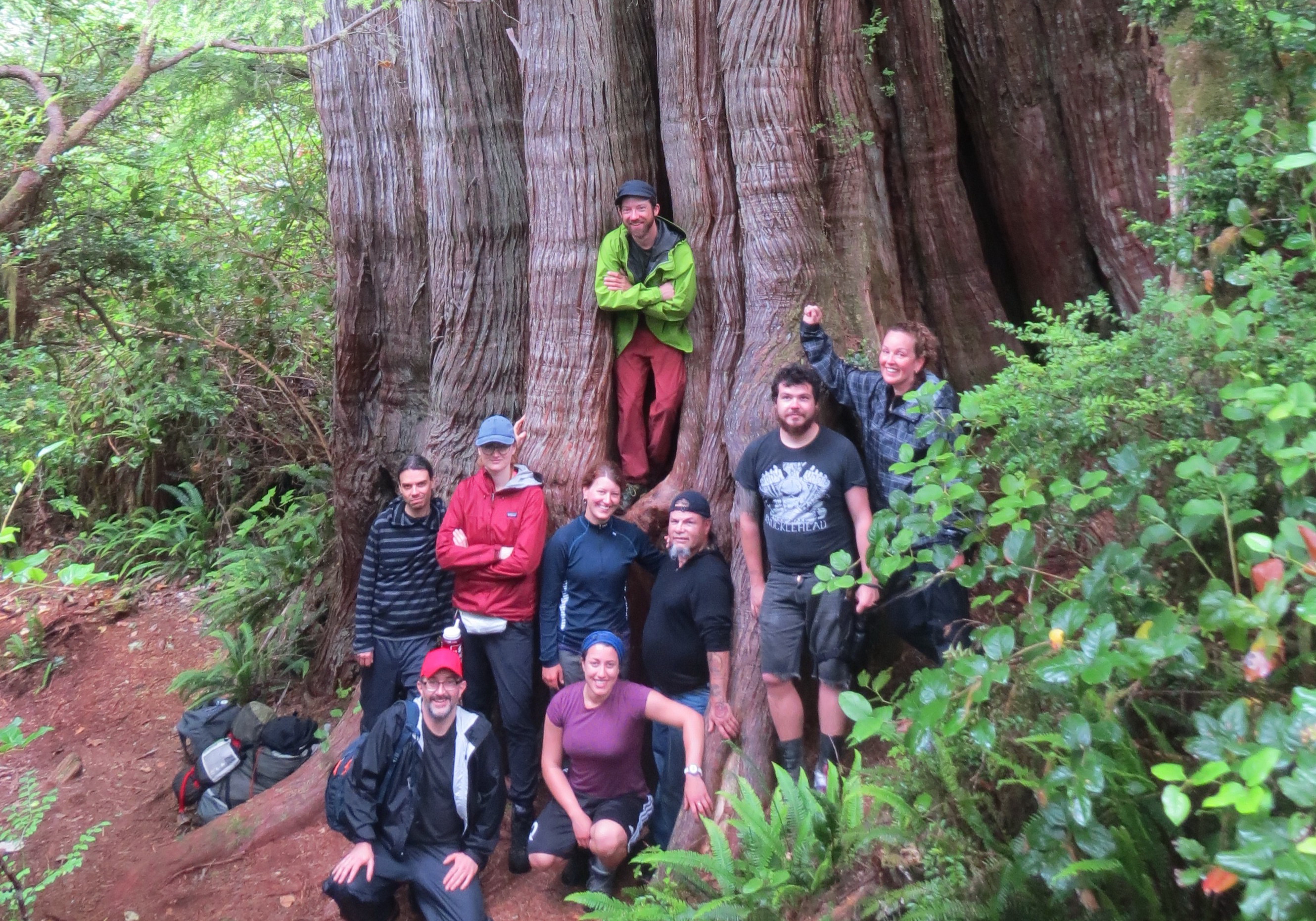 Another great summer building trails in Clayoquot Sound!
August 6, 2015
On July 10th, I found myself back out in one of my favourite places in the world – Wah-nuh-jus – Hilth-hoo-is Tribal Park on Meares Island, in the heart of Clayoquot Sound.
A dozen dedicated volunteers and I spent four days camping in the old-growth rainforest and working alongside members of the Tla-o-qui-aht First Nation. This was our third trip of the summer, and the goal of these expeditions was to rebuild and upgrade trail infrastructure that is integral to the local tourism economy and the Tla-o-qui-aht First Nation's participation in it.
The Big Tree Trail, just a few minutes by boat from Tofino, is the highlight of many visitors' west coast holiday. This two-and-a-half hour loop trail, with its handcrafted boardwalk, provides access into spectacular old-growth forests for people of all ages and abilities.
But this is a rainforest, and all that rain takes its toll on the boardwalk and trail. Each year maintenance, repairs and upgrades are needed. Add to this a huge amount of foot traffic (the Big Tree Trail can see hundreds of people per day in peak season) and aggressive and fast-growing undergrowth, and this maintenance turns into quite a project.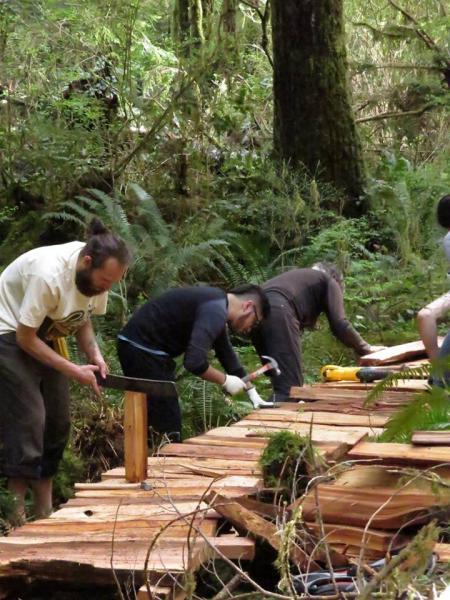 A section of boardwalk, recently replaced
Tla-o-qui-aht Tribal Parks operates as a division of the Tla-o-qui-aht First Nation. After the costs of tools and equipment, safety gear, boat fuel and other supplies it can only employ two or three staff, or "Guardians," at a time. Upkeep on a large and busy boardwalk system is a lot of work for only a few people.
This is where Wilderness Committee and our volunteers come in.
Wilderness Committee volunteers hike into camp in Wah-nuh-jus – Hilth-hoo-is Tribal Park
Three or four times a summer, we bring a volunteer team armed with hammers, nails and loppers into the rainforest of Wah-nuh-jus – Hilth-hoo-is. We camp in the Tribal Park and meet the Guardians each morning – with their expertise and our eager sets of hands, we get substantial portions of the boardwalk replaced.
The work can be really strenuous: splitting four-foot cedar boards from blocks cut from fallen trees, carrying those boards several hundred metres to where they'll be installed, and hammering everything into place. And of course, none of this can be done until after the dense salal and swordfern is cut back out of the work area.
Trail maintenance is also mentally challenging. Elevating a boardwalk up over a sensitive root system or creek bed takes considerable thought. Fortunately, one of the Tribal Parks Guardians is Cory Charlie, a Tla-o-qui-aht member who has been building trails in his territory on and off for two decades.
While the volunteer team carries the boardwalk components into place, he'll figure out the best way to lay the new section.
Wilderness Committee volunteers installing new boardwalk section
This teamwork is extremely efficient, and on good days we can get 60 or 70 metres of boardwalk replaced! On the final day of this most recent trip, we got 14 new sections (about 85 metres) installed – an all-time record, according to Cory.
Of course, during these trail building trips there's time to explore the island as well. From the living room-sized cedars that explode through the undergrowth at regular intervals to the culturally modified trees, and the dozens of eagles chattering away in the canopy overhead, the rainforest's treasures command at least part of our attention each day.
A volunteer captivated by the old-growth rainforest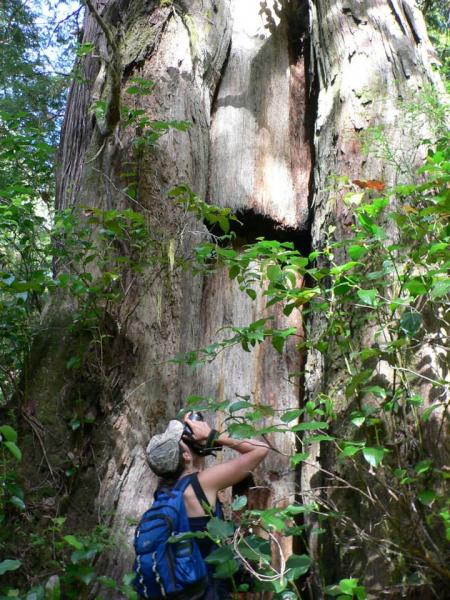 A volunteer snaps a shot of a culturally modified tree – a small totem pole was cut from the trunk several hundred years ago
This sense of wonder and grounding – a feeling shared by everyone immersed in an old-growth forest – is the key to the ecotourism economy that is steadily growing in Clayoquot Sound. Through its Tribal Parks division, the Tla-o-qui-aht Nation is working to step into its rightful role in that economy, and to assert its millennia-old resource management system in a modern context.
Not only are Tribal Parks a responsible environmental alternative to status-quo industrial development, they are also a step towards social justice here in a country marred by impacts of ongoing colonialism.
Settlers working under the direction of Indigenous people for a cause that is mutually beneficial and environmentally responsible is something we need a whole lot more of in Canada.
This is work that the Wilderness Committee is proud to do, and our support for Tribal Parks extends north and east to Tsilhqot'in Territory and beyond.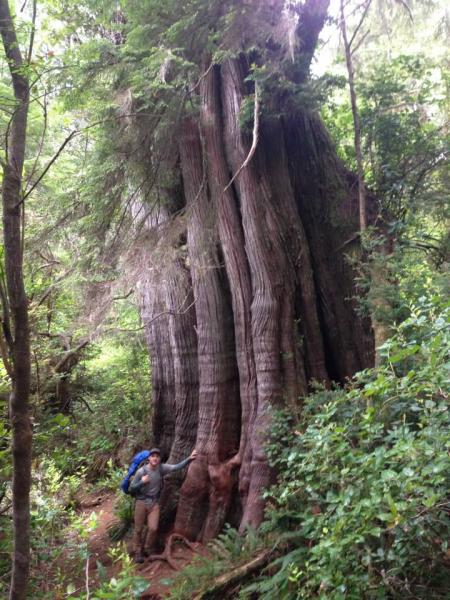 Me with a giant redcedar on the Big Tree Trail
Our trail building program is part of this. I've led trips to Wah-nuh-jus – Hilth-hoo-is Tribal Park for the past four summers. This year, our focus was the Big Tree Trail – the showpiece of the Tla-o-qui-aht's trail system – and we received generous support for the project from Mountain Equipment Co-op (MEC) through an Access and Activity Grant.
The physical trail work is winding down for the summer as we enter peak tourist season, but we'll be working with Tla-o-qui-aht Natural Resources Director Saya Masso in the coming months to highlight further needs through the fall and winter.
Each year this project gains momentum, and we hope to continue to work alongside the Tla-o-qui-aht for years to come.
If you'd like to get involved, email field@wildernesscommittee.org and follow us on Facebook. We're always looking for folks to help with these kinds of projects!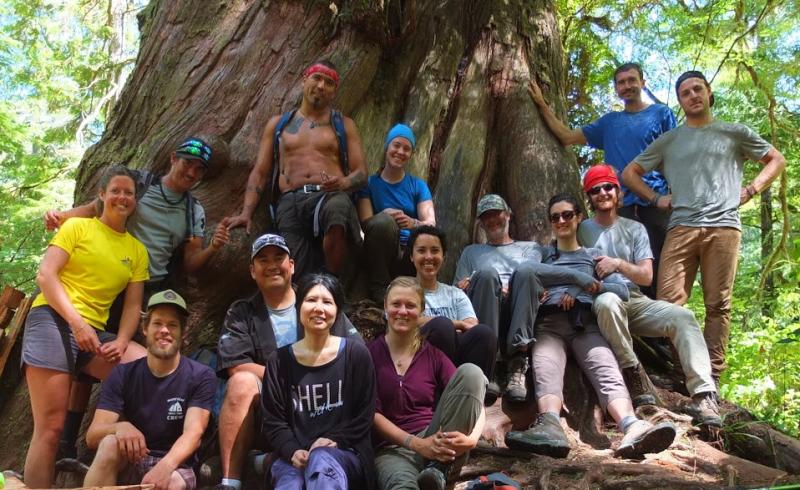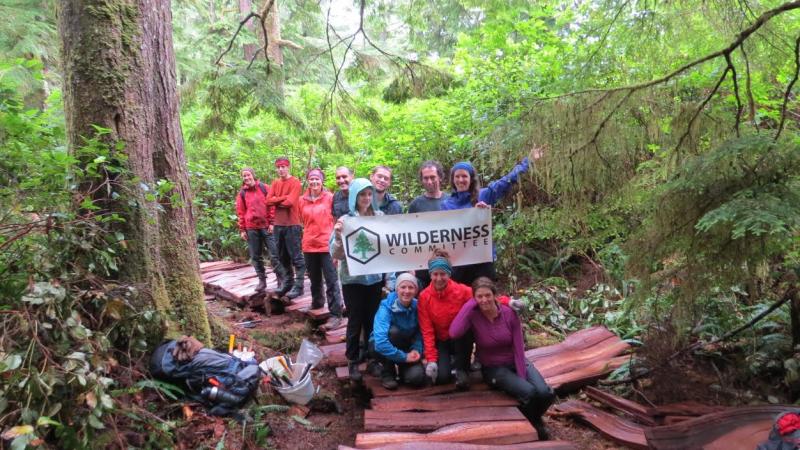 Finally, on behalf of the Wilderness Committee, I extend a heartfelt thank you to all of the volunteers who gave us their time this summer – the dedication of people like you is a key piece of building a better and brighter future on this coast.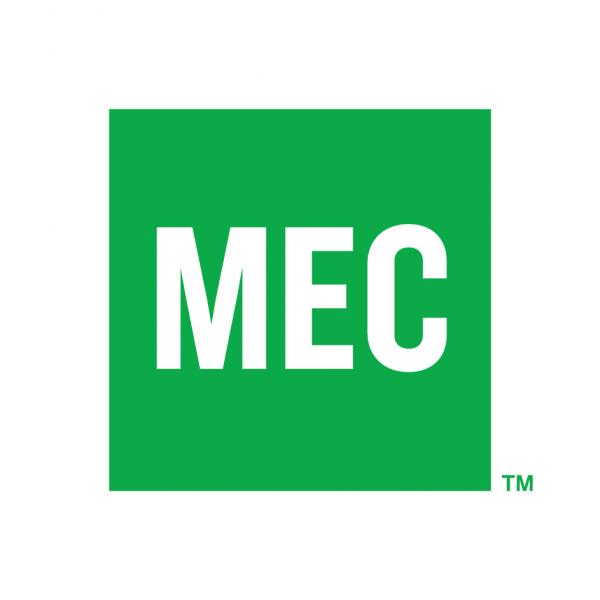 See you out on the trail!
Torrance Coste
Vancouver Island Campaigner