Camp Manitowabi: Healthy Land, Healthy Community
Friday, September 14, 2012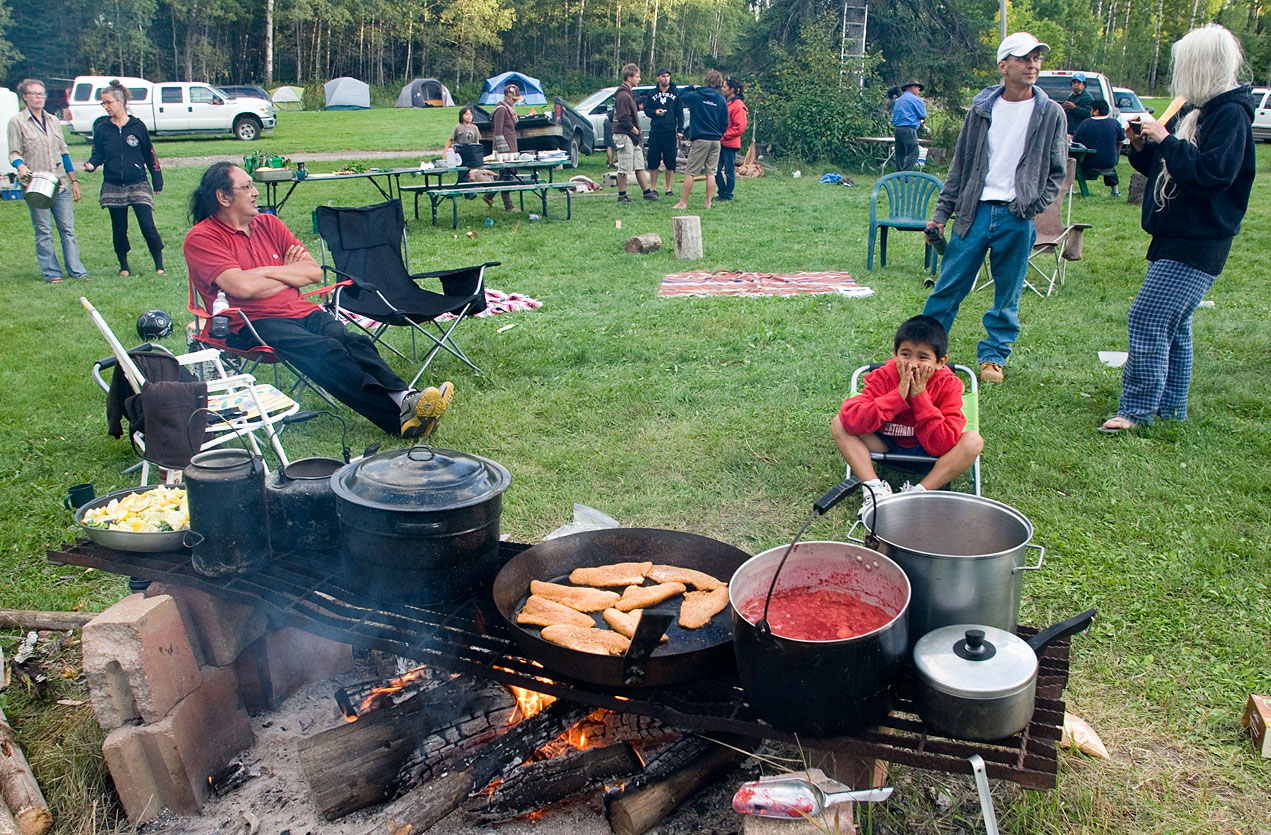 There's something inherently right about waking up in a tent to the sound of voices by the fire and the smell of coffee being brewed. That was my reality a few weeks ago, when I was fortunate enough to partake in the Community Gathering up in Hollow Water First Nation.
For three inspiring days I had the chance to camp out and "talk, share, meet, and learn" with an ever-changing group of people from all over Manitoba—including the host community. For some this was a long-standing tradition, for many (including myself), it was their first time in attendance.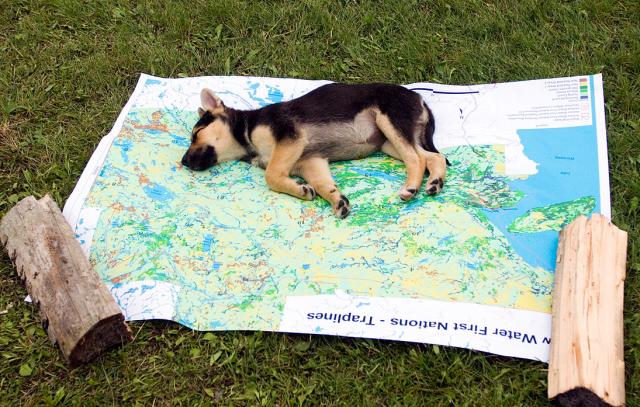 Puppy down -- another first-time participant
One of the other first-time attendees I met was a man named Charlie Simard. Anyone who has paddled the Manigotagan River has likely passed by a landmark building known as "Charlie's cabin", and wondered about this mythical trapper. Well, I got to meet him!
Charlie was a calm blur of activity, quietly zipping back and forth from his cooking station to the never-ending stack of supplies stockpiled in the back of his truck. Between sharing medicinal roots he'd collected from the river bank and making batch after batch of flawless bannock, Charlie brought out his bag of apples and began to discuss his excitement over the planned workshops.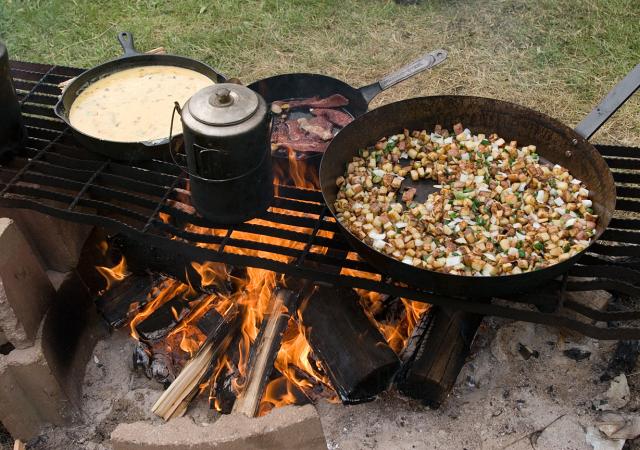 Breakfast cooking over the fire
Susanne McCrea from the Boreal Forest Network had offered to teach us how to make jelly, and Charlie and I both loved the idea of being able to can something from our own backyards. Over several days, in between group discussions and meals, campfire chats and sweats, batches of apples were cored, chopped, and boiled. Tripods were set up to strain the apple mash through sheets, pectin was added...and voila! Dozens of beautiful jars of homemade jelly served as a physical reminder of the connection between our surroundings and our food.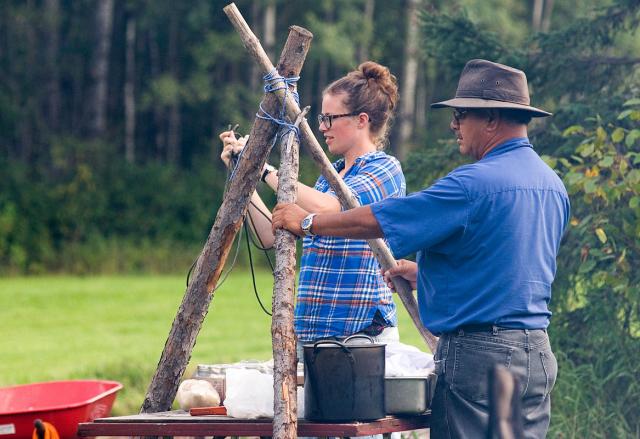 Charlie and I setting up the jelly tripod
Another new participant at this year's gathering was Brian Arnold, owner of Arnold's Gourmet Food Farm. Brian was recruited by Teresa Sinclair to help her in the garden at the Health Centre. Judging by the centre's garden—which has been exploding with veggies all summer—these two seem to make a pretty great team. As a champion of self-sufficiency and hands-on learning, Brian was an incredible addition to the gathering and a very knowledgeable gardener. From him I learned about earthworm castings (many bags of which he generously donated) as a locally-produced, environmentally friendly alternative to fertilizers and peat. I also learned that it's possible to keep a hibernating bear in your root cellar over winter, but only if it's pre-1960s and your dad is a serious bushman.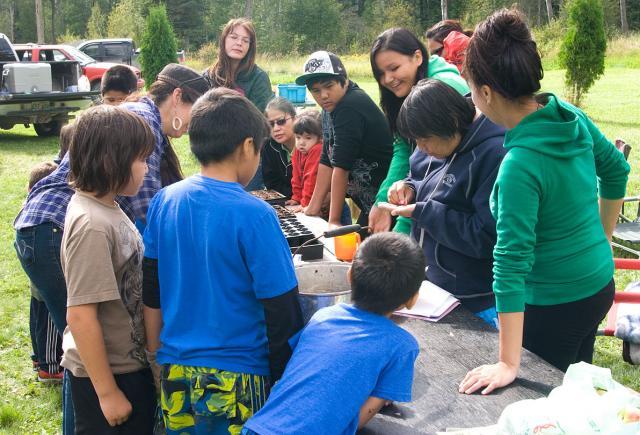 A garden workshop led by Katherine
On the issue of peat, we were also joined by the Peatland Collective, a local group of filmmakers working on a short documentary on the peat mining industry in Manitoba. This dynamic group of three filmed many of the talks and interviewed various community members at the gathering, but the largest portion of their time was spent running loosely-organized football games for the small armies of children who trickled in.
Lisa gives a workshop on activism photography
There were too many people participating to name each individually, but all had a role to play. We were grateful that Rob and Reynold Raven hosted the event at Raven's Creek. Huge thanks to Don Sullivan, Eric Reder, Katherine MacKenzie, Lester Howse, Lisa Waldner and Dave Nickarz, who all presented. It was also inspiring to see so many leaders and contributors in the community come forward. Seeing and hearing their concerns and passions for a healthy community, as well as the culture of caring for the land, was truly humbling.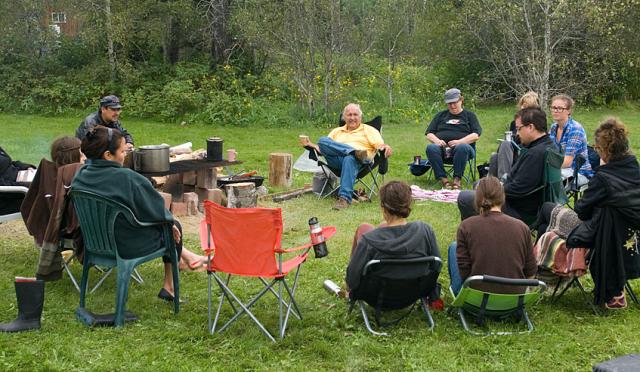 Discussing direct action with Dave
Throughout the weekend the discussion often turned to the various threats facing the land, and the idea that the community should get to decide what to do with its territory. If proposed peat mines, logging activity and other industrial operations get the approval they're hoping for, this unique wild region will never be the same. The issues facing Hollow Water are serious, but a community working together is a force to be reckoned with.
What summed up the weekend best for me were the "Lessons From Geese" that Charlie read aloud before the opening workshops on both final days. Out of the one-page list, the final piece of advice best encapsulated the importance of events such as these:
If we have as much sense as geese, we will stand by each other in difficult times as well as when we are strong.
Assistant Manitoba Campaigner