Community forests gone wrong
Thursday, January 20, 2011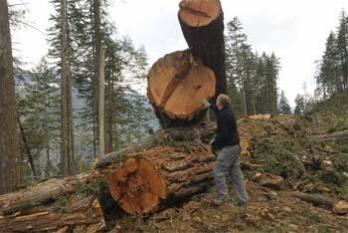 This is part 2 of a blog series I am writing about community forests in British Columbia, which in my opinion are a great idea that nevertheless sometimes gets applied with disastrous consequences.
The first blog was an overview and this blog is a closer look at two examples where I believe there have been negative impacts. Finally my last blog will be about two other community forests that I feel embody the intent of the legislation that enabled them.
Two very different but equally troubling community forests are those operated by the communities of McBride and Whistler. These cautionary stories demonstrate the need to regroup and reform the democratic and potentially lucrative idea of community forests. If you have a story to tell about any of the 50-odd community forests in BC, tell us your tale, whether good, bad or ugly!
McBride: Following the forest industry's bad example
The village of McBride, established as a railroad stop in 1913 and named after Premier Richard McBride, has perhaps been treated more poorly by government and industry than any other forestry dependent community in British Columbia. This once single-industry town went through boom and bust economic cycles for decades under a variety of forest companies that mowed down the region's forests producing vast quantities of low-value commodities. Eventually they all either shut down operations or went bankrupt, leaving the town high and dry.
During the bankruptcy-driven timber upheavals that rocked McBride and the rest of the province over the past decade, the BC government, having lost much of its natural resource royalty revenue, slashed civil service budgets by an average of over 50%, adding to the McBride region's unemployment misery. But its scrappy citizens survived by embracing tourism that now comprises more than half of the town's income. Finally, in 2007, the BC government awarded McBride a community forest agreement that saw the limited re-opening of the mill and the creation of about a dozen jobs. Unfortunately, the agreement was hobbled by entrenched government forest mismanagement and a requirement to log at unsustainable rates and in areas that should have been spared for environmental or water quality reasons.
McBride created their community forest out of the ashes of Zeidler and McBride Forest industries, who closed mills for what seemed like the last time in 2006, shortly after tens of millions of dollars of BC government subsidizes failed to keep these companies alive. To this day, many forest industry workers in McBride have yet to be paid back-wages from those tumultuous times. After the big corporate titans abandoned McBride, bankruptcy teams repackaged loans and re-opened one of the mills in 2007 for the new McBride Community Forest.
Many people, myself included, were excited at the prospect of a community like McBride finally getting to control their forests and logging for all the right reasons and in the right places. Unfortunately, although the McBride Community Forest website says that their forests are to be managed for all products, including nature, nothing could be further from the truth. The newest logging plans advocate clearcutting in high-value low-elevation spruce and cedar forests. Some of the proposed logging areas are far from McBride, within the communities of Loos and Crescent Spur, whose citizens are aghast at the plan. The McBride Community Forest, if allowed to proceed with its mega-logging plan, will do more damage than its industrial forbearers. The BC government meanwhile has mandated that the McBride Community Forest clearcut at unsustainable rates and in controversial places where not even the greedy corporate titans of the past would have cut, out of fear of community and scientific backlash.
The McBride Community Forest criteria for logging include laudable goals of proximity, innovation, water quality, recreation and tourism, conflict reduction, private land rights, and respect for wildlife. Their logging plan however achieves none of these goals. The logging proposed near Loos and Crescent Spur is 60 km away from McBride, in another community altogether, yet their citizens have no right of refusal nor meaningful participation. The logging is not innovative in the slightest; in fact it is the opposite, considering the sensitivity of the areas proposed. The McBride Community Forest logging produces much of the same low-value products (fenceposts, sawdust, and rough-cut lumber) as their industrial predecessors and at a net loss to the province. Even the small amount of high-value guitar wood once cranked out by the community is gone. To try to compensate for the lack of valuable wood products it produces, the community forest even got itself exempted from environmental limits on how much old-growth cedar it can cut.
Logging plans endanger fledgling tourist industry
The area proposed for logging is mostly river floodplain with shallow water tables, valley-bottom forest that is characterized by innumerable wetlands, pockets of ancient forest and areas that provide drinking water to area residents. The logging plans compete directly with the fledgling tourism industry that is rapidly growing due in part to the recent Forest Practices Board recommendations for a logging moratorium in the area, and due to heroic efforts by locals and university forest scientists to promote nature protection. Finally, if a goal is to reduce conflict over logging, this has failed with equivalent of a red-hot poker stuck in the eyes of the citizens of Loos and Crescent Spur. Unfortunately there is no legal mechanism whatsoever for citizens to affect change.
Contrary to popular belief BC has no laws mandating environmental stewardship, but rather a slew of bureacratic policy "recommendations" that are often ignored. What little power the BC government retains, after giving most responsibility for forest management over to industry, is guided by superfluous, weasel-word studded policy statements that amount to a license to clearcut. Even the opinion of the local Lheidli T'enneh First Nation, which among other things seeks protection for the a critical chinook salmon run in the area proposed for logging, has been ignored.
Whistler: Another troubling story
In Whistler a far different though equally troubling story emerges when the new Cheakamus Community Forest is put under the microscope. Whistler has a diversified economy with no need for logging. In fact Whistler has been fighting provincial government sponsored logging of old growth forests in its backyard for decades. Citizen concern over the environment in Whistler even led to the election of several members of their local environment group to city council and even mayor. In recent memory the controversy of logging got so heated that few corporate timber titans wanted to log around Whistler, so the BC government's own logging company, BC Timber Sales - widely known for its willingness to clearcut in sensitive environments home to endangered species – took over. In the past few years, the rate of logging has decreased dramatically as revelations surfaced that BC Timber Sales was clearcutting endangered species habitat throughout the region at a loss to taxpayers of about $40 million annually.
Whistler is more dependent on standing trees than perhaps any other community in BC; tourists visit Whistler in large part because of its natural splendor. At the time the province advocated a community forest for Whistler, the question that should have been asked of Whistler residents was, "Do you want to log your old-growth forests?". Instead the BC government issued a threat saying something like, "If you don't log your old-growth forests, we and our corporate friends will, and we will cut a lot more and in a much less friendly fashion than you." Whistler mayor and council, feeling boxed into a corner, reluctantly struck a deal to log its forests a bit more sensitively that industry would have. Unfortunately they agreed to send the high-value wood to a low-value plywood mill in far away Richmond.
Unfortunately, the reality is that Whistler, similar to many other community forests, will likely end up losing money on their logging operations because it is too small scale and producing too low-end of a product to compete with other timber industry players in more southerly latitudes producing similar low-end products in far greater quantities. Thus, the stage is being set for Whistler to fail and for the BC government to intervene and force the communities to log at even higher rates so they can attempt to break even or turn a profit. It's a vicious cycle that nobody can win and a desperate, veiled attempt by the province to keep a little timber royalty revenue flowing into its decidedly "third world" economic coffers.
Facing this bleak situation, Whistler inadvertently did the worst thing they possibly could have by trying to give this logging a green face. In an attempt to give the logging an eco facelift, Whistler contracted an environmental group with expertise in forestry to design the logging plans and seek eco-certification for the logging. This attempt to make the best out of a bad situation may have seemed honourable at the time, but was in reality terribly misguided. Logging of old-growth forests can't be given a green seal of approval; it is a fundamental contradiction in terms. Numerous regions around the world have already banned old-growth logging and the movement is mounting in British Columbia. If Whistler, the most popular tourist destination in Canada, can't protect its cherished old-growth forests from logging, nobody can. Whistler's eco-sanctioning of the logging will end up making it harder for other communities around the province to fight off the bully, the cash-strapped provincial government
What the province of BC desperately needs is a citizen uprising seeking an old-growth forest protection plan that immediately bans all old-growth logging and instead focuses logging in second growth forests. Indeed that is exactly what the citizens of Whistler and groups like the Wilderness Committee and the Ancient Forest Alliance have done. Citizens of Whistler even circulated a petition and gathered thousands of signatures in the hope that the province will realize that its old-growth forests are an economic and ecological asset if left standing.
An excerpt from the Whistler petition calls on the B.C. government, Whistler's mayor and the CCF board to: Undertake a provincial old-growth strategy that will inventory and protect the remaining old-growth forests in regions like Whistler and the Southern Mainland Coast; ensure the sustainable logging of second-growth forests… (and) undertake new land-use planning processes to protect endangered old-growth forests for future generations." Sounds pretty reasonable to me.
Andy Miller | Staff Scientist
Wilderness Committee