End to grizzly trophy hunt cause for wild celebration
Monday, August 14, 2017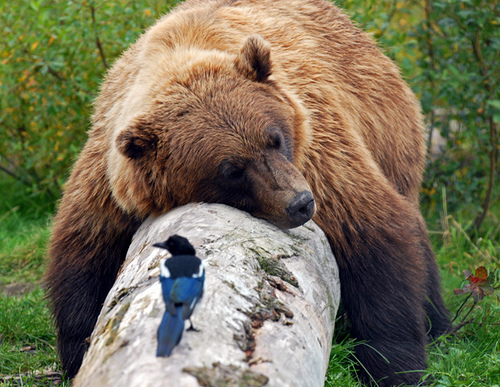 VANCOUVER — The Wilderness Committee team are giving each other great big bear hugs this afternoon to celebrate the BC government's announcement that the trophy hunting of grizzly bears will finally be banned by  November 30.
"For 16 long years we've been demanding this ban," exclaimed Joe Foy, Wilderness Committee National Campaign Director. "Ever since Premier Gordon Campbell reinstated the bloody grizzly trophy hunt, we've been counting the days until the killing stops."
Since the trophy hunt restarted about 250 grizzly bears a year have been shot dead for the fun of it.
"Nearly 4,000 grizzly bears slaughtered for so-called sport. Premier Horgan is to be commended for ending this cruel and barbaric blood sport for good," said Foy.
According to the BC government there are around 15,000 grizzly bears in the province, which is about a quarter of the entire North American population. Hunting and habitat loss are the two biggest threats to grizzlies.
The Committee on the Status of Endangered Wildlife in Canada (COSEWIC) lists the western population of grizzly bears status as special concern. Within BC, grizzly bears have been wiped out of several areas including the south central part of the province from the US border to north of Quesnel. In the southwest, grizzly population numbers are dangerously low.
"We're glad the senseless killing of grizzly bears is coming to an end. Now this at-risk species has a better chance to recover," said Foy.
–30–
For more information, please contact:
Joe Foy, National Campaign Director
604-880-2580, joe@wildernesscommittee.org