Explosion of logging in caribou habitat highlights broken recovery program
Wednesday, September 14, 2022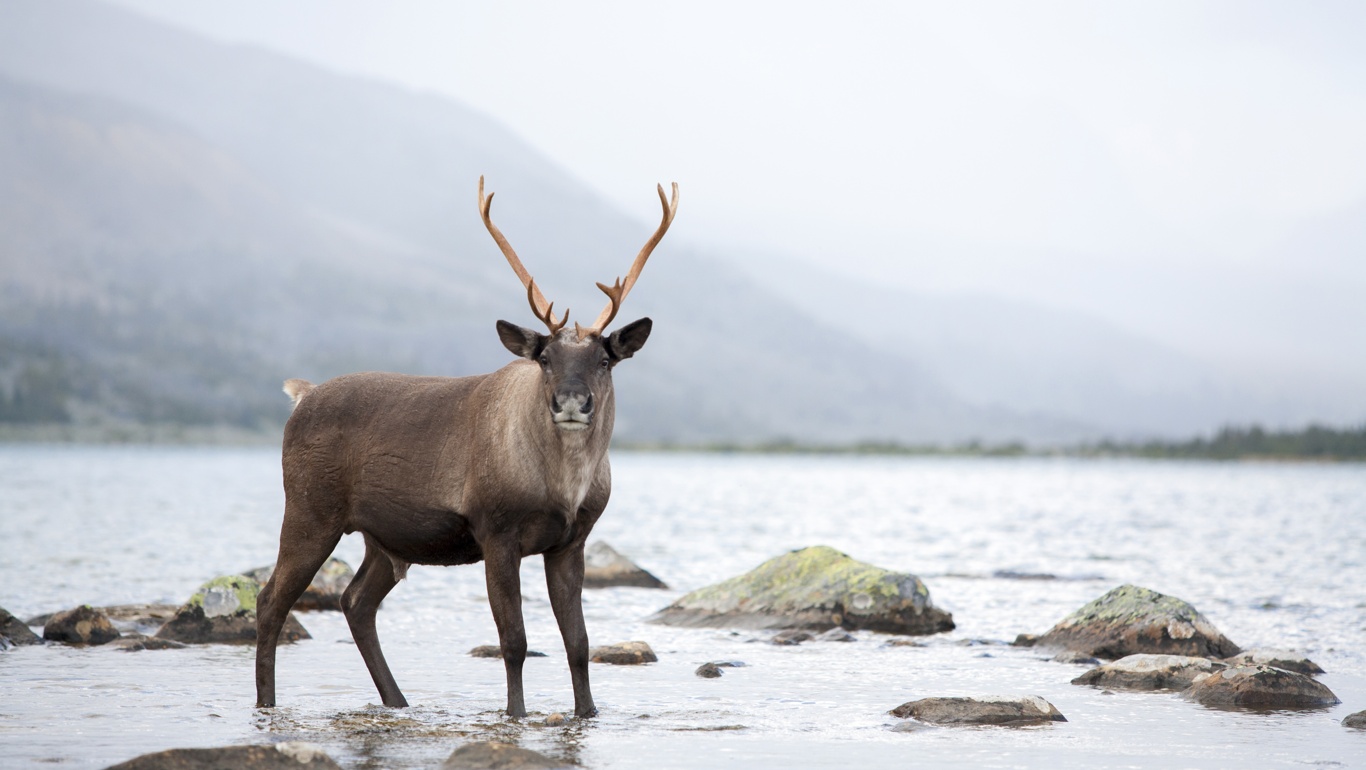 VANCOUVER / UNCEDED xʷməθkʷəy̓əm, Sḵwx̱wú7mesh AND səlilwətaɬ TERRITORIES — The Wilderness Committee has found 72 recently approved cutblocks totaling 2,153 hectares in federally mapped critical habitat for caribou near Avola, located along the Thompson River between Clearwater and Valemount.

Fifty-four of the cutblocks have been quietly approved since 2017 and are within the boundaries of the B.C. government's ungulate winter range (UWR) order meant to protect endangered caribou and 12 overlap with proposed old-growth deferral areas. Two herds rely on this area, the Wells Gray and the Groundhog herds. 

"The only thing the BC NDP government seems to take less seriously than protecting old-growth is protecting endangered species like caribou," said Charlotte Dawe, conservation and policy campaigner for the Wilderness Committee. "In both cases, this government is prioritizing profits for huge logging corporations over threatened ecosystems and the wildlife that depend on them."

West Fraser owns the licenses for 58 of the cutblocks, all within federally mapped caribou critical habitat and 90 per cent of them are also in UWR. Ten of the cutblocks owned by West Fraser also overlap priority old-growth deferral areas. Logging companies are required to create forest stewardship plans which address ecological concerns, including impacts to wildlife. However, West Fraser's plan is void of any mention of caribou despite this area having heavy overlap with endangered caribou and federally mapped critical habitat. 

"B.C. has let companies completely off the hook when it comes to mitigating impacts to the endangered species they harm," said Dawe. "It is despicable that West Fraser's plan for logging in the Avola area doesn't even mention endangered caribou."  

The province does not have a standalone law to protect caribou or any other threatened species on non-federal land. B.C. uses UWRs as a way to help protect caribou. However, UWR zones are not fully off-limits to logging and other industrial activity. The logging in Avola shows these zones don't consistently protect caribou from the industries causing their decline.

"This is an example of how existing government policies are failing to protect species at risk especially when it comes to snowballing cumulative effects and how multiple projects overlap to cause extinction," said Dawe. "What's happening here is a blatant sign B.C. needs a provincial law to protect species from the flood of multiple project proposals with zero consideration for the endangered species they're harming."

The federal government has responsibilities under the federal Species at Risk Act to ensure provinces are effectively protecting caribou habitat on non-federal lands, such as the Avola area. 

"The vast destruction approved by the B.C. government in this area should not go unnoticed. The UWR order is failing to protect habitat in a way that each herd needs," said Dawe. "The federal government needs to step in and take action to limit the damage caused by B.C.'s smoke screen protection plan."

The Wilderness Committee argues the explosion of logging around Avola shows patchwork provincial laws like the UWR alone do not consider the local habitat needs for each herd to the extent the Species at Risk Act requires. The Avola area is in the territory of the Secwépemc and Ktunaxa First Nations.  
–30–
Map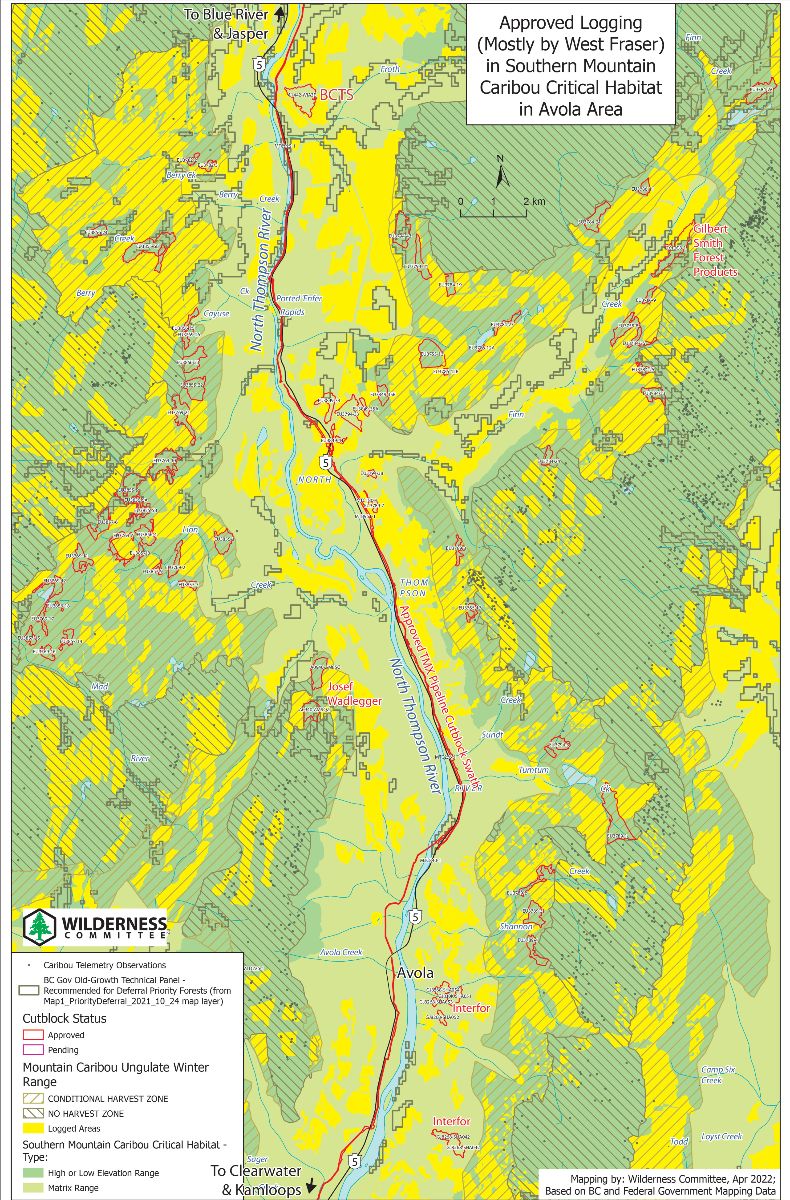 Map and photos

For more information, please contact:

Charlotte Dawe | Conservation and Policy Campaigner
778 903 3992, charlotte@wildernesscommittee.org
Fancy meeting you here at the end of this article! Care to hang out together for a few more sentences?
The campaign you just read about is one of about 20 we're actively working on at any given time. And the person who wrote this article is the same campaigner who's asking you to take action, who's calling on our legislators to make changes and who's in the field to bring you photos, videos and stories documenting this issue.
Did you notice how we're a bit distinct, that we're not afraid to call out the industries or governments that threaten what's wild? Unlike other groups, we're almost 100 per cent* "people powered." Individuals like you who care give what they can, when they can. No corporate or government funding restricts our strategies, our actions or our voice. That's how we stay a lean, nimble and unequivocally relentless voice for wilderness, wildlife and the climate. That's why we'd love it if you'd consider joining us by making a monthly donation to the Wilderness Committee today.
LET'S MAKE A DIFFERENCE TOGETHER
We've already established you like to read to the end, so here's the fine print. It's 96 per cent of our funding which comes from individuals like you and me. About four per cent of our total funding comes from a few grants from foundations. Every gift — no matter the size — has an impact and powers our work for nature.