Hog Watch Manitoba and Partners Oppose Manitoba Government's Red Tape Reduction Proposals
Wednesday, September 20, 2017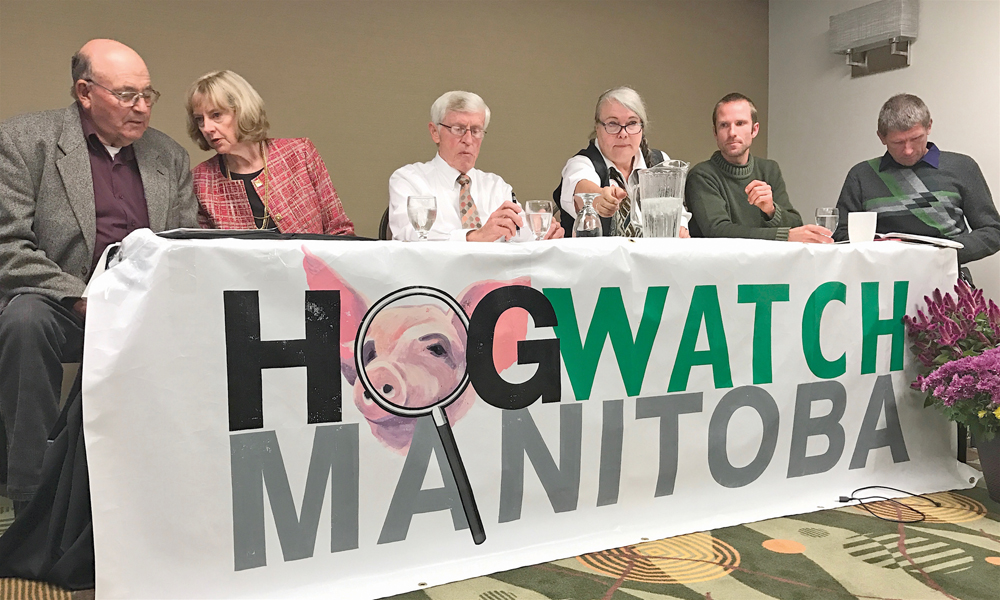 For Immediate Release - September 20, 2017
"Pork and Pollution from Land to Lake:
Organic Solutions for a Sustainable Future"
---
MANITOBA -
WHAT: Hog Watch Manitoba will host a news conference to express opposition to the Manitoba government's proposed changes to hog manure disposal and barn construction. The Pork and Pollution from Land to Lake event on Sept.21 at 7PM will highlight concerns with Manitoba's industrial style hog production and propose solutions. Lake Winnipeg is suffering, family farms are declining and the animals are treated like machines. Media will have the opportunity to interview speakers prior to the public forum that will take place Thursday evening at the University of Winnipeg.
WHEN: Thursday, September 21 at 11AM.
WHERE: The Viscount Gort Hotel, Regal Room, 1670 Portage Avenue.
WHY: The Manitoba government is proposing changes to hog barn construction and manure disposal that aim to encourage development of more hog barns in Manitoba at a time when the algal blooms on Lake Winnipeg and other lakes are growing, numbers of hog farmers are decreasing and economic benefits are questionable.
WHO:
John Ikerd, Professor Emeritus Agricultural Economics University of Missouri
Fred Tait, Chair of Hog Watch Manitoba and past VP National Farmers Union
Janine Gibson, Organic Food Council of Manitoba and Hog Watch Manitoba
Vicki Burns, Save Lake Winnipeg Project and Hog Watch Manitoba
Eric Reder, Wilderness Committee Wilderness and Water Campaigner
Five diverse organizations have come together to sponsor this event: Hog Watch Manitoba, Organic Food Council of Manitoba, National Farmers Union, The Winnipeg Humane Society and Wilderness Committee
 
–30–
For more information, please contact:
Vicki Burns, Hog Watch Manitoba Steering Committee
204-489-3852, vickiburns@mts.net
Eric Reder | Wilderness and Water Campaigner,  Wilderness Committee
204-997-8584, eric@wildernesscommittee.org