Juan de Fuca Public Hearing continues to historic day three
Thursday, September 08, 2011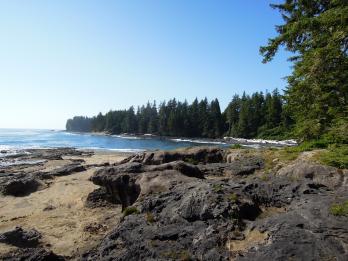 After two full evenings, 175 speakers and many cups of coffee, the Public Hearing on the changes to the zoning around the Juan de Fuca trail is continuing for another day.
The amount of public interest in the project is staggering. This is the first time in history of the Capital Regional District that a public hearing has been extended to a third day.
It has been inspiring to see so many people come together to stand up for our community. Together we are standing up to protect our wildlife, our forests, and our special areas. Together we are standing up for the rights of the Pacheedaht First Nations, for sustainable jobs, for future generations. And when we stand together our voices are powerful.
We have sent a very strong, very clear message to the Capital Regional District board. But out work is not done yet.
We have one more day of public hearings. Let's make sure we continue to stand together, and continue to demonstrate the overwhelming public opposition. I can see that our work is paying off by the shift in the media narrative, and I can tell from the faces on the voting panel that our words are starting to make a difference.
The Wilderness Committee and many other organizations are encouraging members of the public to attend the public hearing on Thursday at 5pm at Edward Milne Community School (6218 Sooke Road). Carpools will be available: for information call the Victoria Office at 250-388-9292 or email tria@wildernesscommittee.org.
If you can't come in person, please write a letter. We will read your letters out loud and make sure they are part of the public record. Letters are only being accepted in person, so please email tria@wildernesscommittee.org and we will make sure they get submitted.
Let's make sure that our elected officials at every level are sitting up and paying close attention to what is happening here. Together, we will stand strong for the Juan de Fuca Trail.