The Lands and Waters Provide
Tuesday, July 16, 2013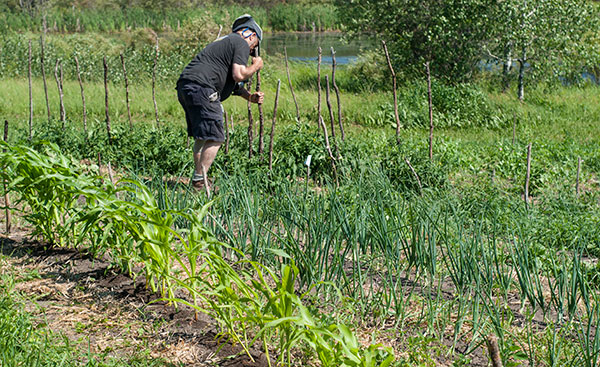 I drifted through a reflection of stars last week, paddling on a quiet river in Hollow Water territory late into the night. I ate my first wild strawberry of the season, and saskatoons, too. Pickerel and sauger were hooked on the river, and some even ended up in the pan. These lands and waters provide food, just as they provide opportunity to unwind and bask in nature.
The Wilderness Committee has been assisting with a community garden project in Hollow Water for several years now. Gardening is just one more way to value the lands and waters, and contribute to a healthy community. The experiences both ourselves and volunteers have had up in the Heart of the Boreal are truly memorable. But they also come with a responsibility: to make sure the next generations also have these opportunities.
This magical land has been cared for by the community living here. Last week while I was in the garden trying to rescue onions from the weeds, a local stopped by to talk a little about being on the land here, and about using the forest to provide shelter. I really value these opportunities to learn, and be exposed to culture that has been here in this territory for generations.
For all of our volunteer trips out to Wanipigow, we will  be ensuring that we have these talks, so that more people can hear the stories from the locals, of the people whose lives and livelihood is tied to this Hollow Water First Nation territory.
As allies, we can offer support and encouragement. We can work alongside them as they develop a community vision for future generations. Join us in the garden and the community this summer, and in this way you too can be part of protecting the greatest intact forest left on earth, while supporting the communities that live here.
- Eric Reder | Campaign Director