Logging deferrals welcome but transparency, more action needed to protect last old-growth
Friday, April 01, 2022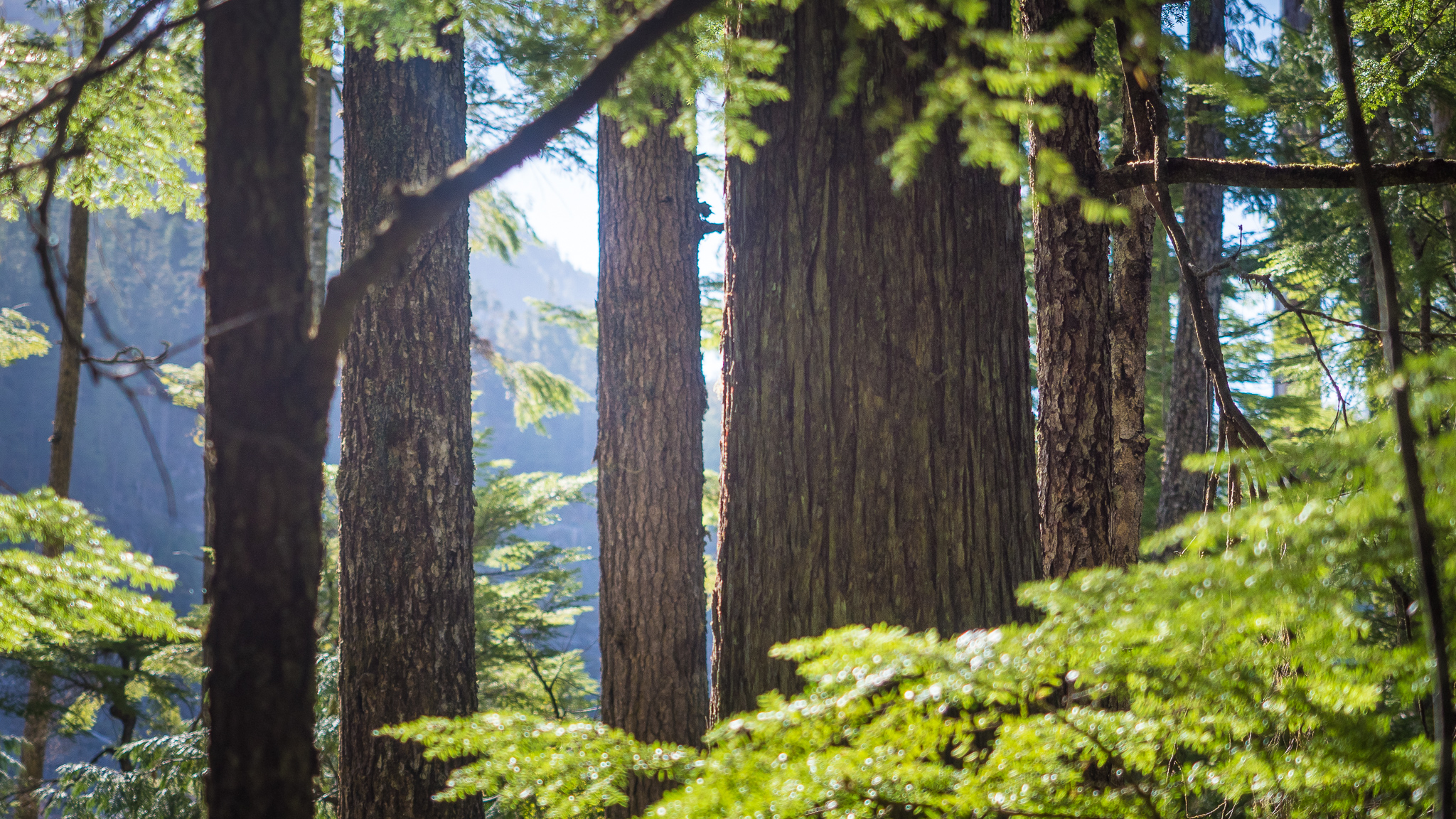 Wilderness Committee calls on the B.C. government to release maps of confirmed deferrals and an action plan for remaining at-risk old-growth forests
VICTORIA / UNCEDED LEKWUNGEN TERRITORIES — The Wilderness Committee is welcoming an announcement from the BC NDP government today, confirming the deferral of logging on 1.7 million hectares of old-growth forest, including 1.05 million hectares of the most at-risk old-growth.
The province earmarked 2.6 million hectares of the most at-risk old-growth forest for deferral in November last year. With the deferrals announced today, government is about 40 per cent of the way there.
"Any reprieve for threatened old-growth in B.C. is welcome, and we congratulate the First Nations who have shown tremendous leadership in completing these deferrals," said National Campaign Director Torrance Coste. "We're hopeful this signals a real shift in commitment for this government and that progress on safeguarding old-growth forests will accelerate."
About 7.6 million hectares, or two-thirds of the remaining old-growth forests in B.C., are without permanent protection. Of that total, the province has committed to defer logging in 2.6 million hectares, about five per cent of the total forested area in B.C. Even after today's announcement, around four-fifths of the old-growth forests deemed "at-risk" by the government's Old Growth Technical Advisory Panel remain open to logging.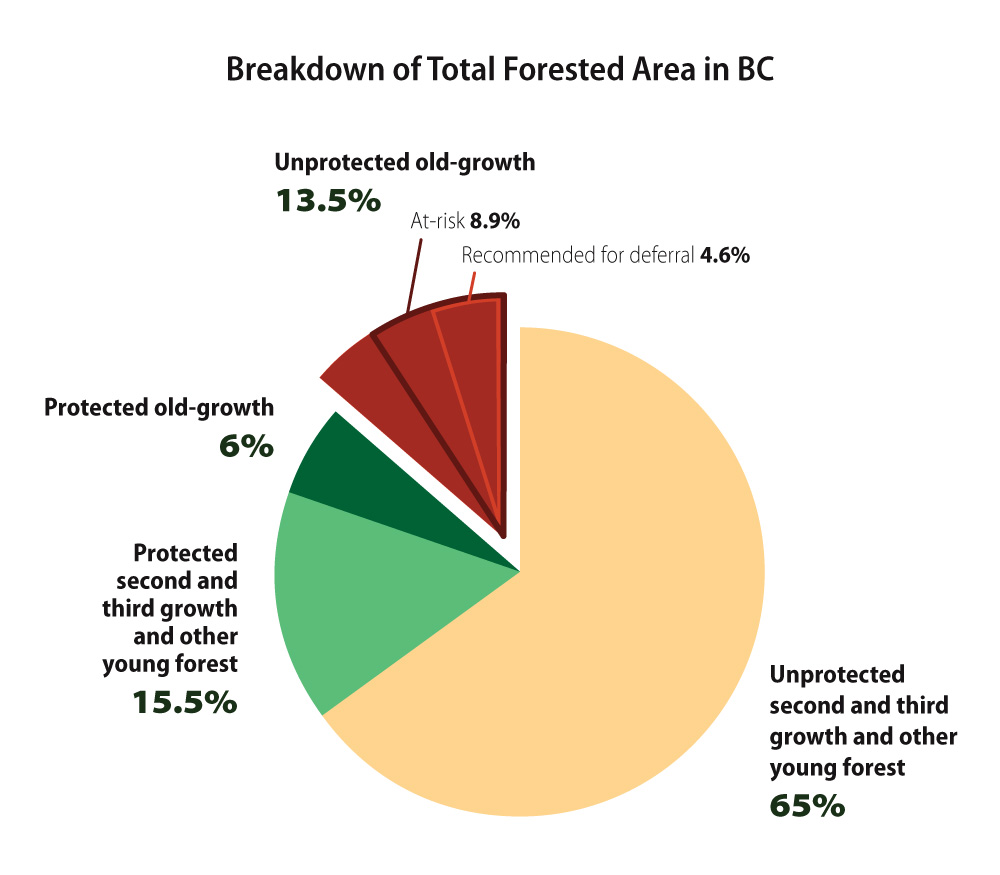 "At the end of today, logging companies are still targeting and cutting down ecologically threatened old-growth forests across B.C., despite the deferrals that have been completed," said Coste. "Many of these irreplaceable forests can only be protected on one timeline — right away."
The Wilderness Committee is calling for full transparency of the deferrals completed, so the public can understand which old-growth forests are temporarily safe and which ones are actively threatened. The organization is calling for maps and other information on both the completed and incomplete deferrals.
In addition, the organization is calling for more funding to support First Nations, both to help determine deferrals areas and to offset any revenue loss associated with deferrals.
"A real paradigm shift requires the acknowledgement that old-growth is worth more standing and the removal of any barriers in the way of old-growth protection," Coste said. "Funding is needed to support immediate term deferrals, mid-term planning and then permanent protection of old-growth forests."
The Wilderness Committee will continue to work with communities, First Nations and other stakeholders to push for the protection of endangered forests across the province.
 
– 30 – 
For more information contact: 
Torrance Coste, National Campaign Director
250-516-9900, torrance@wildernesscommittee.org
TAKE ACTION: Join the movement to save old-growth rainforests!

 

 

 
Fancy meeting you here at the end of this article! Care to hang out together for a few more sentences?
The campaign you just read about is one of about 20 we're actively working on at any given time. And the person who wrote this article is the same campaigner who's asking you to take action, who's calling on our legislators to make changes and who's in the field to bring you photos, videos and stories documenting this issue.
Did you notice how we're a bit distinct, that we're not afraid to call out the industries or governments that threaten what's wild? Unlike other groups, we're almost 100 per cent* "people powered." Individuals like you who care give what they can, when they can. No corporate or government funding restricts our strategies, our actions or our voice. That's how we stay a lean, nimble and unequivocally relentless voice for wilderness, wildlife and the climate. That's why we'd love it if you'd consider joining us by making a monthly donation to the Wilderness Committee today.
LET'S MAKE A DIFFERENCE TOGETHER
We've already established you like to read to the end, so here's the fine print. It's 96 per cent of our funding which comes from individuals like you and me. About four per cent of our total funding comes from a few grants from foundations. Every gift — no matter the size — has an impact and powers our work for nature.