Mining destruction discovered in Nopiming Provincial Park
Thursday, March 29, 2018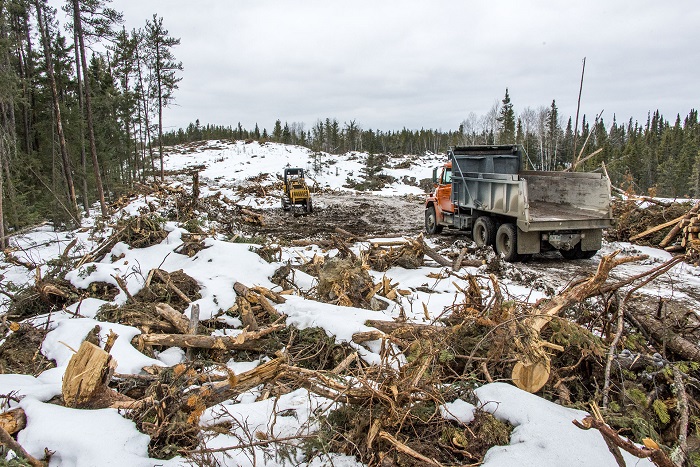 Newly bulldozed forests, lowlands destroy park ecosystems
WINNIPEG - The Wilderness Committee has just discovered extensive new mineral exploration destruction in Nopiming Provincial Park and is calling for a ban on industrial activities in provincial parks. Two new mineral exploration projects have been quietly approved, resulting in new roads and clearing in intact park forests.
"Even for someone used to documenting industrial activity in nature, I was shocked at the amount of destruction I uncovered," said Wilderness and Water Campaigner Eric Reder.
The mineral exploration developments are near Cat Lake, 200 kilometres east of Winnipeg, in a section of Nopiming Park that is recovering from forest fires and is protected for recovering moose populations. It may one day be recovery habitat for threatened boreal woodland caribou. 
"There's a reason a park exists, and it's not for mining," said Reder. "A park is for nature, for animals, for our solace. It is not for destructive industry and corporate profiteering."
The government mineral resource map online states this region is for mine claim staking only, and no mineral exploration licences are listed. The local government officials would not release work permits about the developments. It is not clear if any environmental assessment has been conducted before this destruction was permitted. 
"The industrial operation in this sensitive area of Nopiming is going on 24 hours a day right now," said Reder. "It's outrageous they're permitting this in a provincial park and that this government is being so secretive about it." 
Recent scientific reports indicate that the loss of biodiversity is as great a risk as climate change and that protecting 17 per cent of the lands and inland waters is a necessary step to preserve our life support systems.
"This is Manitoba's shame: we're one of the only jurisdictions in the world where parks aren't protected," said Reder.
 "We have to do better. Manitobans want park protection. We need this government to actually take a step for environmental protection and protect parks."
–30–
Further background information:
For more information, please contact:
Eric Reder | Wilderness and Water Campaigner, Wilderness Committee