More immediate, on-the-ground measures needed to accompany forest policy changes
Wednesday, February 15, 2023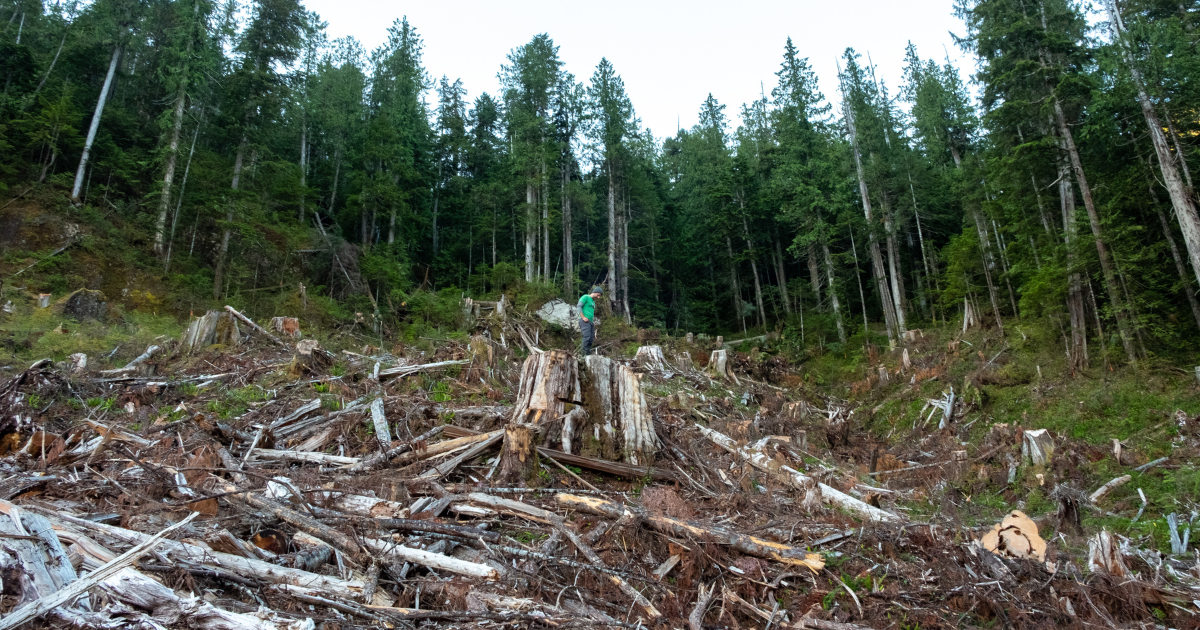 Wilderness Committee calls removal of "unduly" clause important, but BC NDP must do more to stop ongoing destruction of at-risk forests. 
VICTORIA / UNCEDED lək̓ʷəŋən TERRITORY – The Wilderness Committee is concerned that a lack of immediate measures offsets the forest policy changes announced by the BC government today. Premier David Eby and Forest Minister Bruce Ralston unveiled some investments in forestry transition and long-term planning and announced additional logging deferrals. Notably, new amendments remove language from the Forest Planning and Practices Regulation that stipulates any policy changes do not "unduly reduce" the supply of timber. This is a change the Wilderness Committee has long called for but the timeline under which it will be made is unclear from the government's announcement.
"The long-standing requirement that things like old-growth forests, biodiversity, cultural resources or recreational values can only be protected if it doesn't 'unduly' affect the supply of timber never should have been included in these laws in the first place and needs to be scrapped right away," said National Campaign Director Torrance Coste. "Changes like this aren't just necessary, they're needed immediately because we're still not seeing on-the-ground measures to prevent the biggest trees from falling."
Following the Old-Growth Strategic Review in 2020, the BC government identified 2.6 million hectares of the most at-risk old-growth forest and earmarked them for deferral in November 2021. Since then, progress has been slow and thousands of hectares of the most important ancient forests have been destroyed. Today the government reported that 2.1 million hectares of forests have been deferred but did not disclose how much of that is within the 2.6 million hectare category of most ecologically at-risk forest.
"Deferrals aren't a final solution, but they can be a tool to provide space and time to protect endangered forests," - Torrance Coste, Wilderness Committee
"Changing priorities, making investments and talking about beginning the shift to sustainable forestry in BC are all important, but at the end of the day what matters is the destruction of endangered old-growth forests continues on the BC NDP's watch and that's unacceptable," Coste said. 
In today's announcement, the NDP government provided an update on the number of hectares of target deferral area that has been logged, but continued to withhold the total amount of approved logging that has been stopped because of the deferrals.
"We know thousands of hectares of logging in the best old-growth forests has gone ahead in areas earmarked for deferrals, but we need to know how much has been prevented," said Coste. "Deferrals aren't a final solution, but they can be a tool to provide space and time to protect endangered forests. We believe this entire process has stopped less logging in endangered forests than it has allowed and today's announcement does nothing to allay that fear."
The Wilderness Committee maintains all industrial activities, policy and land use changes require the free, prior and informed consent of Indigenous Peoples, and is glad to see investment in co-developed legislation and conservation financing. Additionally, the organization applauds the more than $100 million announced for investment in the value-added sector and transition to sustainable second-growth forestry.
"No one in BC wants to see the forest industry disappear. However, it does need to be sustainable and aligned with goals around reconciliation, creating long-term jobs and setting targets for protecting old-growth and biodiversity," Coste said. "The deck is currently stacked in favour of status quo old-growth logging and only the government has the ability to 'unstack' the deck, ensuring conservation is achieved while respecting First Nations rights and supporting a just transition in the forest sector."
Years of concerted activism from people across BC created the pressure for the NDP government to move towards change in the woods. The Wilderness Committee is calling for additional interim protection and a dramatic increase in investments, both for the transition to a value-added sector and long-term conservation through funding of Indigenous Protected and Conserved Areas. The organization is one of the organizers for the United For Old Growth march and rally happening on Feb. 25 at the BC Legislature.
—30—
For more information, please contact:
Torrance Coste, National Campaign Director, Wilderness Committee
250-516-9900, torrance@wildernesscommittee.org