New B.C. legislation aims to curb so-called SLAPP suits
Tuesday, May 15, 2018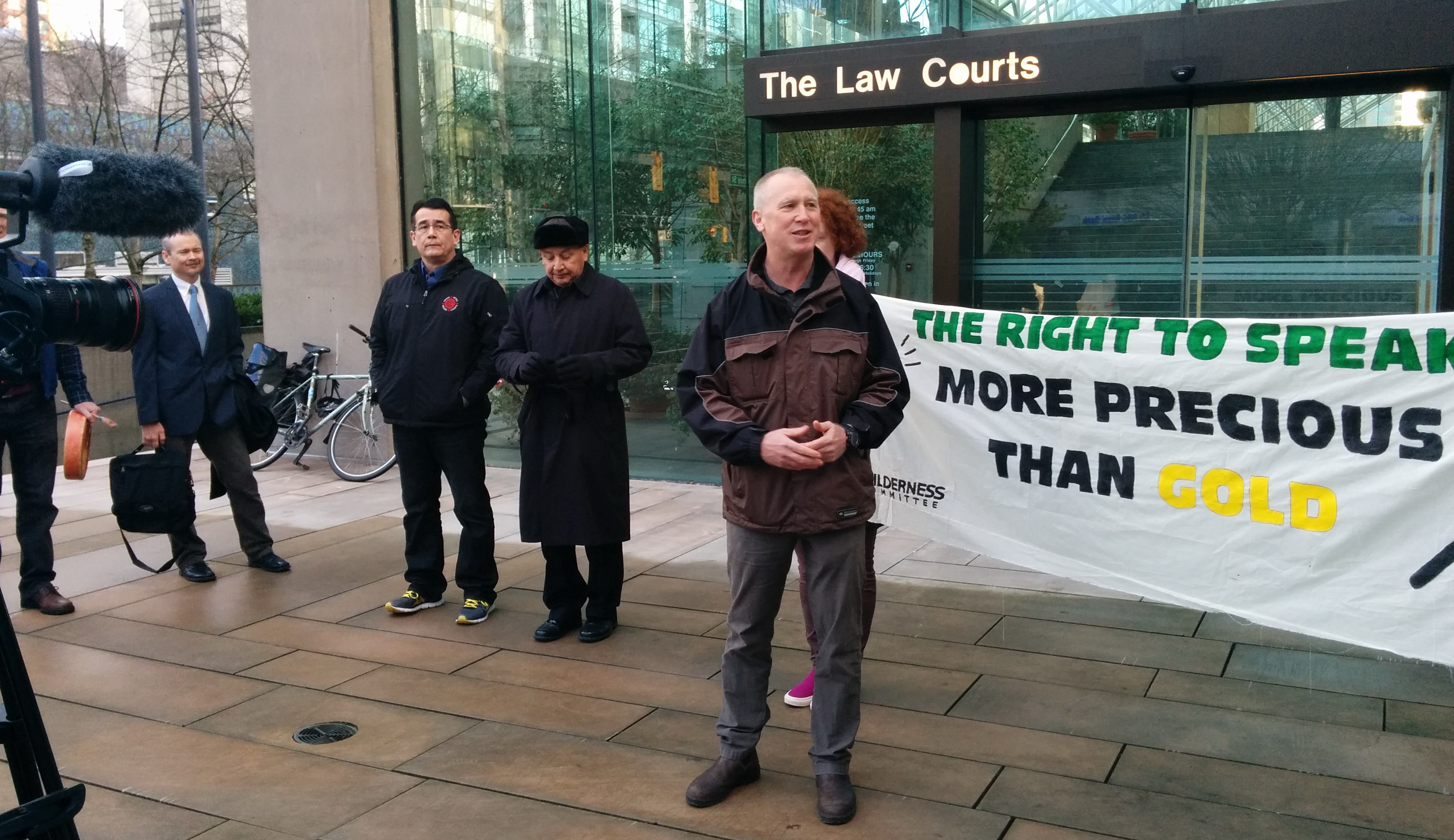 When the Western Canada Wilderness Committee spoke up against a hotly contested industrial project, Taseko Mines hauled them into court for defamation. The environmental group eventually celebrated a victory, but it was not without a cost.
"We had this 800-pound gorilla dragging us through the court for five long years," said Joe Foy, the group's national campaigner. "It was time-consuming, nerve-wracking and expensive."
When the Western Canada Wilderness Committee spoke up against a hotly contested industrial project which would discharge toxic waste into Fish Lake, Taseko Mines hauled them into court for defamation.
On Tuesday, the B.C. government introduced legislation that could have short-circuited that trial.
The Protection of Public Participation Act aims to discourage strategic lawsuits against public participation – often referred to as SLAPP suits – that can be used to deter people from expressing their points of view on matters of public interest.
Attorney General David Eby said the bill, which is based on legislation already in place in Ontario, will balance the right to free speech on matters of public interest against the rights of people or organizations to seek relief in the courts if their reputations or economic interests suffer real harm.
"These suits often serve to stifle criticism or opposition on matters of public interest through exhausting and potentially costly legal action," Mr. Eby told reporters. "By addressing this abuse of the legal system, we are taking steps to protect the rights of British Columbians to share their views freely."
Under the proposed law, an individual or group being sued will be able to seek an expedited court hearing to determine if the lawsuit has the effect of infringing on their freedom of expression.
The court could then dismiss the lawsuit, unless the plaintiff could satisfy the court that the harm they likely would suffer would outweigh the public interest in protecting free speech.
That opportunity for a review will be important, as not everyone agrees on the definition of a SLAPP suit.
Brian Battison, Taseko's vice-president for corporate affairs, said on Tuesday that his company's case against the Western Canada Wilderness Committee was not a SLAPP suit, but a legitimate libel suit.
He said the province's libel laws are an important defence against unfounded attacks. "These are important laws," Mr. Battison said in an interview. "People can't make up stories about a person or a company."
But environmental organizations and civil liberties activists welcomed the change.
"We are thrilled," said Josh Paterson, executive director of the BC Civil Liberties Association. "We talk to folks all the time around the province who tell us they feel afraid of speaking out."
The West Coast Environmental Law Association also welcomed the new bill, saying it is long overdue.
"Over the years, West Coast has worked with so many groups and individuals who have been hit with meritless SLAPP suits," staff lawyer Erica Stahl said in a statement.
"If a corporation drags you to court for speaking out, you may spend years fighting the case – distracting you from the real public issues that need to be discussed and resulting in immense financial and emotional costs."
British Columbia was the first jurisdiction in Canada to enact legislation of this kind, but the law was only on the books for less than a year. It was introduced and then repealed in 2001.
Mr. Eby said the earlier legislation was difficult to enforce because it required a defendant in a lawsuit to prove that the suit was intended to silence them. Under the new law, the courts will only have to look at the effect of the lawsuit.
As well, there is a financial penalty facing litigants if they are found by the courts to be pursuing a SLAPP suit.
Under the law, the court can order a plaintiff to fully compensate defendants for costs, if the court determines that the lawsuit should be dismissed.