Overwhelming public opposition set to defeat Juan de Fuca resort development
Friday, September 09, 2011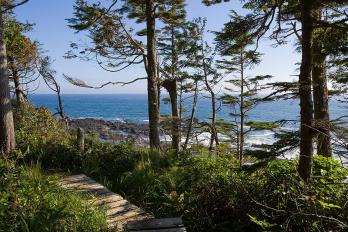 There are moments that happen every so often that drive home the incredible power that people have when we stand together.
This past week the campaign to stop a 260 vacation home development right next to the Juan de Fuca Trail was one of those moments.
For three nights, passionate and well spoken people from all walks of life came to a public hearing hosted by the Capital Regional District on a proposed by-law rezoning which would have allowed this reckless development to proceed.
The morning after the dust settled and the last meeting was adjourned, chairperson and electoral area representative Mike Hicks announced he had changed his mind. Hicks released a brief statement in which he said, "It is clear to me that the vast majority of the Juan de Fuca residents and the residents of the Capital Regional District want the land to remain forest and preferably park." 
Hours later, Colwood Mayor Dave Saunders echoed Hicks' statement. He too has publicly stated he will vote against the bylaw change. This means that the development will not have the votes required to move forward.
For over a year, the Wilderness Committee and our friends and supporters have worked on this campaign. And after months of rallies, attending public meetings, phone calls, and letter writing we have finally won and sent the Marine Trail Resort packing.
This victory would not have been possible without people like you. Our whole community rallied together to stand against sprawl, and our work has paid off.
The final vote on the project will be on Wednesday, Sept 14th. Stay tuned for the final vote results, and of course the victory party!
In the coming months, we will turn our attention to permanently protecting the Juan de Fuca forest lands. They are an iconic part of Vancouver Island, the gem of this region's wilderness.
After seeing the determination and strength of community members and their incredible connection to this trail, I have no doubt we will find a way to save these lands forever.
Tria Donaldson | Pacific Coast Campaigner
Wilderness Committee