Pallister government to cut PST by 1 percentage point using revenues from its own carbon tax
Thursday, March 05, 2020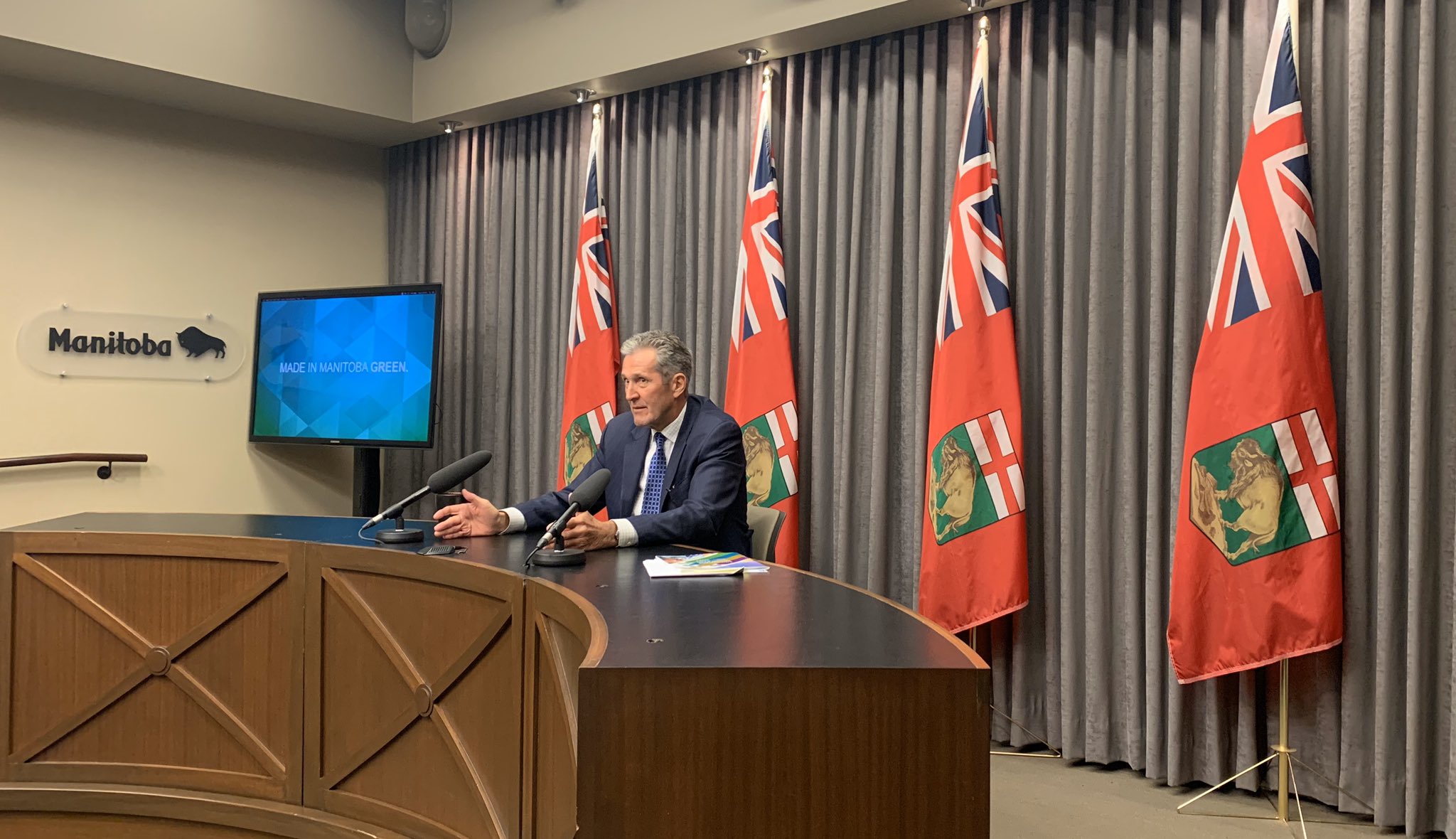 Provincial sales tax cut will be funded by $25-per-tonne carbon tax, Manitoba premier says
Manitoba Premier Brian Pallister is reintroducing a carbon tax he once scrapped so he can cut the provincial sales tax by another percentage point. 
In a Thursday morning pre-budget surprise, Pallister revealed his government will drop the PST to six per cent, which it will mostly pay for by imposing a provincial $25 per tonne carbon tax.
That's the same levy his government previously proposed, but killed in 2018 after the federal government said it wasn't high enough.
The province is hoping the federal government will back down from its escalating carbon-pricing scheme — which will see the carbon tax rise to $50 per tonne by 2022 — once Manitoba's plan takes effect on July 1.
"Of course I'm disappointed Ottawa didn't see the wisdom of supporting a government which has been willing to expend the political capital of proposing to bring in a carbon tax, when no other conservative government would," Pallister said.
"This is an opportunity Ottawa has missed — a bridge too far, apparently."
The Manitoba government will use all revenues from its carbon levy to support a second cut to the provincial sales tax in as many years, he said.
After forming government in 2016, Pallister's Progressive Conservatives focused on a promise to cut the PST from eight per cent to seven per cent, which was accomplished last year. As of July 1, the tax will fall to six per cent.
In the original carbon pricing plan, Manitoba proposed a tax break, which included an increase to the basic personal tax exemption.
Banking on Ottawa folding
Pallister appears to be banking on Ottawa rescinding its rising carbon tax, which currently sits at $20 per tonne but is scheduled to rise to $30 per tonne by April. Pallister says his plan will go ahead and it is up to Ottawa to decide what it wants to do.
Theoretically, both governments could impose carbon tax plans on Manitoba simultaneously, if the federal government still deems Manitoba's tax inadequate.
The federal government, however, appeared ready to stand firm in its demands Thursday.
"Ensuring that pollution pricing systems across Canada continue to meet the minimum federal standard is a core principle in our engagement with provinces [and] territories in order to maintain the fairness and effectiveness of pollution pricing in Canada," federal Environment Minister Jonathan Wilkinson said in a statement.
When asked if he expects Ottawa to be receptive to the idea of lifting the federal tax — a "backstop" imposed on the provinces the federal government determined didn't develop adequate plans of their own — Pallister said he has "no reason for optimism or pessimism."
He recently said both governments have been in regular discussion surrounding their green strategies.
"We're not going to stand back and do nothing and watch as a tax goes $30 [per tonne], $40, $50, through the roof — and we get a promise of some money back," Pallister told reporters.
"We're leaving the funds, to a great degree, with Manitobans who work so hard to get the money in the first place. We believe that's a better plan than sending it to Ottawa and hoping against hope that some of it comes back in a rebate."
Pallister has alternated over the years between supporting and opposing a carbon tax.
He yanked his initial carbon plan in late 2018, when negotiations with the federal government broke down.
Pallister said Ottawa, which imposed its own pricing scheme in response, didn't respect the green investments Manitoba was already making.
On Thursday, Manitoba Liberal Leader Dougald Lamont accused the government of flip-flopping.
"I think this is the biggest bait-and-switch just about in Manitoba's history," he said.
"I've almost never seen such a dishonest press conference in my entire life. There was so much misinformation in there. This is not actually going to do anything for the climate. This is just a different way of raising money for the government so they can cut the PST."
He added it was fiscally irresponsible to cut taxes when the government is still facing a budget deficit.
According to government estimates, carbon tax revenues of $285 million per year will fall $40 million shy of the revenue lost by cutting the PST. Pallister said his government's cost-cutting measures will make up the shortfall.
The carbon tax will not apply to grain-drying costs.
NDP Leader Wab Kinew said Pallister's change of heart won't actually help the environment.
"I think this is a shell game that either is going to get rejected by the federal government or is going to create some sort of bureaucratic mess where there's two carbon taxes being applied in Manitoba," he said.
Meanwhile, climate change activist Eric Reder said Pallister should have followed through on the carbon tax he initially promised in 2017 instead of fighting with the federal government.
"We supported it in 2017 because it was a small step, but this is really the kind of argument we hear that we should have heard in 2007. We're in a climate crisis and the money that needs to be spent toward reducing our emissions isn't there," he said.
Reder said the province needs to invest in actual ways to reduce greenhouse gas emissions. 
Taking credit for Manitoba Hydro investments in the past does nothing to reduce emissions in the future, he said, calling this line of reasoning "dinosaur thinking."
PST cut 'very much welcome': Chamber
Business leaders invited to Thursday's news conference were taken aback by Pallister's strategy.
"Today's announcement [was] definitely interesting, surprising," said Loren Remillard, president of the Winnipeg Chamber of Commerce. "We're not anticipating another PST reduction … so [we] very much welcome that."
Terry Shaw with the Manitoba Trucking Association said the flat carbon tax gives his sector the pricing certainty it wants.
"We know the tax levels for a long time, and we welcome the opportunity to bring those funds back to Manitoba so that we have greater control over … the tax dollars generated in Manitoba."
Pallister said the reduced sales tax will make Manitoba businesses more competitive with other jurisdictions, including Saskatchewan, Minnesota and North Dakota.
To view the original article published by CBC Manitoba please click here.