Into the Rainforest of Clayoquot Sound: Trail Building in Wah-nuh-jus–Hilthoois Tribal Park
Friday, July 11, 2014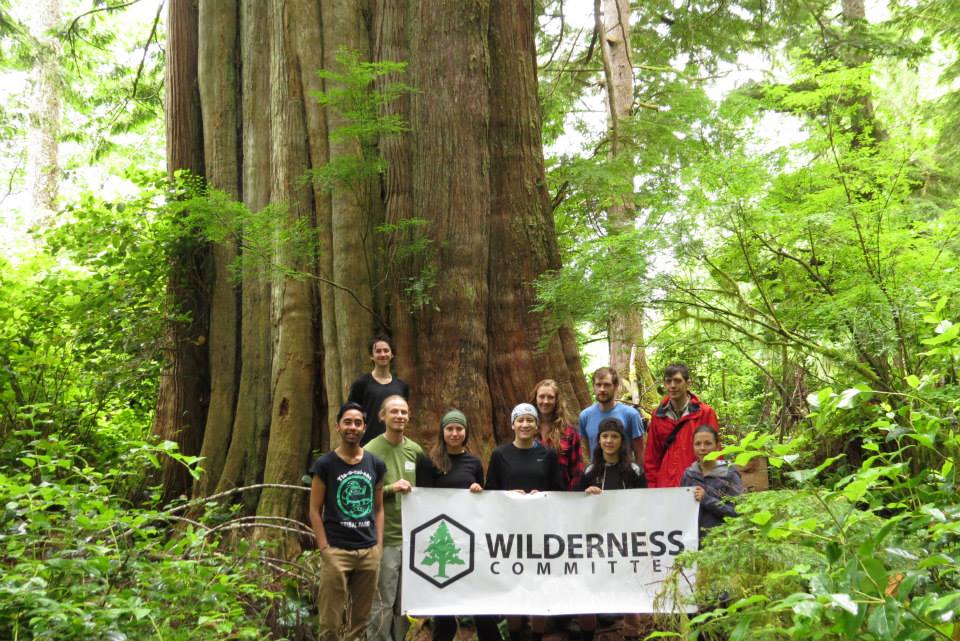 July 11, 2014
"It sure goes fast when there are this many hands working away," said Cory Charlie, standing next to me on the Big Tree Trail.
We were looking at about 10 metres of new boardwalk, constructed under his watchful eye in the last hour or so. Cory is a Guardian with Tribal Parks, an initiative of the Tla-o-qui-aht (ktla-oh-kwee-at) First Nation aimed at sustainable management of the Nation's lands and resources. The busy hands belong to the volunteer crew I led into Clayoquot Sound on the first weekend of July.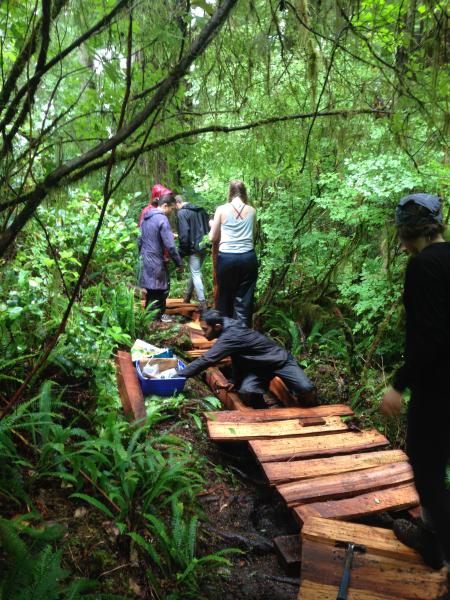 Wilderness Committee volunteers replace a section of boardwalk on the Big Tree Trail, Meares Island.
On the first major trail building expedition of the year, ten volunteers and I spent four days in Wah-nuh-jus–Hilthoois (Meares Island) Tribal Park, not far from Tofino in the heart of Tla-o-qui-aht Territory. Though accessible in less than a day from Vancouver and Victoria, this rainforest is a world away from the city. Immersion in this environment is always a powerful experience.
Trail building is a tactic long-favoured by the Wilderness Committee, and as Vancouver Island Campaigner it's one I get to put to use every summer. The thinking is simple: we're more likely to stand up for the environment if we're connected to it, and it's easier to connect with nature if we can access it. In this spirit, the Wilderness Committee has built and upgraded trails in Clayoquot Sound, Ghost Lake Pass, Seton Portage and other areas in the last few decades.
For our organization, getting out and connecting with the places and the people we work with on various campaigns is a very high priority.
Understandably, trail building is one of the most popular activities with Wilderness Committee volunteers – the opportunity to work on hands-on conservation projects is too good to pass up. Working under the direction of the Tla-o-qui-aht in Wah-nuh-jus–Hilthoois, "hands-on" is putting it lightly; these projects are an exhausting full-body experience.
While Clayoquot Sound is renowned for its redcedar and Sitka spruce trees, which are some of the largest on Earth, undergrowth species like salal and sword fern also reach their full potential here. A few weeks ago, I led a day trip to the Koksilah River to maintain the trail leading to the spectacular grove of old-growth Douglas-fir that stands along the riverbank. The forest floor there is healthy and diverse, but nothing in comparison to the thick, wet, west coast jungle that covers much of Tla-o-qui-aht Territory.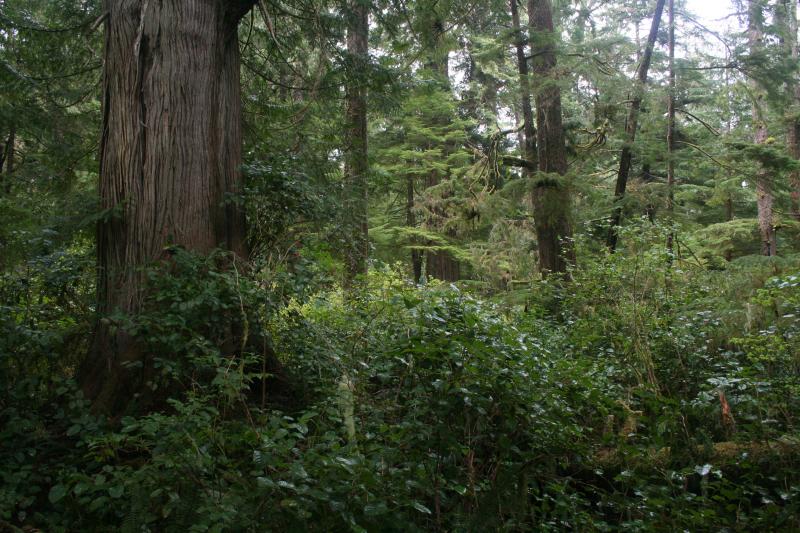 Salal towers above the forest floor on the Big Tree Trail.
Sometimes reaching two or three times the height of a person, these super shrubs must be cut back to clear routes, and because they grow at such astonishing rates, this work must be repeated every few years if trails are to be kept open. Every trip, I lose track of all the times volunteers say, "I didn't realize salal could be this big."
At the end of the day, we returned to our rustic campsite and dealt with the onslaught of mosquitoes and a torrential rainstorm or two – a given on most multi-day trips in Clayoquot. Still, I can never get the smile off my face out there, and neither can the volunteers. These trips are truly a labour of love for the Wilderness Committee. In our opinion, the Tla-o-qui-aht Tribal Parks initiative is one of the most exciting things happening anywhere.
The Tla-o-qui-aht first declared Wah-nuh-jus–Hilthoois a Tribal Park thirty years ago, when logging giant MacMillan-Bloedel announced plans to clearcut Meares Island in the spring of 1984. The Tla-o-qui-aht and neighbouring Ahousaht First Nations eventually won a court case and saved the island from the chainsaws. With the declarations of Ha'uukmin Tribal Park in 2008 and Esowista and Tranquil Tribal Parks in 2013, the Tla-o-qui-aht now have four Tribal Parks, encompassing their entire territory in Clayoquot Sound.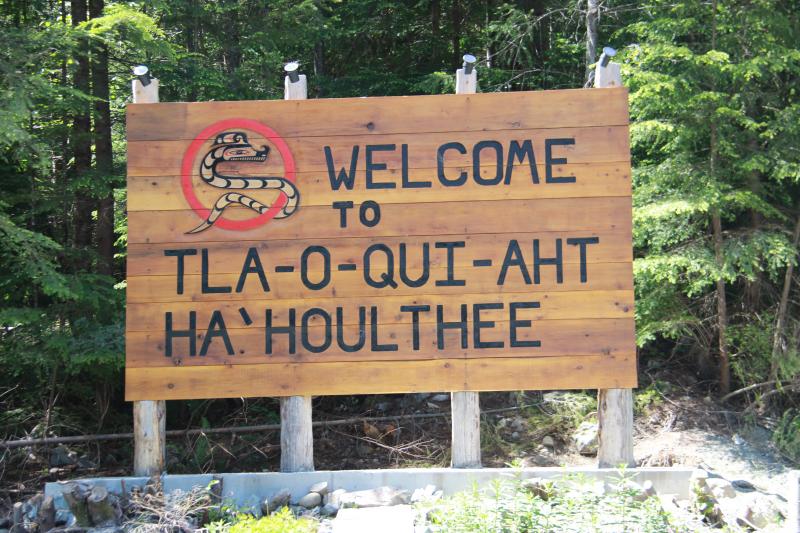 Sign on Highway 4 at the entrance to Tla-o-qui-aht Territory.
Advocating for Tribal Parks is consistent with the Wilderness Committee's support for Indigenous rights and title, and our view that First Nations should have decision-making authority in their territories. In addition to trail building, we support Tribal Parks through our promotional newsletters and by standing with the Tla-o-qui-aht in opposition to environmental threats like mining proposals.
Back on the Big Tree Trail, our attention was more focused on the task at hand: maintaining and upgrading the boardwalk loop that draws thousands of visitors from nearby Tofino every year. Cory Charlie knows every meter of this trail – he and other Tla-o-qui-aht members have built and maintained much of it over the past few years. He's in his element here, enthusiastically teaching some of the volunteers how to split boards from a fallen cedar by hand, while the rest joined me in cutting back the salal and salmonberry bushes that have closed in on some sections.
On our third day the rain began in earnest, shifting from gentle drizzle to full-blown downpour, soaking the crew on the hike from camp to worksite. Once we got to work though, it became difficult to distinguish between rainwater and sweat. Cutting wood, clearing brush and carrying and nailing boards, we almost forgot the weather after a while.
The rain let up in the afternoon (it had been coming down hard for twelve hours, a relatively short spell compared to other Clayoquot trips). Shortly after that the tourists began to arrive, by boat or kayak. They chatted with us as they wandered by, marvelling at the biggest trees they've ever seen.
Under Cory's direction, the keen team of volunteers got a lot done, and the Big Tree Trail is in good shape heading into peak tourism season. The trip was, as always, a ton of fun as well. The team shared stories, laughs, staggering quantities of trail mix, and a deep sense of gratitude to the Tla-o-qui-aht for the opportunity to stay in their territory.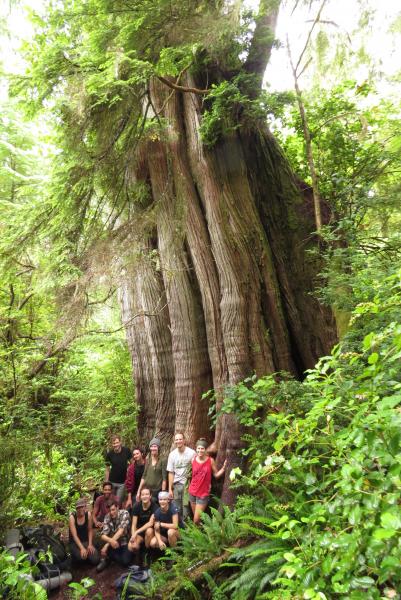 Wilderness Committee volunteer crew with old-growth red cedar tree in Wah-nuh-jus–Hilthoois Tribal Park.
Once again, I was reminded why leading trail expeditions is one of the best parts of my job, and once again, I find myself looking forward to the next trip.
I'm heading back to Wah-nuh-jus–Hilthoois Tribal Park in early August, this time to work on the trail between the village of Opitsaht and the peak of Lone Cone Mountain. The trip is full for now, but stay tuned for future trail work opportunities, we'd love to have you out with us!
Torrance Coste | Vancouver Island Campaigner
Wilderness Committee