'Steady as we go': Stakeholders say Budget 2019 builds on a foundation
Tuesday, February 19, 2019
News 1130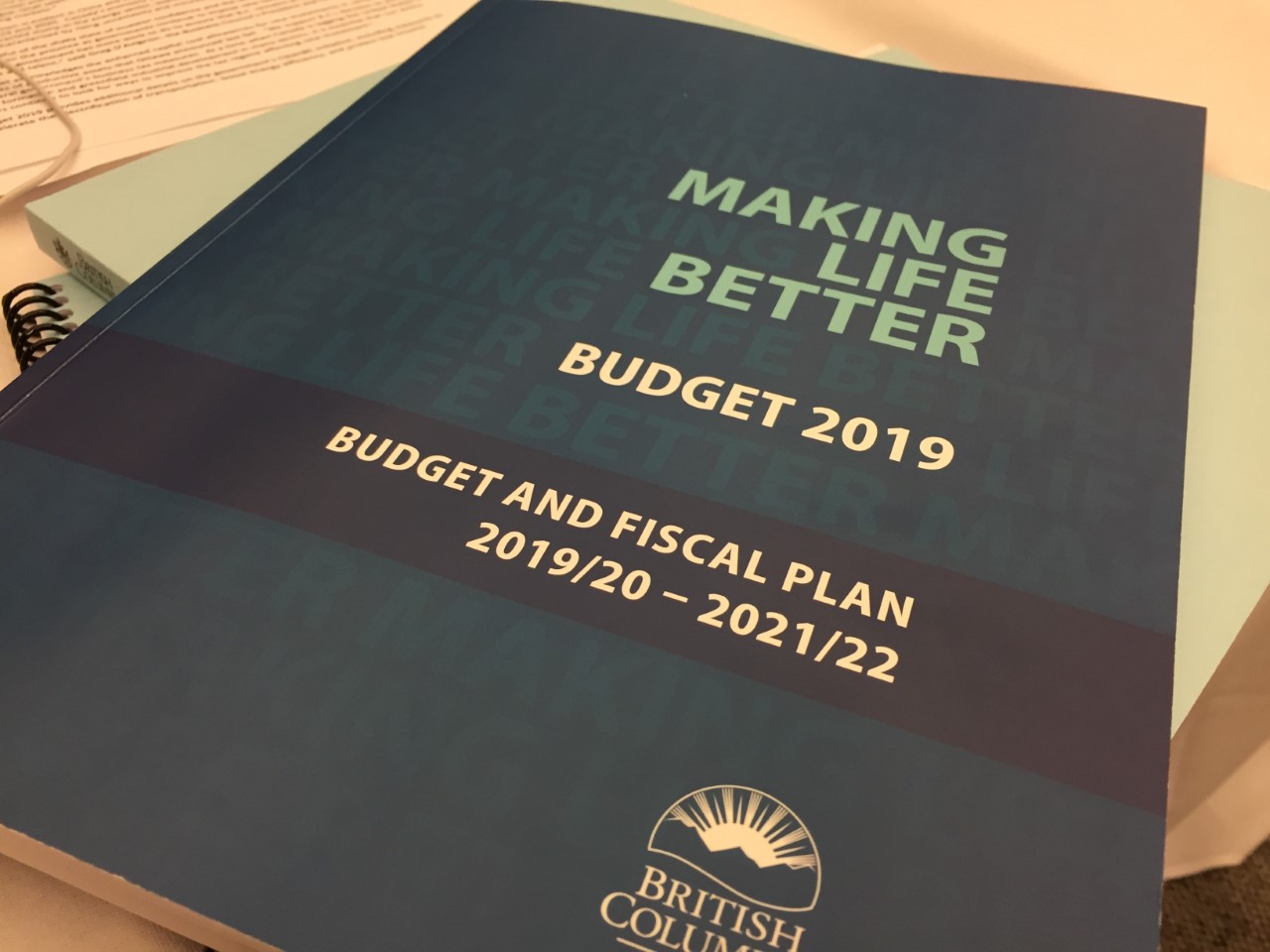 VICTORIA (NEWS 1130) – The B.C. NDP's 2019 budget is looking to build upon work that's already in progress with the goal of making life more affordable for British Columbians, that's according to Finance Minister Carole James.
And while some stakeholders are praising the NDP, Opposition Leader Andrew Wilkinson is taking jabs at the party.
"I think we've seen today that the NDP don't really have a plan to make B.C. a better place," Wilkinson added, noting the only way Horgan's government plans to pay for its increased spending is by raising things like carbon tax. "The major piece that they're throwing on the table is a child opportunity fund that doesn't even come into play for a year and a half, so get ready for bigger carbon taxes, bigger tax burdens for everybody and really nothing to stimulate the economy and help people get ahead."
Wilkinson claimed the NDP's budget isn't doing anything to stimulate the economy.
"The NDP themselves say people are working two and three jobs just to stay alive, and this budget does next to nothing for those people who need to get tax burden out of their pocket so they can get ahead," he added.
But the Greens appear to be mostly happy with the budget citing things like Clean BC and claiming the Party's influence on it is evident.
However, Andrew Weaver admits he would've invested significantly more in environmental stewardship.
Housing advocates

While the B.C. NDP's latest budget doesn't include any significant funding initiatives when it comes to housing, James said the government has made a number of moves around tenants and support for tenants. "That includes everything from cancelling the four per cent rent increase, lowering that to two per cent which made a difference for tenants immediately," she added.
Other initiatives James cited as continuing work to support renters across B.C. included funding for a rent bank, the Renter's Assistance program and others.
"[The renter's rebate] is something we are working on with our Green colleagues, and I think considering we haven't quite got to two years yet, in 18 months I'd say we've done a fair bit," James said.
The steps the provincial government has taken, and those outlined in Budget 2019 are ones housing advocates said they welcomed.
"We are delighted to see that the government is maintaining a strong commitment to the housing strategies unveiled in last year's budget," Executive Director of the Co-operative Housing Federation of B.C. Thom Armstrong said.
"Expanding the supply of affordable homes in B.C. is a pressing priority, and the community housing sector is actively partnering with government to reach the ambitious targets set out in the ten-year housing plan for B.C.," Armstrong added.
Included in Budget 2019 are investments for infrastructure, as well as the building of modular homes to help some of B.C.'s most vulnerable.
While there are no significant investments in housing across B.C. in this budget, there had been some announced last year. The province, James added, is building on prior promises and funding.
Housing advocates said Budget 2019 includes measures those in the housing sector have been calling on, including a supportive housing strategy, more support for people who are experiencing homelessness through employment assistance programs as well as initiatives like construction of more modular homes, and funding for a provincial rent bank.
"Budget 2019 makes important new commitments to improving income supports and addressing homelessness through greater coordination and prevention measures," Jill Atkey with the B.C. Non-Profit Housing Association said.
That, she added, coupled with last year's investments into new affordable housing will "help ease the pressure for many British Columbians struggling to make ends meet."
Affordability measures tackling various areas have, in a sense, a domino effect and impacting various sectors and people around the province.
From a health perspective, Budget 2019 is overall very positive according to the Hospital Employees Union.
"It's very family-friendly, very family-focused and there are a number of measures in this budget that, certainly, I think for healthcare workers, will make their lives better and will help address the affordability crisis that many of our members are experiencing," Secretary-Business Manager of the Hospital Employees Union Jennifer Whiteside told NEWS 1130.
Funding and initiatives announced to tackle mental health and addictions, as well as continuing to tackle the opioid crisis are "significant" Whiteside added.
As well, she believes plans to address poverty – through various programs and initiatives – ties directly into British Columbians' health.
"With childcare, that investment that's being made in providing access to affordable childcare is hugely significant," Whiteside said.
While there were no big funding announcements in Budget 2019, and the province appears to be taking an approach of building upon a foundation it laid out last year, Whiteside believes it's what makes it interesting.
"It's a budget in process," she said. "There are a number of different elements of this budget that will work together, to improve the foundation that many British Columbians are needing to improve their conditions."
"What's important about health is, for sure, the dollars that are going into the healthcare system… but also, very importantly, all of these other issues that are key to healthcare," Whiteside added.
She highlights the importance of funding the different pieces that operate together "to improve the net that we're all living in."
With no one particular area taking over the focus of Budget 2019, Whiteside believes the province is on the right track to building upon that foundation that's been widely talked about.
"They announced a couple of years ago, a big investment in childcare — they're going to build the first affordable childcare program in the country. Now they're working to put in place the elements of that program. I do think that after a very long time under the previous government, of having our public services eroded to the point of a real lack of sustainability… there is significant time, resources, effort that needs to go into rebuilding that foundation, so I think investing in all those pieces is key here."
GVBoT gives province a B+ for Budget 2019

It's a "steady as we go" budget, according to Iain Black with the Greater Vancouver Board of Trade, and that doesn't necessarily mean a good or bad thing.
No new taxes for the business community was a plus, he said, providing relief given the number placed on the business community this time last year.
"We are also pleased that the government continues to balance its budget even though they are doing so in large measure because of those taxes that were put on the business community this time last year," he told NEWS 1130.
Black added the new budget is "very encouraging," as well as "safe."
But is safe a good thing when it comes to a provincial budget? Black points to two connotations when it comes to being "safe."
For one, he said surprises are typically not a good thing for the business community, and added the GVBoT was pleased with the lack of any in Budget 2019.
"But we were lacking that element of economic vision," Black explained. "We don't know where the government sees the province going next."
Despite some investments and pushes for various projects, Black added there are no hints as to where the B.C. NDP wants to see the economy grow.
Because of the lack of this foreshadowing, the GVBoT has given the province a "C" for its economic vision. For fiscal prudence and tax competitiveness, the province got a grade of "B-" in both areas.
"The promises of this administration are very expensive ones, so it should not be too surprising that this budget continues to invest in those areas without any new flashy announcements going along with them, because they are expensive."
The small business community should be relieved following the unveiling of the budget, Black added.
"I do think that the government will have increased scrutiny on it in the coming months and years to understand economically where they think the province might go," he said.
Students applaud elimination of interest on loans

The elimination of interest on student loans is something that's been a long time coming, according to Noah Berson, chairperson of the Alliance of B.C. Students.
"This is a huge win for affordability for post-secondary education, and it really comes down to fairness to us," he told NEWS 1130.
The elimination, which takes effect immediately, means the playing field is being levelled, and makes a world of difference for those studying in B.C., Berson added.
"This is a massive win for B.C. students."
Interest rates dropped slightly last year. By eliminating interest rates, someone who has $28,000 in combined provincial and federal loans is expected to save about $2,300 over the 10-year repayment period, according to Budget 2019.
Berson said the Alliance is content with what's been laid out in this year's budget, however, not everything in the budget is all positive, according to Paul Kershaw, founder of Generation Squeeze and University of British Columbia professor.
"Less than one-fifth of all the new social spending in today's budget will actually go toward those under age 45, who represent more than half of the population," he said.
That comes out to about less than 20 per cent.
"The childcare story is a good-news, bad-news story," he said.
The good news: Budget 2019 protects the historic investment announced in 2018 to launch a childcare program, Kershaw said. The bad news: it's stalled after three years, under the new budget he added.
When it comes to housing, he sees pros and cons when it comes to what was included in Budget 2019 as well.
Kershaw believes there was no mention of how to add more purpose-built rentals or to incentivize the market to produce these kinds of homes.
Climate activists pleased, but add more needs to be done

While the Wilderness Committee is happy with the province's follow through with CleanBC and the initiatives it encompasses, the organization believes what's been announced only gets B.C. "75 per cent of the way to an inadequate target."
"[The goals] aren't aggressive enough," Peter McCartney with the group said. "I would say [the budget] does fall short. We're in that moment where it's great to have a government that finally cares about climate change and is doing bits and pieces of it, but what we need is transformative change on a real societal level. That's going to take a bold, bold vision from the government, and that's unfortunately not what we're seeing."
Ideally, McCartney said the province should be spending as much on transit as it is on healthcare and education.
He pointed to the urgency of making that happen, pointing to the rising costs associated with fighting wildfires and floods — for which funding has been allocated.
Meanwhile, the Canadian Taxpayers Federation is expressing "deep concern" to the budget, noting the government's CleanBC agenda is going to cost taxpayers $902 million over the next three years.
"The last things British Columbians need are more carbon taxes, more government spending, more government debt and more ICBC rate hikes," said B.C. Director of the Canadian Taxpayers Federation Kris Sims in a release. "The B.C. government no longer reports where carbon tax money is going, but a budget table shows B.C. taxpayers are forking out $1.7 billion in the carbon tax in 2019-20 to heat their homes, buy groceries and drive to work, and the government."
According to the federation debt in B.C. goes up about $4 million every month.
-With files from Liza Yuzda