TV News Story - Nanoose Forest
Friday, November 11, 2011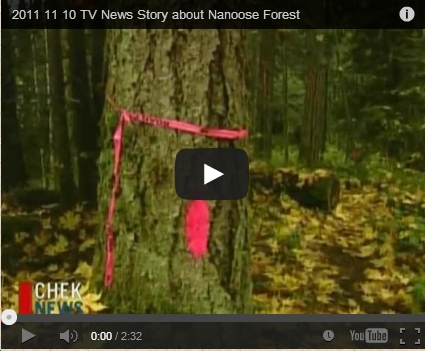 Logging has begun in the publicly owned Nanoose Bay Forests, also known as District Lot 33 or DL33. The rare Coastal Douglas-fir (CDR) forest has been recognized for its endangered forest and wetland ecosystems.
For almost two years the people in the area and the Wilderness Committee have been opposing plans to log in this threatened ecosystem. And yet, yesterday, the chainsaws started cutting, starting with some of the biggest trees.
DL33 is a small parcel of land, but it is a forest of international importance. Only six per cent of Coastal Douglas-fir forests remain on crown land. Of those forests even less is old growth. Because of its rareness, and because of the biodiversity present, DL33 is an ecosystem of global importance. Several red listed species call this area home, including red legged tree frogs.